Going global for faculty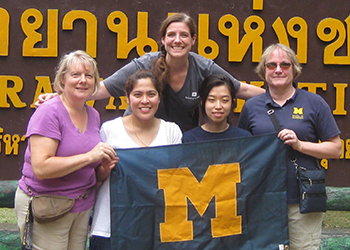 The Office of Global Affairs supports faculty members who wish to develop global dimensions to their teaching, scholarship and service, whether that means teaching about or researching global health topics, leading classes or service-learning projects abroad or collaborating on interdisciplinary team projects with other U-M health professionals.
Faculty Fellowship for Undergraduate Global Education
This faculty fellowship supports professional development and travel costs to develop new undergraduate education abroad opportunities in 2018. Thanks to a study abroad capacity building grant from the U.S. Department of State and Partners for the Americas, we have the opportunity to build on our success in leading undergraduate programs in uncommon study abroad destinations.
We welcome proposals from faculty of any rank to develop a new 2 to 4-week immersion program linked to a course. Faculty who are new to leading undergraduates abroad may be paired with an experienced program leader on an existing program.
Developing new faculty-led global field experience programs
Faculty who wish to create a new global field experience for students abroad should consult the Office of Global Affairs and submit a notice of intent form as soon as possible.
Global health research
The Office of Global Affairs assists faculty in identifying and applying for grants to fund international research travel, both external and through other U-M campus units:
The International Institute's 18 centers and programs provide expertise in specific regions of the world and in thematic issues such as international security, development, business and governance. Faculty can apply for a number of grants through the Institute, including State Department programs such as the Fulbright.

The University Library system has a wealth of online global health resources and a dedicated professional staff to assist faculty and students.
The Office of Global Affairs also assists in bringing international colleagues and researchers from partner institutions here as visiting international scholars to collaborate with our faculty.
Faculty Fellowship in Global Health
The Faculty Fellowship in Global Health is a 3-year, renewable opportunity to recognize the contributions of those currently engaged in this work and to encourage new initiatives to enhance our curriculum and our global impact. Fellowship status provides the following benefits:
Formalize mentoring by faculty experienced in global health research and teaching

Support and facilitation for global health research

Enhanced opportunities for educational exchanges

Leveraging of existing collaborative networks
Applications will be evaluated on a rolling basis by a four-member Global Advisory Committee in partnership with the associate dean of global affairs. Faculty of all rank are eligible. Faculty interested in expanding into the global health arena may submit a proposal, with deliverables, outlining how they plan to globalize their current portfolio. Fellowship status will be renewed provided fellows remain engaged in global activities.
Teaching opportunities
The Office of Global Affairs assists faculty who wish to incorporate global health concepts into their teaching in the following ways:
Identify funding sources for course development and travel (professional development and funding resources for UMSN faculty)

Assist in preparation of course development grant proposals

Identify clinical placement opportunities through partner institutions/organizations

Identify lecturing or guest teaching opportunities at partner institutions

Explore technological approaches to connect U-M classrooms to those at partner universities

Assist as needed in navigating U-M travel policy and predeparture orientation requirements
What to know before you go
All faculty, students, or staff traveling internationally on university business (teaching, research, conferences, etc.) should register in the university travel registry. In addition, please review U-M's travel resources which include information on policies, health and safety and tips.
Faculty traveling with students
If you are traveling with a group of students, please review the requirements for group travel with students. Please consult with the director of Global Outreach who can provide assistance with pre-departure preparation, safety planning, travel registration, and health insurance. Any group travel involving students to a location included on the U-M travel warnings and travel restrictions list must be approved by the associate dean for global affairs. It will then be reviewed by the U-M International Travel Oversight Committee (ITOC). The director of Global Outreach will help faculty navigate the approval process and make sure appropriate safety planning and pre-departure briefings of students take place.
Please note: Earlier approvals may be revoked at the discretion of the associate dean for global affairs in the event that new, serious safety issues arise. Our ultimate concern is the safety of our faculty, staff, and students.
For a step-by-step breakdown of approval requirements and processes, review the faculty traveling internationally with students document.
Follow U-M Global Nursing on Twitter.