School of Nursing Building
Building the future
Today's students and the students of tomorrow are the main stakeholders for U-M's first ever building designed for nursing education.
In this building, UMSN has created spaces students need to practice, research, engage, learn, and succeed.
Key features
Active learning classrooms
Built-in information technology
Inviting nooks and crannies for individual or group study
Dedicated Clinical Learning and Innovation Center, designed to look and feel like a health care center
Classrooms, student services, faculty and staff offices
Business Center and interaction space for visiting faculty and faculty-student collaborations
Key specs
75,000+ square-foot structure
located just north of the 400 North Ingalls Building, overlooking the Huron River
6 simulation rooms
4 standardized patient suites
Anatomy lab
4,000+ square-foot Conference Center
Timeline
July 2012: Design and approval
April 2013: Groundbreaking. Construction begins!
September 2015: Open for classes and grand opening celebration. Building is fully operational!
July 2016: Gold LEED-certified
Continuing investment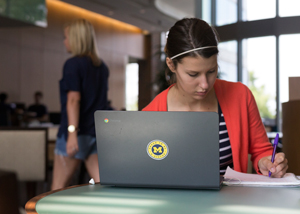 UMSN is still investing in the building and the nursing education it promises. Equipping and maintaining learning spaces to their full potential requires information technology and ancillary expenses.
Our school continues to grow in academic and research programs, student enrollment, and faculty positions. Supporting this growth and empowering our approach to collaborative health education is filled with exciting opportunities for donor participation.
A number of naming opportunities in the building are available. Learn more by contacting the Director of Development and Alumni Relations, Colleen Zimmerman, at cmzimme@umich.edu.
Naming opportunities and named spaces
Premier spaces
Naming opportunities include the Building ($20,000,000); Clinical Learning and Innovation Center ($5,000,000); and the Conference Center ($2,000,000).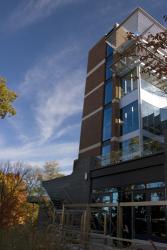 Clinical spaces
The Clinical Learning and Innovation Center includes the:
Martha Reed Hoopengardner Nursing Skills Lab
Walter Family Anatomy Lab
Fausone Standardized Patient Rooms
Icielyne Brown Task Training Room
Naming opportunities remaining are the Simulation Suite ($1,000,000); two Physical Assessment Labs ($500,000 each); Clinical Learning Center office suite ($250,000); and small group Master Control Room ($250,000).
Classroom spaces
The McLelland Media Classroom is an 80 seat room with integrated technology with fixed tables and movable seating.
Other naming opportunities are the 200 seat lecture hall with integrated technology and stadium-style seating ($2,000,000) and the 100 seat media classroom with integrated technology, fixed tables and movable seating ($1,000,000).
High visibility spaces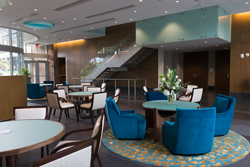 Highly visible naming opportunities include the Front Plaza and Entryway ($1,000,000); Back Plaza and Veranda, overlooking the Huron River ($500,000); Student Commons ($500,000); and the Green Roof ($87,000).
Conference rooms and offices
Conference and meeting rooms in the building include the
Nordgren Group Meeting Room
Thompson Collaboration Space
Turner Conference Room
Nadine Matson Heid Conference Room
Sigma Theta Tau Conference room
Lori's Nook Student Seating Area
Kalisch Student Seating Area
Class of 1966 Wellness Room
Brender Lower Level Student Seating Area
Bergstrom Lower Level Student Seating Area
Coerdt Student Seating area
Eckhart Student Seating area
Fink Student Seating area
Grissim Student Seating area
Milko Student Seating area
Mulshine Student Seating area
Redman Student Seating area
Vincent Student Seating area
Finnegan faculty office
Remaining naming opportunities range from conference rooms ($100,000) to faculty offices ($25,000), and include the Recruiting Conference Room on the third floor.