Xuefeng Liu, PhD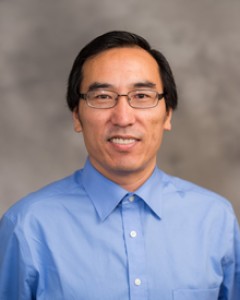 Associate Professor
Department of Systems, Populations and Leadership
Room 4345 400NIB
University of Michigan School of Nursing
400 North Ingalls Building
Ann Arbor, MI 48109-5482
Telephone: (734) 647-4929
Fax: (734) 647-2416
Xuefeng (Chris) Liu is accepting new PhD students.
Interests
Longitudinal models
Latent variables
Bayesian statistics, high dimensional and computational statistics for Big Data
Racial disparity in risk factors for adverse cardiovascular and renal outcomes, including hypertension, diabetes, general/central obesity, smoking, etc.
Design and analysis of clinical trials
Dr. Liu has a broad research interest in the development of statistical models and techniques to address critical issues in health and nursing sciences, computational processing of Big Data in clinical Informatics and Genomics, statistical modeling and assessment of risk factors (e.g. hypertension, diabetes, central obesity, smoking) for adverse cardiovascular and renal outcomes and maternal and child health. His expertise in statistics includes, but is not limited to, repeated measures models with missing data, multilevel models, latent variable models, and Bayesian and computational statistics. Dr. Liu has led and co-led several NIH-funded projects on the quality of care for hypertensive patients. Dr. Liu has published over 70 peer reviewed articles (including JASA, JCGS, SIM, Human Molecular Genetics, AJH, JASH, Journal of Psychiatric Research, and Schizophrenia Research), and presented over 80 topics at local, regional and national conferences in statistics and health sciences. In addition, Dr. Liu has served as session chair at ENAR and editorial boards (in an editor or co-editor role) for 4 academic journals.
Current Research Grants and Programs
Southern Appalachian Tele-Homecare Program (Co-I)
Child temperament, Parenting Style, and Childhood Obesity Risk
Coordinated School Health Evaluation Program
Teaching
Dr. Liu's teaching experience includes statistics courses and workshops for students ranging from undergraduate to postdoctoral levels. In recent years, his primary teaching responsibilities have included teaching Biostatistics courses in the University of Michigan School of Nursing, presenting faculty seminars and didactic lectures on quantitative methods for residents in the U-M School of Medicine, and being a guest speaker in other courses. The courses he has taught include Graduate Statistics for Advanced Practice and Research (Nurs 800), Statistical Inference (HS 851), Linear Modelling (HS 852) in the School of Nursing, and Principle of Biostatistics (Biostatistics I), Experimental Design and Analysis, Statistics Software with Research Application, and Longitudinal Models in other schools. In addition, he has been a guest speaker in several other graduate-level courses such as Genetic Epidemiology, Advanced Multivariate Analysis, Biostatistics II, and Categorical Data Analysis. In all of these efforts, his feedback has been uniformly positive. Dr. Liu also enjoys the one-to-one student teaching that occurs when participating in student research projects and when guiding data managers, programmers, and residents. He has mentored numerous Biostatistics and Epidemiology master and doctoral students and served on dissertation committee for several nursing PhD students.
Affiliations / Service
NIH Grant Reviewer. Special Emphasis Panel NHLBI Genomic Portal (GenPort), RFP NHLBI-HR-17-05-CS (ZHL1-CCT-S C1). 2016
Editorial Board, Journal of Medical Statistics and informatics, 2012-present
Reviewer of abstracts submitted for the 143rd APHA Annual Meeting and Expo, and specifically for the Epidemiology Late Breakers program. 143th APHA Annual Meeting. October 31-November 4, 2015. Chicago, IL.
TBR Review Board for grant proposals sponsored by TBR Office of Academic Affairs, Tennessee Department of Education, 2013
Editorial Board, Journal of Biometrics and Biostatistics, 2010-present
Member, American Statistical Association 2010-present
NIH Grant Review Board. Appointee: NIH/NHLBI Special Emphasis Panel (ZHL1 CSR-A S1). 2010
Notable Awards / Honors
ETSU College of Public Health Research Foundation Award, TN
Visiting Scholar, Department of Statistics, University of California, Davis, CA
National Science Scholarship Award, China Scholarship Council affiliated with the Ministry of Education, China
Education
PhD, University of Florida, Gainesville, FL 2006
MS, University of Florida, Gainesville, FL 2002
MS, Yangzhou University, Yangzhou, JS (China) 1993
Publication Highlights
Liu XF, Byrd JB. Cigarette Smoking and Subtypes of Uncontrolled Blood Pressure Among Diagnosed Hypertensive Patients: Paradoxical Associations and Implications. American Journal of Hypertension 2017. (In press).

Liu XF, Wang K. Generalized latent trait models for multiple correlated health endpoints. Proceedings of American Statistical Association 2016; pp. 1121–1129.

Wang KS, Liu XF, Xie C, Liu Y, Xu C. Non-parametric survival analysis of EPG5 gene with age at onset of Alzheimer disease. Journal of Molecular Neuroscience 2016. 60(4):436-444.

Wen XR, Hartzema A, Delaney JA, Brumback B, Liu XF, Egerman R, Roth J; Segal R; Meador KJ. Combining Adverse Pregnancy and Perinatal Outcomes for Women Exposed to Antiepileptic Drugs during Pregnancy, Using a Latent Trait Model. BMC Pregnancy and Childbirth (in press)

He W, Zhou P, Chang Z, Liu B, Liu XF, Wang Y, Li Y, Alam HB. Inhibition of peptidylarginine deiminase attenuates inflammation and improves survival in a rat model of hemorrhagic shock. Journal of Surgical Research 2016; 200(2):610-618.

Wang KS, Liu XF. Statistical methods in the meta-analysis of prevalence of human diseases. Journal of Biostat & Epi 2016; 2(1):Total 5 pages.

Wang KS, Mao C, Liu XF, Dwivedi A, Ordonez J, Rubin LR, Xu C. Urban-rural differences in the associations of risk factors with epilepsy based on the California health interview survey: a multiple logistic regression analysis. Int J Hight Risk Behav Addit 2016; 5(2): e31181.

Wang L, Wang KS, Liu XF, Wu LY. Education and lifestyles are associated with the perception of genetic knowledge on the development of lung cancer: Data from the 2003 Health Information National Trends Survey. IJMR 2016; 143 (suppl): 120-125.

Wang KS, Liu XF, Wang L. Beliefs About cancer and Knowledge of Genetic Testing are Associated with Cancer Information Seeking Behavior: Findings from the 2012 Health Information National Trends Survey. Annals of Public Health Res 2015; 2(3): 1025.

Liu XF, Rodriguez CJ, Wang KS. Prevalence and Trends of Isolated Systolic Hypertension among Untreated Adults in the United States. Journal of the American Society of Hypertension 2015; 9(3):197-205.

Wang KS, Liu XF, Owusu D, Pan Y, Xie CC. Polymorphisms in the ANKS1B gene are associated with cancer, obesity and type 2 diabetes. AIMS Genetics 2015; 2(3):192-203.

Liu XF, Hoang VM, Liu Y, Brown RLW. Untreated isolated systolic hypertension among middle-aged and elderly adults in the United States: Trends in the prevalence by demographic factors during 1999-2010. International Journal of Chronic Diseases Volume 2015 (2015), Article ID 508584, 8 pages.

Liu XF, Tsilimingras D, Paul TR. Prevalence and changes of isolated systolic hypertension among US Non-Hispanic black adults in 1999-2010. Hypertension Research 2014; 37(7):685-691.

Liu XF, Wang KS, Wang L, Tsilimingras D. Micoralbuminuria, macroalbuminuria and uncontrolled blood pressure among diagnosed hypertensive patients: the aspect of racial disparity in the NHANES study. Hypertension Research 2013; 36(12):1100-1106.

Liu XF, Song P. Is the association of diabetes with uncontrolled blood pressure stronger in Mexican Americans and blacks than in whites among diagnosed hypertensive patients? American Journal of Hypertension 2013; 26 (11):1328-1334.