Tamera Miller, MSN, NNP-BC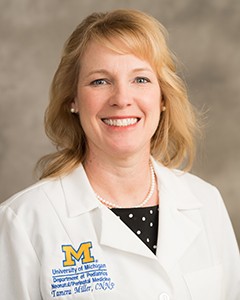 Clinical Instructor
Undergraduate Studies Program
2344, 400 NIB
University of Michigan School of Nursing
400 North Ingalls Building
Ann Arbor, MI 48109-5482
Telephone: 734-764-5385
Interests:
Complex neonatal discharges from NICU
Delayed transition of normal newborns
Feeding difficulties of NICU infants
Parental stress in NICU
Care of the extremely low birth weight infant
Ms. Miller is an experienced Neonatal Nurse Practitioner who has also held the role as an educator throughout her career. She has provided care for complex, critically-ill infants, from admission through discharge, while maintaining focus on supporting parents and multidisciplinary providers as they seek to understand the diagnoses and plans of care for these fragile infants. As an educator, she has precepted numerous nursing students at a variety of levels throughout her career, developed NNP orientation guidelines, taught neonatal resuscitation classes through simulation and neonatal transition courses at the graduate nursing level. She is passionate about working with undergraduate nursing students and assisting them as they navigate their way through the clinical learning environment.
Teaching
Ms. Miller has been a preceptor for numerous nursing students and novice neonatal nurse practitioners throughout her career within the NICU. She is currently a Neonatal Resuscitation Program instructor and teaches neonatal resuscitation through simulation in the NICU. Ms. Miller has also provided newborn transition lectures as well as traditional NRP courses to the midwifery students in the University of Michigan School of Nursing graduate program.
Affiliations / Service
Member, Sigma Theta Tau International
Member, National Association of Neonatal Nurse Practitioners
Member, State of Michigan Association of Neonatal Nurses
Volunteer, National Association of Neonatal Nurses Professional Development Committee
Volunteer, Sigma Theta Tau Good Work in Nursing Community
Notable Awards / Honors
Pediatric Super Stars, Michigan Medicine, 2017
Education
MSN, Wayne State University, Detroit, MI 1999
BSN, Eastern Michigan University, Ypsilanti, MI 1993