Nancy "Amby" Gallagher, PhD, APRN-BC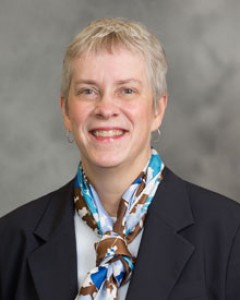 Clinical Assistant Professor
Department of Systems, Populations and Leadership
Room 2174 400NIB
University of Michigan School of Nursing
400 North Ingalls Building
Ann Arbor, MI 48109-5482
Telephone: (734) 615-7455
Fax: (734) 936-5525
Interests
Community health
Mobility and disability
Neighborhood environment
Care transitions
Chronic disease self-management
Prior to receiving her doctorate in 2010, Dr. Gallagher worked as a public health nurse and as an adult nurse practitioner. In her work in family practice and with underserved populations she gained an interest in the role of physical activity in self-management of chronic disease and in the prevention of mobility disability. Her research uses Social Cognitive Theory and the Disablement Process Model to examine the influence of psychosocial factors and neighborhood physical environment on physical activity and walking in older adults. She is particularly interested in how self-efficacy, mobility disability, and physical characteristics in the neighborhood influence each other as well as physical activity, and how neighborhood factors may influence disparities in disability prevalence and progression. Dr. Gallagher's research methods have included both survey research and the combination of participatory photography and focus groups.
Current Research Grants and Programs
Pilot study on physical activity in older adults in independent living facilities
Consultant on Mcubed project, Understanding the role of the role of the built environment for older adult mobility using mobile technology, with P. Clarke (Institute for Social Research), R. Adams (Taubman School of Art and Architecture and N. Alexander (School of Medicine).
Teaching
Dr. Gallagher teaches Community Health Nursing, with a clinical site at Michigan Visiting Nurses in Ann Arbor. She lectures for community groups interested in issues related to aging, such as the Michigan Association of Service Coordinators, and has guest-lectured in classes at the graduate and undergraduate level at the School of Nursing. She enjoys and welcomes discussion and collaboration with students around research and clinical practice.
Affiliations / Service
Member, Sigma Theta Tau International Honor Society, 1988 - present
Member, Midwest Nursing Research Society, 2004 – present
Member, Gerontological Society of America, 2005 – present
Member, International Physical Activity and the Environment Network, 2008 - present
Member, Michigan Council of Nurse Practitioners, 2012 – present
Member, National Organization of Nurse Practitioner Faculty, 2013 – present
Member, Association of Community Health Nursing Educators, 2013 - present
Notable Awards / Honors
AT&T Best Technology Advancement Award, Michigan State University, with Kathleen Bappert and Elaine Scribner, 2013
Marjorie Holmes Faculty Enrichment Award, Michigan State University College of Nursing, 2012
John A. Hartford Foundation Building Geriatric Nursing Capacity Scholar, 2007-2009
Ella McNeil Award in Community Health Nursing, University of Michigan School of Nursing, 2008
Education
PhD, University of Michigan, Ann Arbor, MI 2010
MS, Clinical Research, University of Michigan School of Public Health, Ann Arbor, MI 2007
MS, University of Michigan School of Nursing, Ann Arbor, MI 1988
BSN, University of Wisconsin School of Nursing, Madison, WI
Publication Highlights
Gallagher, N.A., Clarke, P., Loveland-Cherry, C., Ronis, D. & Gretebeck, K.A. (2012). Neighborhood walking in older adults with and without mobility limitations. Research in Gerontological Nursing. 5(4), 238-250. DOI: 10.3928/19404921-20120906-05

Clarke, P.J. & Gallagher, N.A. (In Press). Optimizing mobility in later Life: The role of the urban built environment for older adults aging in place. Journal of Urban Health.

Gallagher, N.A., Gretebeck, K.A., Robinson, J., Torres, E.R., Murphy, S., & Martyn, K. (2010). Neighborhood factors relevant for walking in older, urban, African-American Adults. Journal of Aging and Physical Activity, 18(1).
Download CV