Leila Cherara, DNP, MSPSL, RN, CHSE, CNE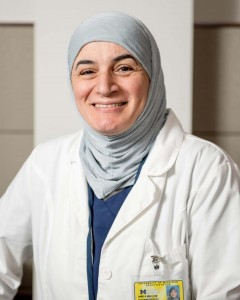 LEO Lecturer I
Undergraduate Studies Program
400 North Ingalls, 2160A
University of Michigan School of Nursing
400 North Ingalls Building
Ann Arbor, MI 48109-5482
Telephone: 734-615-8209
Interests
Patient safety
Simulation
Undergraduate nursing students
Dr. Cherara is an expert clinician with a determination to continually improve patient and professional outcomes. Her DNP project translated her passion of improving outcomes by using simulation as an educational activity to impact bedside nurses' knowledge and behavior around fall risk prevention and management. She also took part in simulation educational activities for undergraduate nursing students and interprofessional healthcare students through simulation training sessions. After graduation, Dr. Cherara took on a Simulation Faculty position at Henry Ford College (HFC) where she has been a clinical faculty since 2013. She then transitioned into the didactic faculty role as well as the clinical Faculty for the fourth semester students at HFC.
Teaching
Dr. Cherara's instructional strategy is focused on promoting positive learning by being a catalyst for learner engagement based on her philosophy to encourage students to take personal responsibility for their own growth through the many avenues of learning made available to them. To facilitate learning, especially when imparting knowledge that is research based, she believes that the most effective teaching strategy is to let the students engage in researching the knowledge rather than just regurgitating the information for them. This encourages students to develop critical thinking that enhances their problem-solving skills, especially when the material is connected to their clinical experience. Dr. Cherara's primary goal in all the courses she teaches is to increase students' clinical reasoning and translation of evidence-based knowledge into practice. Ultimately, learners should be able to apply the principles and concepts to deliver a safe, effective, and quality patient care.
Affiliations / Service
Member, National League for Nursing, 2013-present
Member, Michigan Nursing Action Coalition, 2016-present
Member, Midwest Nursing Research Society, 2016-2018
Member, International Nursing Association for Clinical Simulation and Learning, 2016-Present
Member, Sigma Theta Tau International Honor Society of Nursing, 2016- Present
Notable Awards / Honors
STTI Nursing Research Grant Award to support research and evidence-based practice projects, 2017
University of Michigan School of Nursing Award recipient of the Nursing Business Health Systems Outstanding Graduate Student Award, 2018.
Education
DNP, University of Michigan, Ann Arbor, MI 2017
MSPSL, University of Illinois Chicago, Chicago, IL 2014
BSN, American University of Beirut, Beirut, Lebanon 1992
Publication Highlights
Cherara, L. Sculli, G. & Douglas, P., Mazzia, L., Neily, J., Mills, P. (2018). Retained Guidewires in the Veterans Health Administration: Getting to the Root of the Problem. Journal of Patient Safety. 1. 10.1097/PTS.0000000000000475.

Aebersold, M., Voepel-Lewis, T., Cherara, L., Weber, M., Khouri, C., Levine, R., & Tait, A. (2018). Interactive Anatomy-Augmented Virtual Simulation Training. Clinical Simulation in Nursing. 15. 34-41. 10.1016/j.ecns.2017.09.008.

Aebersold, M., Mariani, B., & Cherara, L. (2018). Do Experts and Novices Agree? A Qualitative Review of the 2016 INACSL Standards of Best Practice: SimulationSM Reviewer Feedback. Clinical Simulation in Nursing, 25, 1-5.