James Yang, PhD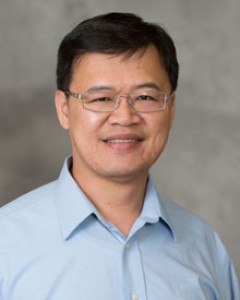 Associate Research Scientist
Department of Systems, Populations and Leadership
Room 4336 400NIB
University of Michigan School of Nursing
400 North Ingalls Building
Ann Arbor, MI 48109-5482
Telephone: (734) 764-4143
Fax: 734-647-9325
Interests:
Statistics
Bioinformatics
Genetics and Genomics
Dr. Yang is a statistician who specializes in statistical consulting and genetic data analysis. He has published his methodological work in high impact journals of statistical science such as Statistical Methods in Medical Research, PLoS One, Bioinformatics, BMC Bioinformatics, Nature Genetics and Nature Communications. In the past ten years, he has collaborated with many clinicians and scientists at the Henry Ford Health System, Wayne State University and University of Michigan. His collaborative work has resulted in many peer-review journal articles and research grants in a variety of areas of medical science including emergency medicine, cardiovascular diseases, diabetes, liver diseases, internal medicine, radiation oncology, and nursing.
Teaching
Dr. Yang taught Scientific Methods for Health Sciences: Linear Models (HS 852, winter 2015). This course introduced linear methods to graduate students who needed to understand research reports/scientific papers, analyze empirical data, or interpret their results. The topics covered by this course included R programming language, simple linear regression, multiple linear regression, regression model selection, logistic regression, Poisson regression, generalized estimating equations, and linear mixed models.
Affiliations / Service
Member, American Statistical Association
Member, Institute of Mathematical Statistics
Education
PhD in Statistics, University of Florida, Gainesville, FL 2002
MS in Statistics, National Tsing Hua University, Taiwan 1996
BS in Physics, National Tsing Hua University, Taiwan 1993
Publication Highlights
Yang, J.J., Williams, L., Buu, A. (2017) Identify pleiotropic genes in genome-wide association studies for multivariate phenotypes with mixed measurement scales. PLoS One. 12(1): e0169893. doi: 10.1371/journal.pone.0169893

Buu, A., Williams, L. K., Yang, J. J. (2016) An efficient genome-wide association test for mixed binary and continuous phenotypes with applications to substance abuse research. Statistical Methods in Medical Research. pii: 0962280216647422. [Epub ahead of print] PMID: 27215414 DOI: 10.1177/0962280216647422.

Yang, J. J., Li, J., Williams, L. K., and Buu, A. (2016) An efficient genome-wide association test for multivariate phenotypes based on the Fisher combination function. BMC Bioinformatics. 17 (1):19. doi: 10.1186/s12859-015-0868-6. PMID: 26729364. PMCID: PMC4704475.

Paternoster, L.,…,Yang, J. J., …, Weidinger, S. (2016) Multi-ancestry genome-wide association study of 21,000 cases and 95,000 controls identifies new risk loci for atopic dermatitis. EArly Genetics and Lifecourse Epidemiology (EAGLE) Eczema Consortium; Australian Asthma Genetics Consortium (AAGC); Australian Asthma Genetics Consortium AAGC. Nature Genetic. 47(12):1449-56. doi: 10.1038/ng.3424. PMID: 26482879. PMCID: PMC4753676.

Igartua, C.,..., Yang, J. J.,..., and Ober, C. (2015) Ethnic-specific associations of rare and low frequency DNA sequence variants with asthma. Nature Communications, 6: 5965. doi: 10.1038/ncomms6965. PMID: 25591454. PMCID: PMC4309441.

Li, J., Yang, J. J., Levin, A. M., Montgomery, C. G., Datta, I., Trudeau, S., Adrianto, I., McKeigue, P., Iannuzzi, M. C., Rybicki, B. A. (2014) Efficient generalized least squares method for mixed population and family-based samples in genome-wide association studies. Genetic Epidemiology, 38(5) 430-438. PMID: 24845555. PMCID: PMC4112407.

Padhukasahasram, B. K., Yang, J. J., Levin, A. M., Yang, M., Burchard, E. G., Kumar, R., Kwok, P., Lanfear, D. E., Williams, L. K. (2014) Gene-based association identifies SPATA13-AS1 as a pharmacogenomic predictor of inhaled short-acting beta-agonist response in multiple population groups. The Pharmacogenomics Journal, 14(4):365-71. doi: 10.1038/tpj.2013.49. PMID: 24418963. PMCID: PMC4098013

Yao, T. C., Du, G., Han, L., Sun, Y., Hu, D., Yang, J. J., Mathias, R., Roth, L. A., Rafaels, N., Thompson, E. E., Loisel, D. A., Anderson, R., Eng, C., Orbegozo, M. A., Young, M., Klocksieben, J. M., Anderson, E., Shanovich, K., Lester, L. A., Williams, L. K., Barnes, K. C., Burchard, E. G., Nicolae, D. L., Abney, M. & Ober, C. (2014) Genome-wide association study of lung function phenotypes in a founder population. Journal of Allergy and Clinical Immunology, 133(1):248-255.e10. PMID: 23932459

Yang, J. J., Li, J., Buu, A., and Williams, L. K. (2013) Efficient inference of local ancestry. Bioinformatics, 29 (21): 2750-2756. PMCID: PMC3799480

Myers, R. A., Himes, B. E., Gignoux, C. R., Yang, J. J., Gauderman, W. J., Rebordosa, C., Xie, J., Torgerson, D. G., Levin, A. M., Baurley, J., Graves, P. E., Mathias, R. A., Romieu, I., Roth, L. A., Conti, D., Avila, L., Eng, C., Vora, H., LeNoir, M. A., Soto-Quiros, M., Liu, J., Celedón, J. C., Farber, H. J., Kumar, R., Avila, P. C., Meade, K., Serebrisky, D., Thyne, S., Rodriguez-Cintron, W., Rodriguez-Santana, J. R., Borrell, L. N., Lemanske, R. F., Bleecker, E. R., Meyers, D. A., London, S. J., Barnes, K. C., Raby, B. A., Martinez, F. D., Gilliland, F. D., Williams, L. K., Burchard, E. G., Weiss, S. T., Nicolae, D. L., Ober, C. (2012) Further replication studies of the EVE Consortium meta-analysis identifies 2 asthma risk loci in European Americans. The Journal of Allergy and Clinical Immunology, 130(6):1294-301. PMCID: PMC3666859

Yang, J. J. (2010) Distribution of Fisher's combination statistic when the tests are dependent. Journal of Statistical Computation and Simulation, 80 (1), 1-12.

Yang, J. J. and Yang, M. C. K. (2006) An improved procedure for gene selection from microarray experiments using false discovery rate criterion. BMC Bioinformatics, 7, 15. http://doi.org/10.1186/1471-2105-7-15. PMCID: PMC1388243

Yang, M. C. K., Yang, J. J., McIndoe, R. A., and She, J. X. (2003) Microarray experimental design: power and sample size considerations. Physiological Genomics, 16 (1), 24-28.

Yang M. C. K., Ruan Q. G., Yang J. J., Eckenrode S., Wu S., McIndoe R. A., She J. X. (2001) A statistical method for flagging weak spots improves normalization and ratio estimates in microarrays. Physiological Genomics, 7 (1), 45-53. PMID: 11595791