Elissa A. Wagner, DNP, RN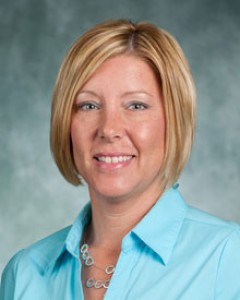 Clinical Assistant Professor
Coordinator for Medical Surgical Education, including Levels 2, 3 and 4 in the Undergraduate Program
Department of Systems, Populations and Leadership
Room 2350 400NIB
University of Michigan School of Nursing
400 North Ingalls Building
Ann Arbor, MI 48109-5482
Telephone: (734) 764-8617
Fax: (734) 936-5525
Elissa Wagner is not accepting new PhD students.
Interests
Nursing education and communication
Medical-surgical
Cardio/pulmonary nursing
Kinesthetic learning activities
Quality and safety
Dr. Wagner is an educator who has focused her career in adult medical-surgical nursing and critical care. She has designed her teaching of undergraduate nursing students to include her years of previous patient care experience, engaging learning strategies and simulation. She is dedicated to helping students transition into clinical nursing by making connections between theory and practice. Additionally, her interests include clinical research and best practice implementation at the bedside.
Teaching
Dr. Wagner has been teaching in the undergraduate program at the School of Nursing since 2012. She has provided both didactic and clinical nursing instruction to sophomores, juniors, seniors, and second career students in the medical-surgical settings. Dr. Wagner has also served as faculty of record for Health Maintenance and Restoration I and II and Introduction to Clinical Practice. In addition, Dr. Wagner serves as the Level II lead, coordinating clinical activities, student learning, clinical courses, and simulation experiences.
Affiliations / Service
Member of Sigma Theta Tau International 1995-present
Member of Sigma Rho Chapter UM 2019-present
Member of the Academy of Medical-Surgical Nurses 2018-present
Education
DNP, Madonna University, Livonia, MI, 2016
MSN, Lourdes University, Sylvania, OH, 2009
BSN, Lourdes University, Sylvania, OH, 1995
Nursing Diploma, St. Vincent Medical Center School of Nursing, Toledo, OH, 1994
Publication Highlights
Wagner, E. (2014). Utilizing a kinesthetic learning strategy to engage nursing students thinking, enhance retention, and improve critical thinking. Journal of Nursing Education, 53(6):348 351. doi.org/10.3928/01484834-20140512-02.

Wagner, E. (2017). Improving patient care outcomes through better delegation-communication among nurses and assistive personnel. Journal of Nursing Care Quality. 33,(2). 187-193. doi.org/10.1097/NCQ.0000000000000282
Download CV