Alumni Society and volunteer opportunities
Skip to volunteer opportunities below.
Alumni Society overview
Originally founded in 1900, the U-M School of Nursing Alumni Society supports the school in its mission and work through coordinating key initiatives and facilitating communication between alumni and the school. All UMSN graduates become members upon graduation. Membership is free.
Board of Governors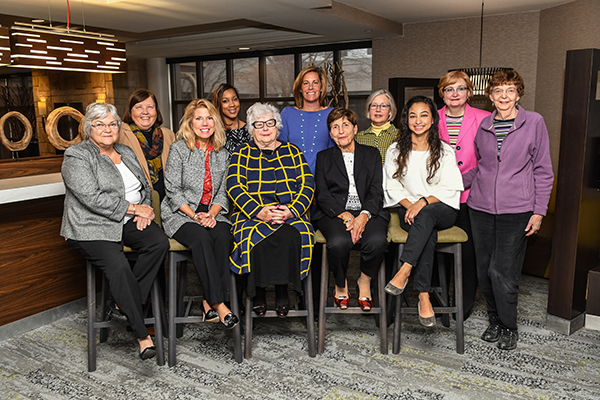 The Alumni Society is led by an enthusiastic and dynamic Board of Governors which provides support to the School of Nursing. The board meets in Ann Arbor twice a year and via conference call on an as-needed basis.
Officers are elected by the board to serve two-year terms of office. Board members serve up to two consecutive three-year terms. All former Board members are invited to be active in the School of Nursing Alumni Society Academy. Academy members are invited to attend Board meeting, enjoy full rights of membership on the Board except for voting, and can be appointed by the Chair as full members of a standing committee.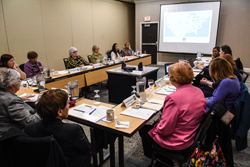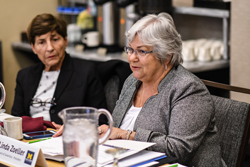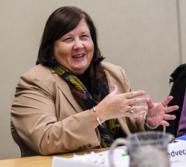 Members of the Board of Governors
Officers:
President: Karen Hollingsworth, BSN '76
Vice-President: Fran Jurcak, BSN '81
Members:
Hassan Abbas, BSN '17
Sara F. Atwell, BSN '84
Kristen Choi, BSN '14; Ph.D. '17
Jade Curry-Burns, BSN '06, Ph.D. '16
Pam Dahlmann, BSN '89
Jacqueline Dufek, BSN '08, MPH '15
Deborah Erickson, BSN '77
John Knight, MS '13; current DNP student
Karl W. Lopata, BSN '09, MS '14
Barbara Ruppal Medvec, BSN '77
Ann M. Nicklas, BSN '80
Anna Maria Pokriefka, BSN '16, current DNP student
Jordan Rimsa, DNP '18
Daniel Tounsel III, BSN '01
Mary Wahl, BSN '65
Maria Woloson, BSN '78
Ex-officio member:
Linda Zoeller, BSN '71
Student Representatives:
Emma Gill, BSN '20
Andrea Matsumoto, BSN '14, Attending DNP '19
Honorary Member:
Margaret Buchholz
Current Board of Governors activities include:

Creation of the Alumni Helping Students Seminar Series. Now in its second year, this popular seminar series focuses on career development assistance for nursing students such as resume building, interviewing skills, and job offer evaluations. The students asked for alumni assistance in these areas.

Established and now manage the Distinguished Alumni Award program for School of Nursing alumni. Currently in its third year, this program helps recognize and celebrate some of our most successful alumni. Awarded annually during the School of Nursing Homecoming Reunion celebration.

Introduced UCAN, an online alumni and student mentoring network to facilitate entry into practice, career paths, and alumni connections as students transition into job opportunities around the country. Once enrolled, be sure to join the School of Nursing UCAN group.

Formation of a UMSN Alumni group on Facebook. With over 650 members to date, the Facebook page has proven to be a popular place to share news and accolades with alumni.

Participation in the annual Homecoming Reunion celebration (open to all alumni)

Scholarship opportunities (see Alumni Society scholarships for full details)

Advocating for alumni interests

Advancing the mission and goals of the U-M School of Nursing
Click here to view a message from BOG President, Karen Hollingsworth.
For more detailed information about alumni activities, Board of Governors service opportunities or scholarship support, please contact the Office of Development and Alumni Engagement at nursingalum@umich.edu or (734) 763-9710.
Volunteer opportunities
Various volunteer opportunities are offered throughout the year, such as acting as a patient for health assessment courses, providing guidance for students on career development topics, and mentoring students and recent graduates. We believe that our alumni are a great resource of knowledge and guidance for our students.
If you are interested in volunteering for the School of Nursing please contact Jodi Smolek, Assistant Director of Alumni Engagement, at smolekj@umich.edu or call 734-763-9524.
Stay connected
Connect with the U-M School of Nursing and alumni online with these resources.