Alumni Society and volunteer opportunities
Skip to volunteer opportunities below.
Alumni Society overview
Originally founded in 1900, the U-M School of Nursing Alumni Society supports the school in its mission and work through coordinating key initiatives and facilitating communication between alumni and the school. All UMSN graduates become members upon graduation. Membership is free. 
Board of Governors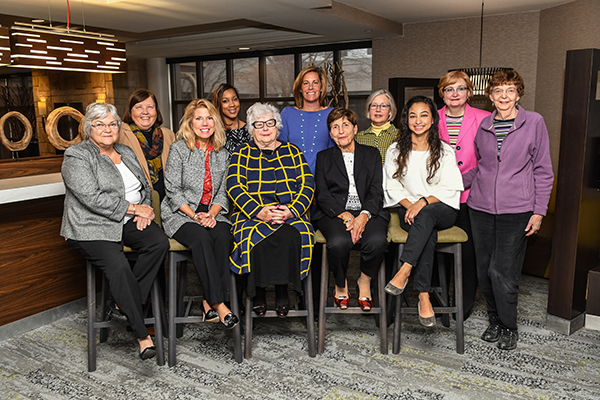 The Alumni Society is led by an enthusiastic and dynamic Board of Governors which provides support to the School of Nursing. The board meets in Ann Arbor twice a year and via conference call on an as-needed basis. 
Officers are elected by the board to serve two-year terms of office. Board members serve up to two consecutive three-year terms. All former Board members are invited to be active in the School of Nursing Alumni Society Academy. Academy members are invited to attend Board meeting, enjoy full rights of membership on the Board except for voting, and can be appointed by the Chair as full members of a standing committee.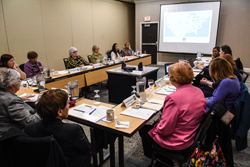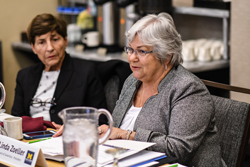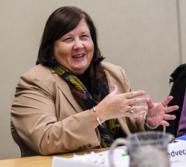 Members of the Board of Governors
Karen Hollingsworth, BSN '76 - President
Karen Hollingsworth, RN, MS, CPHIMS
Sr. Vice President, Information Services, Spectrum Health Delivery System
Frances Jurcak, BSN '81 - Vice President
Fran Jurcak, MSN, RN, CCDS '81
Vice President of Clinical Affairs, Iodine Software
Fran Jurcak is Vice President of Clinical Affairs for Iodine Software, the fastest growing artificial intelligence software for clinical documentation integrity and is responsible for clinical services and product innovation.  She has spent the past thirteen years providing direction and support to healthcare organizations clinical documentation improvement programs across the country at JA Thomas & Associates and Huron Consulting Group.  Fran currently serves on the Association of Clinical Documentation Improvement Specialists Advisory Board (ACDIS) as well as the ACDIS inpatient and outpatient certification Advisory Boards.  She received the ACDIS Professional Achievement Award in 2017 for her dedication and excellence in work in this field.  Fran is a recognized national speaker for the CDI profession and regularly presents at state and national events.
Prior to moving into the CDI profession, Fran was an Assistant Professor of Nursing at Madonna University in Livonia, Michigan where she coordinated the fundamentals course and served as the Faculty Advisor for the student nursing association.  She also taught at Oakland University for two years prior providing clinical instruction as well as teaching in their fundamentals lab.  Her clinical experience after graduating from UM SON began at Henry Ford Health System in Detroit on their Oncology Unit in their Emergency Department and also worked in the Emergency Departments of Beaumont Royal Oak, Beaumont Troy and Providence Hospital in Southfield, Michigan. 
Fran has a BSN from the University of Michigan and an MSN from Wayne State University.  She currently resides in Plymouth, Michigan with her husband and is the mother of three children and grandmother of three.
Hassan Abbas, BSN '17
Hass Abbas, RN
Registered Nurse, The Johns Hopkins Hospital, Cardiovascular Surgical Intensive Care Unit
Hass Abbas is currently a registered nurse at The Johns Hopkins Hospital in the Cardiovascular Surgical Intensive Care Unit in Baltimore, MD. Hass received his Bachelors of Science in Nursing graduating with the Bicentennial Class of 2017. During his time at the School of Nursing, he served as Vice President of Nursing Student Government, co-created the Student Wellness Initiative, and headed many alumni outreach projects. He has a passion for mentoring other students entering the medical profession and has interests in professional development. When he is not at work, Hass enjoys volunteering with elementary students, boating, cooking, and spending time with his dog Nori.
Sara Atwell, BSN '84
Sara Atwell, RN, MHA
Senior Principal / IBM Watson Health Consulting 
As a senior principal member of the of the IBM/Watson Health consulting team, Sara Atwell brings over 30 years of healthcare experience in hospital operations, clinical quality improvement, patient safety, service excellence, physician alignment and system transformational change.  Atwell supports the Value Based Care consulting practice in sales, project management and service delivery for large integrated health systems. She works directly with healthcare executives in achieving superior outcomes in a variety of value based care models and metrics. 
Atwell served in multiple leadership roles before joining the IBM/Watson Health consulting practice. Most noteworthy was a 14 year position as the Chief Quality, Patient Safety and Service Excellence Officer for Oakwood Healthcare System. Sara worked directly with the Board and executive leaders to design and execute the quality strategic plan that supported achievement of clinical excellence in Quality and Patient Safety.
Sara Atwell received her BS in Nursing from the University of Michigan, Ann Arbor and her master's in healthcare administration from Central Michigan University. Sara is certified in Healthcare Quality from the Institute of Quality Improvement at Intermountain Health. Atwell serves on multiple nonprofit boards and has been a member of UMSON BOG since 2017. She is a recipient of the Michigan Quality and Patient Safety Leadership Award.
Kristen Choi, BSN '14; PhD '17
Kristen Choi, Ph.D., MS, RN
Postdoctoral Fellow, National Clinician Scholars Program, University of California Los Angeles
Kristen Choi is a nurse scientist and child/adolescent psychiatric nurse in Los Angeles. Currently, she is a Postdoctoral Fellow with the National Clinician Scholars Program at UCLA. She completed her BSN and PhD at the University of Michigan School of Nursing in Ann Arbor and her MS in Health Policy and Management at the UCLA Fielding School of Public Health. Dr. Choi studies health services and policy approaches to trauma, violence, and  behavioral health among children. The goal of her research is to transform health systems to be more responsive to trauma and violence in communities and to change trajectories of childhood adversity from risk to resilience. Her research portfolio include studies on posttraumatic stress disorder (PTSD) among children, adverse childhood experiences, community violence, the impact of mass shootings on healthcare providers, firearm-related deaths, and treatment for youth with Autism Spectrum Disorder. As a both a clinician and a scientist, Dr. Choi maintain a clinical practice as a registered nurse (RN) at a community psychiatric hospital in Downtown Los Angeles. She addresses trauma and violence from individual, family, system, and policy levels in her research and is committed to a creative, action-oriented program of research led by nursing that will reverse the harm of trauma and violence in the lives of children and lead to policy change.
Jade Curry-Burns, BSN '06, PhD '16
Jade Burns, Ph.D., RN, CPNP-PC
Research Fellow, Department of Health Behavior and Biological Sciences, University of Michigan School of Nursing
Dr. Burns is a clinical expert on pediatric and community-based healthcare. She has more than 10 years of experience working with youth (ages 0-21) in a variety of clinical, community-based and academic settings. Her research is centered on innovative approaches using community-engaged research and technology (e.g., social media, mobile apps, messaging) to improve healthcare and sexual health outcomes among adolescents at community health care centers. Her secondary area of interest is improving nursing practice and training programs in underserved areas.
Pam Dahlmann, BSN '89
President/Co-Founder of Michigan Ovarian Cancer Alliance (MIOCA), a non-profit organization that provides ovarian cancer awareness, education and fundraising for survivors and families within the state of Michigan.
Jacqueline Dufek, BSN '08, MPH '15
Jacqueline Dufek, RN
Registered Nurse, University of Michigan
Currently employed at U of M Hospital in outpatient pediatrics.
Formerly worked in Pediatrics and OB in the inpatient and outpatient settings in both Seattle and Chicago, also was a former school nurse. Went to grad school at U of M School of Public health and completed her Masters in Health Behavior and Health Education in 2015. Currently resides in Ann Arbor with her fiance. Jacqueline remains close with many of her SON Class of 08' friends as well as others she met through student groups. Is interested in getting into nursing and health education in the future.
Deborah Erickson, BSN '77
Deborah "Deb" Erickson, Ph.D., RN
Associate Professor of Nursing, Bradley University
Dr. Deb Erickson teaches in both the graduate and undergraduate programs. At the undergraduate level, Dr. Erickson supervises senior and junior students in the medical­surgical practicum setting as well as teaching the content on diabetes, endocrine disorders, and genitourinary disorders. Dr. Erickson also teaches a postpartum hemorrhage simulation, which she authored with another faculty member. At the graduate level, Dr. Erickson teaches Clinical Practice, Healthcare Policy, and Advanced Health Assessment, Pathophysiology, and Pharmacology.
Research interests include physical activity in people with type 2 diabetes and cross­-cultural competencies through interdisciplinary practice. Dr. Erickson also serves as a manuscript reviewer for the MEDSURG Nursing journal.
Ann Nicklas, BSN '80
Ann Nicklas, JD, RN
Owner/Attorney, The Nicklas Law Firm
Ann Nicklas has extensive experience counseling private and public employers on labor and employment matters and issues.  Through her associations with both a large Detroit based corporate defense firm and a renowned boutique labor and employment law firm, Ms. Nicklas has developed nearly twenty years of expertise in handling cases before the National Labor Relations Board and the Michigan Employment Relations Commission, representing employers in labor arbitrations and discrimination matters before administrative agencies such as the Equal Employment Opportunity Commission and the Michigan Department of Civil Rights, and handling affirmative action and OFCCP compliance.
Anna Maria Pokriefka, BSN '16, attending DNP
Anna Pokriefka, BSN '16, RN.
In the Pediatric Acute Care DNP Program (class of 2021). I work on 12 East at C.S. Mott Children's Hospital. I have always wanted to work with children and am elated to further my career in pediatrics. I am interested in minority health, particularly with the Latino community and hope to do my DNP program with this population. I live in Ann Arbor and love to travel, swim, and spend time with friends.
Jordan Rimsa, DNP '18
Jordan Rimsa, FNP-BC
Family Nurse Practitioner and Software Archiect
Jordan is currently working in his primary career as a business owner and software architect. He designs and manages software for mobile and desktop platforms, specializing in automation, networking and blockchain cryptocurrency. He is a board certified Family Nurse Practitioner and worked in a primary care family medicine clinic for a short period of time before leaving to focus on family and his business. He plans to return to work as a nurse practitioner in the future, and is excited to create a union between his technological background and healthcare.
Members:
John Knight, MS '13; current DNP student
Karl W. Lopata, BSN '09, MS '14
Daniel Tounsel III, BSN '01
Mary Wahl, BSN '65
Maria Woloson, BSN '78
Undergraduate Student Representative:
Kathy Sliwinski, BSN '21
Graduate Student Representative:
Vacant
Honorary Member: 
Margaret Buchholz
Current Board of Governors activities include:
 
Creation of the Alumni Helping Students Seminar Series. Now in its second year, this popular seminar series focuses on career development assistance for nursing students such as resume building, interviewing skills, and job offer evaluations. The students asked for alumni assistance in these areas.

Established and now manage the Distinguished Alumni Award program for School of Nursing alumni. Currently in its third year, this program helps recognize and celebrate some of our most successful alumni. Awarded annually during the School of Nursing Homecoming Reunion celebration.

Introduced UCAN, an online alumni and student mentoring network to facilitate entry into practice, career paths, and alumni connections as students transition into job opportunities around the country. Once enrolled, be sure to join the School of Nursing UCAN group.

Formation of a UMSN Alumni group on Facebook. With over 650 members to date, the Facebook page has proven to be a popular place to share news and accolades with alumni.

Participation in the annual Homecoming Reunion celebration (open to all alumni)

Scholarship opportunities (see Alumni Society scholarships for full details)

Advocating for alumni interests

Advancing the mission and goals of the U-M School of Nursing
Click here to view a message from BOG President, Karen Hollingsworth.
For more detailed information about alumni activities, Board of Governors service opportunities or scholarship support, please contact the Office of Development and Alumni Engagement at nursingalum@umich.edu or (734) 763-9710.
Mentoring opportunities
The University Career Alumni Network (UCAN) is a platform that enables students to connect with hundreds of U-M School of Nursing alumni who have offered to act as resources for nursing students.
This tool offers valuable insights on career preparation, as well as an opportunity to have your individual questions answered about jobs, geographic locations, area of practice, professional schools, and more, so you can better understand the world of work and your areas of interest.
Whether you have a quick question to ask or you would like to establish a longer term mentoring relationship, this is the place to begin.
Join today: umich.peoplegrove.com
Sign in with your UMich ID and create your profile.
Begin searching for alums who match your interests.
The system will prompt you on the steps to contact an alum directly.
Once you are a UCAN member, be sure to join the School of Nursing group.
Volunteer opportunities
Various volunteer opportunities are offered throughout the year, such as acting as a patient for health assessment courses, providing guidance for students on career development topics, and mentoring students and recent graduates. We believe that our alumni are a great resource of knowledge and guidance for our students.
If you are interested in volunteering for the School of Nursing please contact Jodi Smolek, Assistant Director of Alumni Engagement, at smolekj@umich.edu or call 734-763-9524.
Stay connected
Connect with the U-M School of Nursing and alumni online with these resources.