Process & timing
The School of Nursing recognizes that navigating financial aid can be challenging. In order to maximize the financial support that may be available, we encourage students to explore all types of financial aid: University-level, private, and School of Nursing options.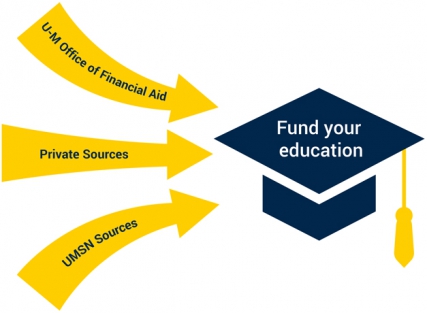 U-M financial aid
The U-M Office of Financial Aid (OFA) is the central source for information on major sources of university-level financial aid including scholarships, loans, grants, and work-study employment programs. This office should be every student's first point of contact when thinking about how to finance their Michigan education.
When a student applies for aid, the U-M Office of Financial Aid (OFA) uses information provided by the FAFSA and/or CSS profile to calculate expected family contribution and thus your eligibility for University-level need-based aid programs. Please refer to the OFA website for aid application instructions and guidelines. 
Private sources
Privately-funded scholarships are sometimes available to students through corporate, professional, trade, government, civic, religious, social and fraternal organizations. To help connect students with these potential aid opportunities, OFA provides resources for finding and applying for private scholarships.
School of Nursing financial aid
The School is committed to assisting students with their education expenses by offering grants and scholarships and by participating in a number of state and federal scholarship and loan programs. It should be recognized that the school is limited by the availability of funds and funding sources. Eligibility requirements and application process/timeline will vary, and often depend upon academic program, scholarly achievement and demonstrated need.
Financial aid calendar
U-M Office of Financial Aid
October 1 - CSS/PROFILE is available and should be submitted as soon as possible (entering or transferring students only)

October 1 - FAFSA available. Complete/update "My Scholarship Profile" in Wolverine Access.

March 31 - Final deadline by which OFA must receive FAFSA and CSS/PROFILE to be considered for all university-level aid.

March to mid-June - OFA determines financial aid package and e-mails financial aid notice (early March for admitted students; early May for returning students). Notification is on rolling basis as students submit applications.
School of Nursing
January 1 to April 30 - School of Nursing notifies incoming student recipients of supplemental need and/or merit scholarships.

May 1 to July 31 - School of Nursing notifies returning student recipients of supplemental need and/or merit scholarships.