Primary care family nurse practitioner program
Specialty Appeal
Family nurse practitioners are in demand. With the looming shortage of physicians entering primary care, the demand for primary care providers is naturally on the rise. The exciting trend of the patient centered medical home model requires a team of providers with increased need for nurse practitioners.
Family nurse practitioners can practice in multiple settings and thus have multiple opportunities throughout their careers. From settings such as school-based health centers, family practice and urgent care, graduates can apply their skills and their degree in a spectrum of clinical settings.
Family nurse practitioner is a rewarding and challenging occupation. Through engaging in health promotion and following patients across the life span, FNPs utilize their skills in ways that are meaningful both to their patients and their patients' families.
Education and practice
The primary care family nurse practitioner program prepares advanced practice nurses for the current and evolving primary health care system. The program focuses on providing students with the skills needed to deliver cutting edge, community-based primary health care to individuals and families across the lifespan. We place a strong emphasis on health promotion as well as the development of positive health behaviors as they pertain to diverse groups at different developmental and age stages. FNP students share courses with students in the adult-gerontology primary care nurse practitioner, primary care pediatric nurse practitioner, and nurse midwife programs where relevant. This structure exposes students to a variety of expert specialty faculty and also helps the development of inter-specialty relationships that may prove fruitful in students' future practices.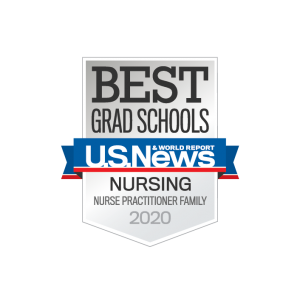 Our program prepares graduates to provide the full range of primary care from the antepartum period, infancy, childhood and adolescence through the adult lifespan. This includes
well care to children and adults
age appropriate health and developmental screening across the life span
diagnosis and management of common acute and chronic health problems
prenatal and postnatal care to mother and baby
In addition to direct patient care, primary care family nurse practitioner students also participate in research, education, and policy development relevant to advanced practice nursing and diverse population health care issues. As a result of this broad preparation, our graduates are employed in a wide variety of settings, including community-based health centers, private practice, local health departments, urgent care, emergency rooms, nurse managed health centers, and retail clinics.
Requirements
See the application requirements for this program.
Curriculum
Listed below are the required courses for the primary care family nurse practitioner program. Students will be placed in clinical settings appropriate to the NP role. The curriculum is offered in an on-campus format; however, a few of the core courses may be web-blended. The program is offered as a fall term (September) start only. The MSN program takes 2.5 years and the BSN-DNP program takes 4 years. Sixty-seven credit hours and 616 clinical hours are required.
Sample plan of study
Core courses
NURS 527: Promoting Optimal Models and Systems for Healthcare Delivery
NURS 528: Models, Theories and Methods to Promote Optimal Health Outcomes
NURS 529: Scientific and Analytic Approaches for Advanced Practice
Specialty courses
Required cognates
PHR 620: Pharmacotherapeutics I
PHR 621: Pharmacotherapeutics II
HS 505: Team Based Clinical Decision Making
Required cognates

P620

Pharmacotherapeutics I

4

P621

Pharmacotherapeutics II

4

HS505
Team Based Clinical Decision Making
2

Total credits = 67

Minimum required clinical hours = 616
Concentration option
Occupational health nursing concentration
This concentration is offered as an extension of the adult nurse practitioner or family nurse practitioner programs, and contains all content and clinical experiences required for certification as an adult or family nurse practitioner and as an occupational health nurse, including over 500 hours of supervised practicum experience in primary care and occupational health services.
Scope
The University of Michigan School of Nursing family nurse practitioner program meets and surpasses the primary care family nurse practitioner core competencies outlined by the National Organization for Nurse Practitioner Faculties (NONPF). Upon graduation and entry into practice, family nurse practitioners are proficient in the following areas:
Providing health promotion, health protection, disease prevention, and treatment

Assessing health status

Diagnosing health status

Creating a plan of care and implementation of treatment

Ensuring a professional, collegial, and collaborative approach to care

Serving as a teacher and coach to patients

Committing to advancing the profession

Assisting patients in managing and negotiating the health care delivery system

Monitoring and ensuring high quality health care practice

Demonstrating cultural competence