Michigan difference in nursing education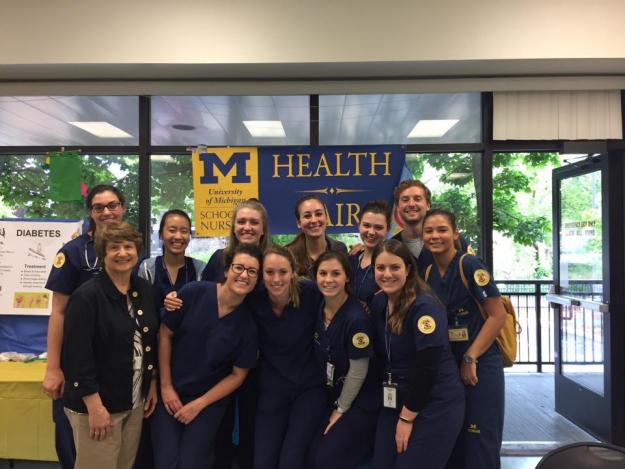 Pioneering leadership and innovation
UMSN's graduate programs have always been on the cutting edge. Our midwifery program, founded in 1990, was the first in the state of Michigan and is ranked among the top 10 nurse midwifery programs by "U.S. News & World Report". The Systems, Populations and Leadership department leads the way in using technology to draw students from all over into our programs, offering the first web-blended MSN and post-master's DNP. Since 1980, community health nursing with a focus on mental health has been emphasized in our adult-gerontology primary care NP program.
Interprofessional education
UMSN actively participates in University of Michigan's Center for Interprofessional Education, meaning that our students benefit from learning with students in other health care fields. They graduate from our programs able to lead interprofessional teams and work collaboratively across health disciplines.
Recognized success: Rankings and pass rates
In 2017 by the "U.S. News & World Report", the University of Michigan School of Nursing was ranked #1 in nurse midwifery; #5 in nursing administration; #15 in Doctorate in Nursing Practice, and #11 overall for our master's degree programs.
With a nearly 100% pass rate on certification exams in recent years in a number of our programs, it is undeniable that the graduates of the University of Michigan School of Nursing are well-prepared.
World-class faculty leaders in education and practice
Faculty that teach in our programs are excellent teachers and practitioners. Our faculty are actively involved in national organizations, using their expertise to help shape and advance the future of care and education. As active participants in local and national educational and policy setting organizations, faculty stay current in education and practice trends, and lead the profession.
In addition to the excellent faculty of our school, our students benefit from the expertise of all health science faculty at U-M. Our students take classes in other schools, such as Pharmacy, and participate in cross-listed interprofessional health science courses. The interdisciplinary nature of learning and scholarship at the University of Michigan benefits all our graduate students and helps them become leaders in interdisciplinary healthcare provider teams, directly benefitting patient care.
Groundbreaking research
UMSN is known for research that is systems, community, and patient focused, in addition to basic science. Focus areas of our faculty include: women's health, domestically and globally, basic biological sciences, acute and chronic care efficacy trials, health systems science, health-promotion studies, care effectiveness studies, and population-based studies.
Our students learn the most up-to-date research as it is continually incorporated into their curriculum, and the broader community benefits indirectly. We support our students as researchers in their own right and encourage them to take advantage of faculty expertise on a wide range of research projects. We value our students' unique perspectives and provide ample opportunity for their collaboration on research initiatives that draw on their interests.
Talented preceptors and variety of clinical settings for students
UMSN has a broad scope of talented clinical preceptors available in the University of Michigan Health System. We also place students with skilled preceptors in major health systems in southeast Michigan and other locations across the state. Clinical settings expose students to the entire spectrum of care, from community settings such as homeless shelters and youth center clinics, private primary care practices, regional hospitals in global locations, and local specialty clinics. Our long-standing tradition of rigorous academic preparation paired with intensive experiential learning makes for highly successful nurse professionals.
Global opportunities
The School of Nursing is a designated PAHO/WHO Collaborating Center. This designation gives students the opportunity to see how international health policy is formed through intergovernmental organizations. Students have the opportunity to work with School of Nursing faculty in a variety of global clinical settings, to complete a global health concentration, and all our students can draw on the wealth of international opportunities available through the University of Michigan.
Overall objectives of degree programs
Consistent with the school's philosophy of nursing, our degree programs are designed to prepare graduates to:
Expand knowledge and expertise in a specialty area of nursing

Investigate various theories related to the practice of nursing

Examine health issues and care delivery systems with regard to their implications for nursing

Evaluate nursing roles and their articulation with other health care roles in the planning and delivery of health care

Gain advanced knowledge in related physical, social and behavioral sciences and humanities

Develop abilities in facilitating collegial relationships in the planning and delivery of health care and conduct of collaborative research

Engage in directed scholarly study

Develop knowledge and skills in planning and implementing data/evidence-based change in nursing practice and health care delivery systems

Assume leadership roles in clinical nursing, teaching, or management, from a strong theory, evidence, and practice base

Develop skills in analyzing the social, political, ethical, technological, economic, and professional issues and their implications for nurses, nursing, and health care

Value the diversity of people of different genders, sexual orientation, ages, races, cultures, religions, nationalities, and beliefs and the ways in which these affect health and health care delivery
Teaching and learning statement
The University of Michigan School of Nursing believes that active participation of the students in the learning process leads to better understanding of concepts, reinforces retention of knowledge and builds the foundation for life-long professional learning. The school fosters the use of innovative, experimental and emerging pedagogies and technologies to engage students in the learning process. To achieve its goals the school has developed flexible physical and virtual learning spaces and a highly integrated information technology support system. The aim is to facilitate creative teaching and learning activities for faculty and students through the use of technology, community and global outreach.