Hillman Scholars Program in Nursing Innovation
Meet our graduates and see some of their past accomplishments.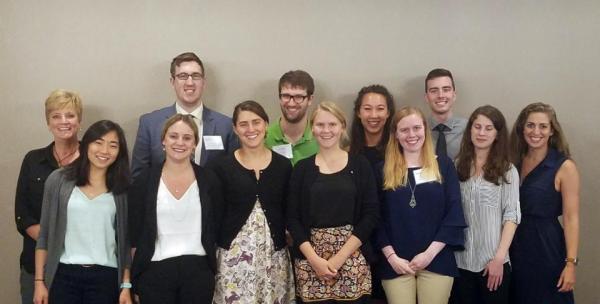 Undergraduate students selected as Hillman Scholars begin their research path while in the BSN program, then complete their Ph.D. program in three years. By starting the research path early, students can participate in and lead research earlier in their careers, leading to a longer research trajectory and eventually, a greater impact on patients. Research and innovation are hallmarks of the Hillman Foundation. 
"We were seeking an institution willing to take risks, willing to rethink and expand on traditional notions of a nursing Ph.D.," said Ahrin Mishan, Executive Director of the Rita and Alex Hillman Foundation. "With a highly skilled and interdisciplinary faculty and a culture of inquiry committed to linking research with real-world solutions, we expect the University of Michigan, along with our other Hillman partners, to lead the way in shaping a new generation of nurse leaders."
See the newly redesigned Hillman Scholars website featuring scholar profiles including UMSN's Grace Kanzawa-Lee, Alex Fauer and Kristen Choi.
Leadership
Director of the Ph.D. program: Ellen Lavoie Smith, Ph.D., MSN, RN, AOCN®, FAAN
Director of the Hillman scholars program at the U-M School of Nursing: Patricia Abbott, Ph.D., RN, FAAN, FACMI, pabbott@umich.edu
Achievements of Hillman scholars, 2017-2018
Publications and presentations
Hillman scholars authored or co-authored 4 publications. In addition, 14 publications are in preparation or in press.

Scholars presented posters at a number of conferences including: American Thoracic Society International Conference, Academy Health Annual Research Meeting, American Society for Blood and Marrow Transplantation Annual Research Meeting, International Conference on Cancer Nursing, University of Michigan's annual Michigan Meeting, and UMSN's annual Research Day.
Grants and awards
Emily Boltey earned first place in the Ph.D. student category at UMSN's annual Research Day. She also received an American Thoracic Society abstract award at the organization's 2018 conference.

Emily Boltey, Kristen Choi, Bradley Liestenfeltz and Laura Sinko received Hillman Advancing Early Research Opportunity Fellowships.

Grace Kanzawa-Lee earned an American Cancer Society Doctoral Scholarship in Nursing.

Kathryn Finn received a Rotary World Peace Organization Student Award.

Alex Fauer was selected as a Jonas Scholar. He also received at 2018 Academy Health IRGNI Doctoral Student Award.
Features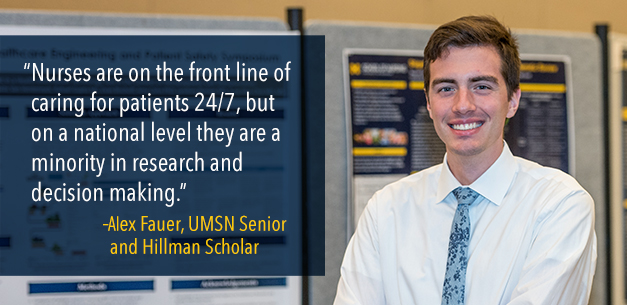 First-generation student rises above challenges to make a lasting gift. 

Clare Donohoe came into UMSN's undergraduate program with a lot of questions that would impact her path.  

Emily Boltey is using and investigating interprofessional teamwork with the goal of improving outcomes for patients in intensive care.  

Ph.D. student Laura Sinko is committed to supporting individual and customizable healing goals.  
Previous Hillman news
Kristen Choi received a National Research Service Award from National Institutes of Health, Eunice Kennedy Shriver National Institute of Child Health and Human Development for "Service use typologies among trauma-exposed children: The roles of PTSD and dissociation."
Jordan Harrison and Kristen Choi received Rackham Graduate Student Research Grants. Choi also received a Rackham Conference Travel Grant.
Two scholars received the Wallenberg Summer Travel Fellowship. In 2015, Katherine Finn partnered with the Global Health Uganda Computerized Cognitive Rehabilitation Therapy (CCRT) team to determine the effectiveness of CCRT on child survivors of severe malaria.

The research of

Hillman scholar

and Ph.D. student Kristin Choi with her mentor, Associate Professor

Julia S. Seng, Ph.D., CNM, FAAN

, has been published in the "

International Journal of Childbirth" (Volume 4, Issue 3).

"

Trauma-Informed Care With Childhood Maltreatment Survivors: What Do Maternity Professionals Want to Learn

?" investigates the amount of training providers have received in caring for pregnant women with posttraumatic stress disorder and their objectives in providing improved care. "This paper was an adaptation of my undergraduate honors thesis, so I was excited to see it published in a nursing journal," says Choi. "I learned a lot about the publication and peer-review processes, and I hope that my ideas can have a positive influence on nursing practice."

Dr. Susan Dorsey, University of Maryland School of Nursing Associate Dean for Research, visited UMSN in October 2014 to present "How nursing genomics research can inform therapeutic targets and a muscular dystrophy exemplar" to the Hillman scholars. Dr. Dorsey's basic and translational program of research in the molecular, cellular and genetic mechanisms underlying the development and persistence of chronic pain has been continuously funded by the NIH and the American Pain Society.