Hillman Scholars Program in Nursing Innovation
Meet our current Hillman scholars.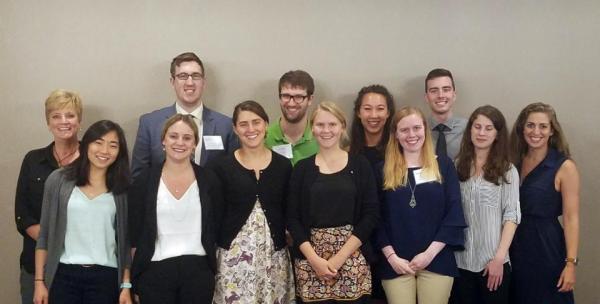 Hillman Scholars Program in Nursing Innovation
Undergraduate students selected as Hillman scholars program begin their research path while in the BSN program. After finishing BSN requirements, the scholars then complete their Ph.D. program in three years. By starting the research path early, students can participate in and lead research earlier in their careers, leading to a longer research trajectory and eventually, a greater impact on patients.
"At the end of the day we're looking for more than just a top ranked nursing school. We were seeking an institution willing to take risks, willing to rethink and expand on traditional notions of a nursing Ph.D.," said Ahrin Mishan, Executive Director of the Rita and Alex Hillman Foundation. "With a highly skilled and interdisciplinary faculty and a culture of inquiry committed to linking research with real-world solutions, we expect the University of Michigan, along with our other Hillman partners, to lead the way in shaping a new generation of nurse leaders."
Research and innovation are hallmarks of the Hillman Foundation. The foundation focuses on creating doctoral nurse leaders who are prepared to apply science at the forefront of health care. Hillman scholars strive for research that can affect important changes in policy.
Leadership
Director of the Hillman scholars program at UMSN: Patricia Abbott, Ph.D., RN, FAAN, FACMI, pabbott@umich.edu
UMSN's first Hillman scholar defends dissertation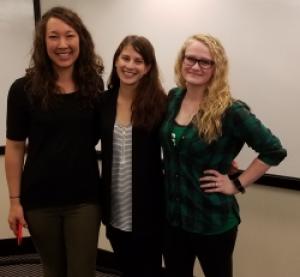 Jordan Harrison was the first UMSN Hillman scholar to defend her dissertation and earn her doctorate. Her dissertation, "Functional status, quality of life and long term survival in a cohort of women with breast cancer and heart failure: Results of the Medicate Health Outcomes Survey" was successfully defended in March 2017. Her advisor is Christopher Friese, Ph.D., RN, AOCN, FAAN and her committee consisted of Friese, Matthew Davis, MPH, Ph.D., Susan Pressler, Ph.D., RN, FAAN, FAHA, Debra Barton, Ph.D., RN, AOCN, FAAN and Nancy Janz, Ph.D..
Harrison, Kristen Choi and Robert Knoerl all successfully defended their dissertations and have graduated with their doctorates.
Achievements of Hillman scholars, 2015-2016
Publications
Hillman scholars authored or co-authored 12 publications. In addition, 11 publications are in preparation or in press.
Grants and fellowships
Kristen Choi received a National Research Service Award from National Institutes of Health, Eunice Kennedy Shriver National Institute of Child Health and Human Development for "Service use typologies among trauma-exposed children: The roles of PTSD and dissociation."

Jordan Harrison and Kristen Choi received Rackham Graduate Student Research Grants. Choi also received a Rackham Conference Travel Grant.

Two scholars received the Wallenberg Summer Travel Fellowship. In 2015, Katherine Finn partnered with the Global Health Uganda Computerized Cognitive Rehabilitation Therapy (CCRT) team to determine the effectiveness of CCRT on child survivors of severe malaria. In 2016, John Shaver will work on a research project in Namibia focused on HIV-affected LGBTQ populations.
Presentations
Scholars presented posters at a number of conferences including: American Society of Clinical Oncology Quality Care Symposium, Human Trafficking and Social Justice Annual Conference, Population Association of America Annual Conference, Conference on Adolescent Health, Heart Failure Society of America Annual Conference, and the Ethiopia-Michigan Collaborative Consortium.
Scholars presented 14 posters and three papers at the Midwest Nursing Research Society Conference and 20 posters at UMSN's Annual Research Day where scholars Alex J. Fauer and Kathryn Abramoski won first and second prizes, respectively.

Scholar Kristen Choi was invited to present to three groups (University of Michigan Law School, UMSN Systematic Reviews course, University of Michigan global scholars program) and was an invited panelist for a discussion on interdisciplinary collaboration at the UMSN Symposium on Global Health: 125 Years of Research and Impact.
Honors and awards
Six scholars were inducted into Sigma Theta Tau International Honor Society of Nursing, Rho Chapter, joining six scholars inducted in previous years.
Leadership
Scholars serve on a range of committees and groups, including: Sigma Theta Tau International Rho Chapter Governance Committee; Nursing Network on Violence Against Women Policy Committee; UMSN Committee on Academic, Admissions and Scholastic Standing; Oncology Nursing Society Advancing Nursing Research Special Interest Group; UMSN's Diversity Committee; Youth Advisory Board (YAB) for Health Intervention Development at the University of Michigan SexLab; the Ph.D. Advisory Committee; and the Wallenberg Application Committee.

Kristen Choi serves as a reviewer for "Trauma, Violence and Abuse" and "Women's Health International." She is part of a U-M effort to establish a clinic to provide comprehensive services for survivors of human trafficking as part of the Ethiopa-Michigan Platform for Advancing Collaborative Engagement (EM-PACE).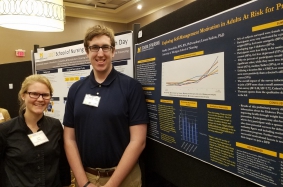 Previous Hillman news
The research of Hillman scholar and Ph.D. student Kristin Choi with her mentor, Associate Professor Julia S. Seng, Ph.D., CNM, FAAN, has been published in the "International Journal of Childbirth" (Volume 4, Issue 3)."Trauma-Informed Care With Childhood Maltreatment Survivors: What Do Maternity Professionals Want to Learn?" investigates the amount of training providers have received in caring for pregnant women with posttraumatic stress disorder and their objectives in providing improved care. "This paper was an adaptation of my undergraduate honors thesis, so I was excited to see it published in a nursing journal," says Choi. "I learned a lot about the publication and peer-review processes, and I hope that my ideas can have a positive influence on nursing practice."

Dr. Susan Dorsey, University of Maryland School of Nursing Associate Dean for Research, visited UMSN in October 2014 to present "How nursing genomics research can inform therapeutic targets and a muscular dystrophy exemplar" to the Hillman scholars. Dr. Dorsey's basic and translational program of research in the molecular, cellular and genetic mechanisms underlying the development and persistence of chronic pain has been continuously funded by the NIH and the American Pain Society.