Past accolades
Winter 2015

PhD candidate Celeste Schultz received the 2015 Research Poster Award at the 36th Annual Conference of The National Association of Pediatric Nurse Practitioners held in Las Vegas, Nevada. Schultz's poster "Giving Children a Voice: Exploring Preschool-Age Children's Beliefs about Eating" represents her research exploring similarities and differences in the beliefs of children who are obese and those of a healthy weight, while also evaluating different methodological approaches for data collection.

PhD candidate Jeremy Lapham and his team, D+Sign M+pact, received an honorable mention in the 2015 U-M Center for Social Impact Challenge. The focus of the event was to develop a proposal for the redevelopment of an abandoned automobile plant in Detroit by infusing arts, community, sustainability, and economic development. Lapham's team included members from engineering, public health, architecture and urban planning. Lapham has also been appointed as a member of the student advisory board for the U-M Office of Digital Education & Innovation.
Savana Tello, a master's student in UMSN's Health Systems, Nursing Leadership, and Effectiveness Science Master's programhas been selected as a Global Health Fellow in the 2015 Duke University Program on Global Policy and Governance. The fellowship, which takes place in Geneva, includes a health policy internship and intensive course on "Health Policy in a Globalizing World." Tello is interested in securing an internship that focuses on population health.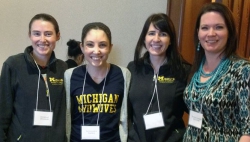 Three UMSN midwifery students, Danielle Douglass, Kerri Tollerud and Alexie Garbus, received scholarships from the Michigan Affiliate of the American College of Nurse-Midwives (ACNM). The funds will be used for the students to attend the 60th annual national ACNM conference in Maryland in June. Students are pictured with Ericka VanderSys, treasurer of the MI chapter and preceptor for UMSN students.

Clinical Assistant Professor Michelle Pardee, DNP, FNP-BC, has been elected to the Michigan Primary Care Consortium's Board of Directors. The non-profit organization works to improve the primary care delivery system with a focus on the patient-centered medical home model. Members include health care providers, corporations, government agencies and academic institutions. Dr. Pardee will serve a three year term.

Clinical Associate Professor Esther H. Bay, PhD, ACNS-BC, has been selected as the recipient of the 2015 Christina Stewart-Amidei Writing Excellence Award for the article "Chronic Morbidities after Traumatic Brain Injury: An Update for the Advanced Practice Nurse." It was co-written by UMSN Honors student Kattlynn Chartier. The article was published in the June 2014 issue of the Journal of Neuroscience Nursing. The award will be presented to Dr. Bay in March at the Annual Educational Meeting in Nashville, TN.

Doctor of Nursing Practice (DNP) student and Jonas Scholar Dan Ochylski has been selected as a technical expert panel (TEP) member for Centers for Medicare and Medicaid Services.  His TEP panel will focus on the development, implementation, and maintenance of quality measures for the Program of All-Inclusive Care for the Elderly. Panel members are selected based on their personal experience and training. Ochylski says the program aligns with his professional goal of contributing as a nurse leader within programs of national importance to strengthen the U.S. health care system. He was inspired to apply for the program after listening to guest lecturer Dr. Floyd Eisenberg speak on Improving Quality Measures and Clinical Decision Support in the N811 Health Informatics course with UMSN Associate Professor Patricia Abbott, PhD, RN, FAAN, FACMI.

Boqin Xie, a UMSN PhD student, received a 
Rackham One-Term Dissertation Fellowship
.  The award is given to students who have achieved candidacy and it is generally awarded to students who are in the writing stage of their dissertation as a means of speeding up the process of completion.   Xie's dissertation focuses on frailty in older adults with heart failure. Her research mentor and dissertation chair is 
Cynthia Arslanian-Engoren, PhD, RN, ACNS-BC, FAHA, FAAN
.
Fall 2014

PhD student and UMSN Adjunct Clinical Instructor 
Susanne Quallich, MSN, ANP-BC, NP-C, CUNP, FAANP
, received the 2014 Arthur T. Evans Lectureship from the American Urological Association. The recipient must be an active Society of Urologic Nurses and Associates (SUNA) member exhibiting excellence in urologic nursing and must be certified by the Certification Board for Urologic Nurses and Associates. The award is for Quallich's presentation "Sorting Out PSA: Screening Smarter" at SUNA's 45th Annual Conference, held in November 2014. SUNA is a professional association with over 3,000 members focused on the research, patient care, and professional development in urologic care.

UMSN Professor Debra L. Barton, RN, PhD, AOCN, FAAN, has been selected for a prestigious co-chair position with the National Cancer Institute (NCI). The Symptom Management and Health-related Quality of Life Steering Committee (SxQoL SC) is dedicated to identifying and promoting the "Best Science" in symptom management and quality of life research from NCI cooperative groups. The committee works to prioritize clinical trial concepts and key strategies related to cancer, cancer treatment and quality of life for patients.  Dr. Barton, UMSN's Mary Lou Willard French Professor of Nursing, will serve as a co-chair for a three-year term.

UMSN student Daniel Ochylski has been appointed to the inaugural American Association of Colleges of Nursing (AACN) Graduate Nursing Student Academy (GNSA) Policy Committee. Ochylski, who is enrolled in UMSN's Doctor of Nursing Practice (DNP) program, is studying health workforce educational programs and nursing leadership. He was selected as one of seven students for the committee out of more than 100 applications. Ochylski and the other committee members are expected to serve a one-year term, promote AACN advocacy messages, and help lead grassroots strategies. The members will have the opportunity for first-hand experience in navigating the policy process and to become highly skilled advocates on behalf of patients and the nursing profession.

Clinical Associate Professor Stephen Strobbe, PhD, RN, PMHCNS-BC, CARN-AP, has been selected as the president-elect of the International Nurses Society on Addictions (IntNSA). Voted to the position by members of IntNSA, Dr. Strobbe will serve as president-elect for two years and then become president for an additional two years. IntNSA is a professional specialty organization of nurses committed to the prevention, treatment, and management of addictive disorders. Dr. Strobbe has previously served on the board of IntNSA. Photo: Dr. Strobbe (l) with Michael Botticelli, Acting Director of National Drug Control Policy during the IntNSA 2014 Annual Conference.

UMSN Dean Kathleen Potempa, PhD, RN, FAAN, is among members named in 2014 to the Institute of Medicine (IOM) of the National Academies, one of the highest honors in the fields of health and medicine. "I am honored and willing to serve to better the health of our nation and other nations around the world," Dean Potempa said. "This is an important and timely opportunity to address the key principles of the IOM and RWJF, espoused in the landmark 2010 IOM report on the Future of Nursing that is invigorating nursing and health care." U-M's six new IOM members (chosen to be included among just 70 nationwide for 2014), are experts in genetic and statistical analysis, Lou Gehrig's Disease (ALS), head and neck cancer, health policy, and health science.

UMSN Research Fellow Marie-Anne Sanon Rosemberg, PhD, RN, received an award from the National Institute on Minority Health and Health Disparities Loan Repayment Program (LRP). Through the National Institutes of Health, the LRPs are designed to encourage promising researchers and scientists to pursue research careers by repaying a portion of their student loans. Dr. Rosemberg's award will cover two academic years as she focuses her research on optimizing the health of workers and chronic disease outcomes.


Faculty members Drs. Lisa Kane Low, Marjorie McCullagh, and Denise Saint Arnault have been selected for induction as fellows in the 
American Academy of Nursing
. They join UMSN's 30 active professorial and emeritus faculty who are members of the Academy. Candidates require the sponsorship of two current fellows and are reviewed by a panel of fellows for evidence of significant contributions to nursing and health care. The new fellows will be inducted during the AAN's annual conference, to be held in mid-October in Washington, DC. After induction, the new fellows will be able to use FAAN credentials.
Clinical Associate Professor 
Dana Tschannen, PhD, RN
, and Clinical Assistant Professor 
Michelle Aebersold, PhD, RN
, with UMHS's  Sheryl Woloskie and Lori DeVries, received a "Best-in-Track" award in the Technology and Emerging Learning Environments category from The Online Learning Consortium for  "Use of Online Modules and Video Simulation in Annual Nursing Staff Competency Blitz." The conference has over 2,000 onsite attendees and 1,600 virtual attendees, representing more than 950 institutions, from 50 states and territories and 29 countries around the world. Best-in-Track sessions will be recognized during the conference on Oct. 30.

University of Michigan School of Nursing (UMSN) Associate Professor Patricia Abbott, PhD, RN, FAAN, FACMI, has been elected to the Open Source Electronic Health Record Alliance (OSEHRA) Board of Directors. It is the first time a woman and a nurse has been elected to this five-member board. "Dr. Abbott brings a rare combination of academic and clinical experience to our board" said Dr. Sung K. Mun, OSEHRA President and CEO. "Her leadership and expertise in health informatics in the academic community is unparalleled." Dr. Abbott  was also recently selected by the University of Maryland to be among the 25 alumni from the school's 125-year history of nursing programs to receive a "Visionary Pioneer" award.
Clinical Assistant Professor Donna J. Marvicsin, PhD, PNP-BC, CDE, was selected as one of the "25 Top Pediatric Nursing Professors" by NursePractitionerSchools.com. "Every professor on this list is a committed mentor and educator, offering something truly special to every student they touch," says website editor Barry Franklin. Selection for inclusion included peer recognition, continued practice and teaching of advanced level courses. Clinical Assistant Professor Michelle Pardee, DNP, FNP-BC, and Professor Emerita Joanne M. Pohl, PhD, ANP-BC, FAAN, FAANP, were selected as "25 Top Nurse Practitioner Program Professors." Criteria included excellence in national publications, professor level and their role as professors in a top rated nurse practitioner program.
Spring/Summer 2014

UMSN student Loril Garrett was recently inducted into the University of Michigan chapter of Phi Kappa Phi. The membership was recorded on her permanent transcript (Phi Kappa Phi is one of only three Honor Societies that the University of Michigan recognizes in this way). Garrett is a graduate student in UMSN's department of Systems Leadership and Effectiveness Science.

UMSN recent graduates once again exceeded state and national average pass rates for the National Council Licensure Examination (NCLEX). For the period of April 1 to June 30, 2014, 84 UMSN students took the exam resulting in a 94% pass rate. The State of Michigan pass rate is 87% and the national rate is 86%. The NCLEX is the required test for graduates to receive their professional nursing license. Congratulations to our students and faculty!

Marita G. Titler, PhD, RN, FAAN, professor and chair, Division of Systems Leadership and Effectiveness Science, has been awarded a Michigan Institute for Clinical & Health Research (MICHR) pilot grant. Her project is "Implementation of an Efficacious Psycho-educational Program for Cancer Patients and their Family Caregivers in the Cancer Support Community Network." MICHR's Pilot Grant Program works to promote the development of novel solutions to improve patient and community health outcomes, through translational research, health policy that informs practice, and the development of new methods and best practices.

Clinical Instructor Leslie Kearfott, MSN, FNP, has been selected to be a Jonas Nurse Leaders Scholar as she obtains her DNP degree from Oakland University. The prestigious grant, established in 2008, was created to support the development of nursing faculty and address the needs of future patients. Kearfott practices at Pediatric Specialists of Bloomfield Hills. She is also working with colleagues at U-M's C.S. Mott Children's Hospital to implement a hospital "bundle" educational plan centered around central line associated blood stream Infections and catheter-associated urinary tract infections. In addition, she and other pediatric faculty members are developing a project focused on measuring empathy levels of nursing students caring for families with a chronically ill child.

UMSN DNP student Daniel Ochylski, MS, RN, has been selected for a new partnership program with the Jonas Center and Sigma Theta Tau International. The program is designed to support doctoral nursing students, establish new educational tracks to develop nurse leadership skills and help nurse leaders prepare future nurses to meet the demands of the global health care system. Ochylski is currently working on a scholarly project focused on health workforce educational programs and nursing leadership. As a Jonas/STTI Scholar, he will research, develop and launch a new leadership academy within the STTI International Leadership Institute.

Clinical Assistant Professor April Bigelow PhD, ANP-BC, and a U-M team have been selected for a U-M Provost's Teaching Innovation Prize.  Dr. Bigelow helped create 
"
CaringWithCompassion.org: A Comprehensive Training Portal for Clinicians Serving At-Risk Populations." The online learning tool is used to help health care professionals, students, and others to better understand social determinants of health and improve care for underserved populations. Five projects were selected for the award and will be officially recognized during a presentation May 5. The award is sponsored by the Office of the Provost, the Center for Research on Learning and Teaching, and the U-M Library.

UMSN continues to surpass state and national average pass rates for the National Council Licensure Examination (NCLEX), the required test for graduates to receive their professional nursing license. In the first quarter of 2014, our BSNs achieved a 96.5% pass rate, considerably higher than the national average of 84.7% and the state of Michigan average of 86.5%. The majority of UMSN students taking the exam this quarter were from the first cohort of our updated Second Career Program; they achieved a remarkable 98.2% pass rate. "We have really moved our BSN programs to the best in class," says Dean Kathleen Potempa, PhD, RN, FAAN. "Our students, faculty and alumni should be very proud."


Susan J. Pressler, PhD, RN, FAAN, FAHA
, Professor & Director of UMSN's PhD Program, and 
Sally L. Lusk, PhD, RN, FAAN, FAOHN
, Professor Emerita, have been selected as 
Top 100 Alumni Legacy Leaders
 by Indiana University School of Nursing. Awardees "demonstrate exceptional contributions to nursing through education, clinical practice, leadership, and/or research." They will be honored at the school's 100th Anniversary Celebration Weekend in June.

Clinical Assistant Professor Christine Anderson, PhD, RN, has been selected for an Association of periOperative Registered Nurses (AORN) Journal Writers Contest Award. Dr. Anderson co-authored "Evaluation of OR Staffing and Postoperative Patient Outcomes" with AkkeNeel Talsma, PhD, RN, FAAN; HyoGeun Geun, MPH, RN; Ying Guo, PhD; and Darrell A. Campbell, MD. Articles are reviewed by AORN journal editors, review panel members and editorial board members. Dr. Anderson received the award at AORN's annual conference in Chicago in early April.
Winter 2014

UMSN junior Hea Jun Oh has been selected as a recipient of the Wallenberg International Summer Travel Award. The award is in honor of U-M alumni Raoul Wallenberg, who is credited with saving thousands of Jews during the Holocaust. Before his disappearance, Wallenberg said travel helped him understand the human condition and his concern for human dignity and humanitarian values. Recipients of this highly selective award are given funds to use for a service project anywhere in the world. Oh will be travelling to Tagbilaran City, Philippines, to provide basic health education at a local elementary school. She will cover topics such as personal hygiene, infectious diseases, non-infectious diseases, sexual education and healthy lifestyle choices.
Ph.D. candidate Ann Annis Emeott has been awarded a Rackham Predoctoral Fellowship. The fellowship supports doctoral students who are working on their dissertation and are "unusually creative, ambitious and risk-taking." Emeott's research will assess the distribution and trend of clinical patient encounters among interdisciplinary health professionals in nationwide VA primary care sites. She plans to test whether the involvement of associate providers, such as nurses, pharmacists, social workers, dieticians, in care delivery is associated with medical home implementation, access to care, and healthcare utilization. Emeott's research mentor is Associate Professor Marcelline Harris.

Clinical Assistant Professor Katie A. Moriarty, Ph.D., CNM, CAFCI, has been elected to the American College of Nurse-Midwives (ACNM) Board of Directors. Dr. Moriarty will represent Region IV, which covers 7 states, and she will serve as a liaison between the region and the Board of Directors. ACNM is a professional organization that aims to advance the health of women and newborns through midwifery excellence. The organization also works to lead the profession through education, clinical practice, research, and advocacy. 
Assistant Professor Sarah A. Stoddard, Ph.D., CPNP, has been selected as a Fellow in the Society of Adolescent Health and Medicine (SAHM). The title is granted to individuals who demonstrate a long-standing commitment to the welfare of adolescents and a willingness to advocate on their behalf at a local, regional, national or international level. Dr. Stoddard will be honored in March during the 2014 SAHM Annual Meeting in Austin.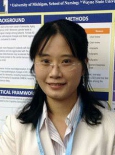 Ph.D. student An-Yun Yeh has been selected for a Midwest Nursing Research Society 2014 Founders' Circle Endowment Fund Grant. Yeh's research is focused on the relationship of sleep disturbances and episodic memory in older adults and the potential connections to functional ability, depression, and aging. Yeh plans to use the findings to develop interventions to improve episodic memory or slow decline of episodic memory by improving sleep. Her mentor is Dr. Susan Pressler.

Barbara Brush, Ph.D., ANP-BC, FAAN, UMSN's Carol J. and F. Edward Lake Term Clinical Professor, was reappointed to a second term on the Commission on Graduates of Foreign Nursing Schools International (CGFNS) Sub-Committee on Advanced Practice Nursing Professional Nurse Credentials Standards. CGFNS, a nonprofit organization, is the world's largest credentials evaluation organization for nursing.

Associate Professor Marjorie McCullagh, Ph.D., RN, PHCNS-BC, COHN-S, has been elected as Director of Education of the National Hearing Conservation Association (NHCA). The professional organization is dedicated to hearing loss prevention through developing industry standards and in regulatory, educational and legislative activity. NHCA members include audiologists, physicians, occupational health nurses, engineers, and equipment manufacturers, among others. NHCA cited Dr. McCullagh's expertise in hearing loss prevention in farm workers, leadership in other professional societies and her experience as an educator as key reasons for her selection as director.
Fall 2013

The Michigan Cancer Consortium has presented their highest honor, a Spirit of Collaboration award, to , UMSN Professor and member of the U-M Comprehensive Cancer Center and to Barbara Hiltz, MSW, Director of the Cancer Support Community. The award is given to people or organizations that have formed outstanding collaborative partnerships to significantly move comprehensive cancer control activities forward in Michigan.  Dr. Northouse and Ms. Hiltz were selected for the academic-community partnership they formed to implement the FOCUS program, a research-based intervention developed by Northouse and U-M colleagues that provides information and support to cancer patients and their family caregivers. The FOCUS Program has been successfully implemented in the Cancer Support Community and has shown to be effective for increasing patients' and caregivers' ability to manage the illness and treatments for it, reducing their emotional distress, and improving their quality of life.

Deborah J. Oakley Collegiate Professor Carol J. Boyd, Ph.D., RN, FAAN, received the Association for Medical Education and Substance Abuse's (AMERSA) 2013 Betty Ford Award. It is given to an individual who has played a significant role in the treatment and recovery of drug-dependent individuals, particularly women.  Dr. Boyd has spent more than a decade studying the misuse and abuse of controlled medications by adolescents and young adults, in addition to her life-long focus on alcohol and drug abuse and recovery in women. Dr. Boyd received the award at the AMERSA National Conference in Bethesda, MD where she also presented her latest research on adolescents' prescription drug abuse.

Post-Doctoral Fellow Deleise Wilson, Ph.D., RN, received an award from the National Institute on Aging through the National Institutes of Health (NIH) Clinical Loan Repayment Program (LRP). The two-year award will be utilized for the 2013-2015 academic years. The NIH-LRP program supports health professionals' commitment to at least two years of qualified research in exchange for repaying a portion or all of the researcher's student loans. Dr. Wilson's research program focuses on the influence of safety organizing behaviors and the role of nursing unit leaders on patient outcomes.

Professor Beatrice J. Kalisch, Ph.D., RN, FAAN, has been selected as the 2013-2014 Institute of Medicine (IOM) Distinguished Nurse Scholar in Residence. During the year-long immersion program, Dr. Kalisch will be taking a prominent role in national health policy development. She is also expected to develop or actively participate in a policy-oriented paper related to an IOM study. The program is supported by the American Academy of Nursing, the American Nurses Association, and the American Nurses Foundation. Dr. Kalisch's fellowship begins in September in Washington D.C.

UMSN alumna and member of the Dean's Advisory Council Linda Q. Everett, PhD, RN, NEA-BC, FAAN, has received the National League of Nursing (NLN) President's Award. Dr. Everett is executive vice president and chief nurse executive at Indiana University Health and associate dean for clinical affairs at the Indiana University School of Nursing in Indianapolis. The NLN selects the recipient of this award based significant contributions to advancing the health of the nation through excellence in nursing education and practice. The NLN cites Dr. Everett's success at "establishing, building, and nurturing nursing education excellence through academic-practice partnerships" as a key reason for her selection for this award.

Associate Professor Maria Katapodi, Ph.D., RN, FAAN, received the Protégée Award from the Friends of the National Institute of Nursing Research (FNINR). The award is given to a nurse researcher whose work demonstrates a long program of scientific contributions that advances the understanding of human health and health care. The recipient must be within first 10 years of completing their Ph.D. or postdoctoral study. Dr. Katapodi's research focuses on breast cancer prevention and genetic counseling with a strong interest in family communication and decision-making related to those issues. Dr. Katapodi will be officially recognized for her award at the FNINR NightinGala in October in Washington, D.C.

Associate Professor Patricia Abbott, Ph.D., RN, FAAN, has been appointed to the World Health Organization's (WHO) eHealth Technical Advisory Group (TAG). TAGs are comprised of prominent, international experts to provide guidance and expertise to the WHO on dedicated topics. The eHealth TAG is a newly formed group focusing on information and communication technologies for health. Dr. Abbott says the appointment is a great honor for her personally and an opportunity to include nursing in an international dialogue dedicated to bettering and strengthening the use of health information technology in health and healthcare.
Spring/Summer 2013
Assistant Professor Jason Mitchell, Ph.D., MPH, received a three-year grant from the National Institute of Mental Health for, "Development of a HIV prevention toolkit for at-risk HIV-negative male couples." The award, worth more than $700,000, will be used to build on Dr. Mitchell's previous research related to the development of agreements among couples to help decrease their HIV risk while promoting HIV testing. The three phases of this study are to develop, pilot, and refine a web-based toolkit using interviews and focus groups among other methods. The goal is to assist couples in forming sexual agreements that include testing for sexually transmitted diseases and HIV, decrease high-risk behavior, and raise awareness about HIV prevention and testing resources.
UMSN is proud to recognize the high pass rate of our students who recently took the National Council Licensure Examination (NCLEX). At 97%, UMSN's rate far exceeds the national average of 83%. In addition, it's higher that the State of Michigan's 86% pass rate. These numbers represent NCLEX results for the 2013 Second Quarter, April 1- June 30.  The NCLEX is the required test for graduates to receive their professional nursing license. Congratulations to the students and to the faculty who provide an excellent education for UMSN undergraduates!

Recent Pediatric Nurse Practitioner graduate Frankie Bonner received a grant from the Kiwanis Club of Flint. It will be used to help establish a Reach Out and Read (ROR) Program for the pediatric patients of Hamilton Community Health Care Network in Flint, MI. ROR partners with pediatric health care providers to give books to children ages six months to six years old and educate the parents about the benefits of increasing their child's literacy.

Associate Professor Milisa Manojlovich, Ph.D., RN, CCRN, has been appointed to a three-year term as a director of the American Association of Critical-Care Nurses (AACN) Certification Corporation board – the credentialing arm of the AACN. The AACN is the largest specialty nursing organization in the world, representing the interests of more than 500,000 nurses who are charged with the responsibility of caring for acutely and critically ill patients.  "I am absolutely thrilled to be given this opportunity to serve," says Dr. Manojlovich. "During my tenure on the board I hope to promote the value of certification to students and colleagues here at Michigan. Certification contributes to positive patient, nurse, and healthcare system outcomes."

Assistant Professor Lisa Kane Low, Ph.D., CNM, FACNM, received a Distinguished Service Award from the American College of Nurse-Midwives (ACNM) at its meeting this spring. This award recognizes exemplary effort in the field of community service, innovation in midwifery practice, education, or research. Dr. Kane Low was selected for her leadership as director of UMSN's nurse midwifery program, membership on numerous ACNM committees and work as a regional representative to the ACMN board of directors. The ACMN also cites her position as executive director for Doulas Care, which provides low-cost or free services to pregnant women. In addition, Dr. Kane Low's research on care practices during labor and birth to promote optimal health outcomes has resulted in more than 40 publications, which have been used to guide policy and clinical practice.

Associate Professor and Chair, Division of Health Promotion and Risk Reduction Programs Kristy K. Martyn, Ph.D., RN, CPNP-PC, FNP-BC, has been selected for induction as a Fellow in the American Academy of Nursing. Fellows are selected for their leadership in education, management, practice and research. They are expected to contribute their time and energies to the Academy, and to engage with other health care leaders to improve America's health care system. Dr. Martyn's induction will take place at AAN's 40th Annual Meeting and Conference to be held in Washington D.C. in October.

Clinical Instructor 
Peggy Ursuy MSN, MA, RN,
 received a Faculty Travel Fellowship and voucher to attend the Emerging Learning and Integrated Technologies Education (ELITE) Simulation Workshop at the University of Pittsburgh School of Nursing in June. The ELITE program aims to educate nursing faculty on the implementation, evaluation and dissemination of learning technologies in undergraduate and graduate education. Ursuy will be presenting a poster on her qualitative research project which used face to face interviews to learn about undergraduate nursing student perceptions to multi-professional simulation training.
Winter 2013

Ph.D. student Celia Bridges has been awarded a Behavioral Cooperative Oncology Group pre-doctoral fellowship. Bridges will use the fellowship to pursue her interest in palliative care from a systems perspective. Working under the mentorship of Dr. Ellen Smith and Dr. Anne Sales, she plans to investigate the influence of symptom management systems on cancer-related neuropathic pain outcomes, and hopes to parlay that investigation into systems interventions that will improve the quality of life for individuals with cancer.  

Research Fellow Seung Hee Choi received a Behavioral Cooperative Oncology Group post-doctoral fellowship. Dr. Choi's research interest is health behaviors, particularly smoking and smoking cessation. With the fellowship, she plans to work with UMSN Professor Sonia A. Duffy, Ph.D., RN, FAAN, to develop a smoking cessation intervention for smoking couples.
DNP student Bernadette Carroll received a grant from U-M's Interdisciplinary Committee on Organizational Studies for her project, Aggression in Healthcare Organizations. Carroll's research interest includes understanding the variables that contribute to workplace violence in the healthcare setting. Her goal is to gain a better understanding of effective interventions to mitigate the number of incidences.

Associate Professor Kristy K. Martyn, PhD, RN, CPNP-PC, FNP-BC has been elected to the Board of Directors of the National Organization of Nurse Practitioner Faculties (NONPF). The organization has members from 90% of American educational institutions with NP programs, in addition to several other countries. It works to advance NP education through improved resources, scholarship and policy. Dr. Martyn says "As a NONPF Board Member I will work with the NONPF Board and membership to lead quality nurse practitioner education." Dr. Martyn's term runs through 2015. 
Ph.D. student Jade Curry Burns has been selected as a 2013 Paul Ambrose Scholar by the Association for Prevention Teaching and Research & the Office of Disease Prevention and Health Promotion., Burns will join 40 students from across the country for the four-day Paul Ambrose Scholars Program Symposium in Washington, D.C. which focuses on the complexities and varying attitudes toward public health. In addition, Burns will conduct a community-based health education project organizing focus groups of African American early adolescent males to find out if using technology such as smart phone apps is a feasible project to strengthen communication about sex between father and son.

Ph.D. student Denise Weiss is the recipient of a Research Doctoral Scholarship from the Oncology Nursing Society. Weiss will use the $3,000 scholarship to continue her research on quality of life and mental fatigue in family caregivers of cancer patients participating in Phase I clinical trials. Weiss is interested in learning more about how care giving can create stress and have a negative impact on health. She hopes to utilize that information to create interventions aimed at improving the quality of life for caregivers. The scholarship will be used for the 2013-2014 academic year.

Clinical Instructor Elizabeth Kuzma, RN, MSN, FNP-BC, was accepted into the Michigan Education Policy Fellowship Program 2013-2014 cohort. Fellows meet monthly for seminars, interactive learning and leadership development related to public policy issues. Fellows also participate in two national meetings, the Leadership Forum and the Washington Policy Seminar. Kuzma will enter the program in September 2013. She says her goals are to learn more about policy development and advocacy, network with professionals from a variety of arenas and similar interests, and to further develop her leadership skills.

Professor Anne Sales, Ph.D., RN, was appointed to the Congressionally authorized Patient-Centered Outcomes Research Institute (PCORI) Improving Health Systems advisory board. It is one of four newly created 21-member advisory boards to advise PCORI on funding, prioritizing, evaluating, and disseminating research. More than a thousand people applied for a position on one of the boards. Members include health care professionals, scientists, patients, and caregivers. Dr. Sales says, "This offers a terrific chance to have input into the directions set by this exciting new funding agency. Patient-centered care, and how systems need to change to achieve it, has the potential to transform American health care."

Clinical Assistant Professor Donna J. Marvicsin, Ph.D., PNP-BC, CDE  received the Clinical Innovations Award from the Michigan Council of Nurse Practitioners for her poster presentation, 
Implications for primary care services: After-hours ON-CALL findings from two Nurse Managed Health Centers (NMHC's) over one year. 
Dr. Marvicsin's research showed that primary care and the patient centered medical homes can develop strategies to address patient concerns when the practice understands the reasons for after-hours calls. The objective is to improve patient satisfaction and decrease Emergency Department visits.

UMSN sophomore Brook Elgrably received the University of Michigan Health Systems (UMHS) "Making a Difference" award. A patient who had back surgery nominated Elgrably for being courteous and friendly, and believes she will make "an outstanding nurse upon complete of her studies." UMHS created the award to recognize employee contributions and honor employee achievements. Awardees receive a pin, a Making a Difference certificate and are invited to a special awards reception.

Denise Cooper, MS, ANP-BC, received the Evidence Based Practice Award from the Michigan Council of Nurse Practitioners (MICNP) for her poster presentation, 
Improved Urinary Tract Infection (UTI) Assessment and Resident Outcomes: An Evidence Based Implementation Project in Long-Term Care. 
Cooper's focus was on verbalizing ways to improve accurate assessment of UTI symptoms and ways to reduce incidences of recurrent UTIs in long term care residents. Cooper is in the first cohort of UMSN DNP students and expects to graduate in April 2013.

Laura Gultekin, a Ph.D. student at UMSN, has been honored with an Institute for Research on Women and Gender/Rackham Graduate Student Research award. Gultekin's areas of interest are life events that contribute to housing instability and homelessness in women with children. Gultekin plans to use a qualitative, narrative approach to interview mothers in Detroit who are seeking emergency housing assistance. The IRWG award will supplement Gultekin's National Institutes of Health National Research Service Award for participant incentives and researcher travel expenses to and from Detroit. 

Jennifer Salerno, DNP, CPNP, FAANP, an adjunct clinical instructor, received the 2013 Hilary E.C. Millar Award for Innovative Approaches to Adolescent Health Care from the Society of Adolescent Health and Medicine (SAHM). Dr. Salerno led development of the Rapid Assessment for Adolescent Preventative Services (RAAPS) screening tool, a 21-question, youth-friendly, online survey on topics such as diet, violence, substance abuse, depression and sexuality. Results of the survey are used by clinicians during an adolescent's appointment to better address individualized risk behaviors. In addition, the RAAPS screen tool is used to electronically capture and store data in a consistent manner to easy administrative duties for health professionals. This award is presented annually at the SAHM Annual Meeting in March.

Miyeon Jung, a Ph.D. student at UMSN, has been awarded an American Heart Association Predoctoral Fellowship. Her project is 
Attention Restoration Intervention for Heart Failure Patients.
 The research aims to improve attention function by using a theory-based natural restorative environment intervention. Jung says she hopes it will help patients increase their attention and improve self-care, while also reducing re-hospitalization and mortality. The 2-year, $52,000 fellowship begins immediately. Jung's faculty sponsor is Dr. Susan Pressler.

Associate Professor Dr. Marjorie McCullagh has been named president of the Michigan Association of Occupational Health Nurses (MAOHN). The organization works to advance occupational health nursing through continuing education, advocating for improved state legislation and regulations, and promoting the health and safety of workers. Dr. McCullagh served as treasurer of MAOHN for 2 years. As president, her goal will be to increase the responsiveness of the organization to the needs of members.
Fall 2012
Boqin Xie, a UMSN PhD student, received a Rackham International Student Fellowship Award in November 2012. Recipients must have a strong academic record, be making good progress toward the degree, and demonstrate outstanding academic and professional promise. Xie's area of interest is improving health-related quality of life in men and women with heart failure. Her research interests include how cognitive impairment affects health behavior and self-care management in patients with heart failure, as well as strategies to improve cognitive impairment. She plans to conduct a systematic review of resources available to heart failure patients in China, obtain data from patients to determine the severity of impairment, and develop a potential intervention. Xie's research mentor is Cynthia Arslanian-Engoren, PhD, RN, ACNS-BC, FAHA, FAAN.

Clinical instructor Deborah Price, RN, MS, received The DAISY Faculty Award. The DAISY (Diseases Attacking the Immune System) Foundation was established by the family of Patrick Barnes in honor of the nursing care he received during the final weeks of his life. The DAISY Faculty Award was created to show appreciation to teachers for their commitment and inspirational influence on their students. Ms. Price was honored as "someone who demonstrates caring, compassion, and is an outstanding role model. She shows her commitment to students' learning by staying after class to answer questions, planning additional learning experiences, and by conveying genuine interest in their success."

Cynthia Darling-Fisher, PHD, FNP-BC, received the UMHS "Making a Difference" Award. She was nominated by Darlene Ledwon, a co-worker at Regional Alliance for Healthy Schools in Washtenaw County. Ledwon said, "Dr Darling-Fisher provides skilled and compassionate care to her clients. She always goes the "extra mile" in helping families meet their healthcare needs. Cindy is a great team player, optimistic problem solver and a joy to work with." Awardees receive a pin, a certificate and are invited to a special awards reception in December.
Jade A. (Curry) Burns is a winner of the 2012 "Five Under Ten" Award. The University of Michigan African American Alumni Council (AAAC) honors five alumni who have graduated in the past 10 years, for professional achievements and contributions to the community.  As a volunteer and a pediatric nurse practitioner, Burns is dedicated to improving patient care in underserved communities. She is continuing her education at University of Michigan School of Nursing (UMSN) as a PhD student. Her research interest includes using technology such as mobile applications to reduce risky sexual behavior among adolescents and parent adolescent sex-communication between African American adolescent males and their fathers.

Amanda Schuh, a doctoral student & graduate student instructor, is the first UMSN student to become a Jonas Nurse Leaders Scholar. She will focus her research on children and adolescents in military families. Specifically, she's interested in coping and adaptations to stressors, as well as the development of family resilience. Schuh says she'd like to research, teach, and maintain a clinical practice in her career. The Jonas Nurse Leaders Scholars Program was created to support development of new nursing faculty and encourage joint faculty appointments between schools of nursing and clinical affiliates.  The Barbara and Donald Jonas Family Fund established the Jonas Center for Nursing Excellence to advance the nursing profession through grants and programs.
Dr. Bernadine Cimprich, PhD, RN, FAAN, an Associate Professor Emerita, received the Dr. Harold Burdette Award. The award is given by the Behavioral Cooperative Oncology Group to an individual whose work compliments the principles held by Dr. Burdette, a well-known oncologist who believed in treating the whole patient, not just the disease. 
Dr. Cimprich
 was one of the first to describe attentional fatigue in women with breast cancer and its detrimental effect on cognitive function. She also developed the Attentional Fatigue Index (AFI), a widely used measure to assess cancer patients' perceptions of their own mental fatigue.
Spring/Summer 2012

Cynthia Fenske, a lecturer at UMSN, has been named one of two Collegiate Lecturers for the University of Michigan-Ann Arbor campus for the 2012-2013 school year. The Collegiate Lecturer Program was established in September 2011 to recognize those lecturers who have demonstrated a sustained record of excellence in teaching and learning and/or in service or other contributions to the University. Lecturers who hold the title of Lecturer II or Lecturer IV and who have been employed as a Lecturer for at least ten years are eligible for nomination. Ms. Fenske has been awarded for her demonstration of a strong commitment to students and for her use of effective integrative teaching strategies in the classroom and in the UMSN Simulation Center. She is the faculty of record for a variety of courses within the undergraduate programs including medical-surgical nursing as well as fundamentals.

Minna Navvab
, a student in the Nurse-Midwife (NM) program at the U-M School of Nursing, has received the Midwives of Color-Watson Scholarship from the American College of Nurse-Midwives (ACNM). Minna was chosen by ACNM Foundation members from a competitive applicant pool of self-identified persons of color enrolled in midwifery education programs. She was recommended for the award by clinical assistant professor Dr. Katie Moriarty. The scholarship awards $1,000. Minna discovered her passion for midwifery while working with pregnant patients on a medical trek in Nepal. After graduating from the CNM program, Minna hopes to work in an urban setting helping women with health disparities receive proper prenatal and postpartum care, as well as have a positive laboring experience.

Michelle Munro
, a doctoral candidate at the U-M School of Nursing, has received a Midwest Nursing Research Society/Council for the Advancement of Nursing Science (MNRS/CANS) Dissertation Research Grant for her dissertation project entitled "To B or not to B?: Plan B and Post-Assault Comprehensive Care." Associate Professor Dr. Julia Seng serves as her mentor on the project, which explores the use of over-the-counter Plan B after sexual assault and its effects on comprehensive care for survivors. The purpose of the MNRS/CANS award is to encourage dissertation research that advances nursing science and practice. In addition to the PhD program at the School of Nursing, Michelle is also pursuing a graduate certificate in Women's Studies and anticipates graduating in Spring 2013.
Lisa Domenico
, a doctoral candidate at the U-M School of Nursing, has been selected to serve as a pre-doctoral fellow in the National Institute on Drug Abuse/U-M Substance Abuse Research Center(NIDA/UMSARC) Interdisciplinary Training Program for the next two years. UMSARC is comprised of over 115 individuals from 21 U-M departments who have significant interest in the study of alcohol, nicotine, and other drugs of abuse. The Center exists to stimulate the study of psychoactive substance abuse of all kinds and to extend knowledge regarding substance abuse prevention. The Interdisciplinary Training Program prepares researchers and scholars to expand their work beyond traditional disciplinary boundaries in preparation for work in the field of substance abuse research. Lisa's mentors are Drs. Karen Stein and Susan Pressler.
Dr. Richard Redman, Professor and Director of the DNP program, has been appointed by the U-M Board of Regents as the Ada Sue Hinshaw Collegiate Professor of Nursing. A Collegiate Professorship is one of the highest honors that active faculty at the U-M School of Nursing can receive. The appointment is given to professors who exemplify excellence in all areas: scholarship, teaching, and leadership. It is bestowed upon faculty who: have an established record of scholarship that is recognized internationally; are currently making significant scientific contributions to the field of nursing; demonstrate a sustained and unequivocal record of excellence in teaching; have a record of scholarly eminence which advances the frontier of knowledge; and demonstrate continuous leadership and contributions in academic, professional, and community service.
Hannah Richardson, a 2012 BSN graduate of the School of Nursing, has received this year's Outstanding Honors Project Senior Poster Award. Her winning research paper is entitled, "Nurse Communication Regarding Position During Second Stage Labor of Nulliparous Women." Hannah's study seeks to identify whether a lack of translation exists between evidence-based practice and actual practice surrounding the issue of nursing communication on positioning during second stage labor. Assistant Professor Dr. Lisa Kane Low served as her advisor on the project. A group of impartial faculty reviewed senior honors students' research papers and determined Hannah's project to be the winner based on criteria such as writing quality, clarity of presentation of ideas, depth of analysis, and originality.

Dr. Joanne Pohl, Professor Emerita, has been selected to receive the 
Loretta C. Ford Award for Advancement of the NP Role in Health Care
 from the American Academy of Nurse Practitioners (AANP). The Loretta Ford Award is named after the founder of the nurse practitioner movement and was established in honor of Dr. Ford's induction into the National Women's Hall of Fame in 2011. The award is bestowed annually to a nurse practitioner who demonstrates participation in health care policy development; contributes to clarification of the role and scope of practice of NPs; and/or takes creative action to turn a challenge to the NP role into an opportunity to advance practice. At the U-M School of Nursing, Dr. Pohl directed the Adult Nurse Practitioner Program and served as Associate Dean for Community Partnerships. She is actively involved in policy related to primary care and nurse practitioners. 

Dr. Cynthia Arslanian-Engoren, Associate Professor at the U-M School of Nursing, has been awarded the 2012 Golden Lamp Award from the Northwest Ohio Nurses Association. Recipients of this award are chosen by their peers based on their outstanding efforts to promote the growth of nurses in the community; mentor others through direction, instruction, and support; motivate others in their professional growth; serve as a role model through involvement in professional associations; and promote health and quality of life for persons in the community. Dr. Arslanian-Engoren received the Golden Lamp Award in April 2012. In addition to teaching at the School of Nursing, Dr. Arslanian-Engoren is an expert in decision science and coronary heart disease in women. Her research focuses on treatment delays for myocardial infarction with an emphasis on nurses' triage decisions and women's treatment-seeking decisions.

Dr. Marjorie McCullagh, an assistant professor has recently been awarded a grant from the National Institutes of Health (NIH). The grant will be used to form an interdisciplinary collaborative team to develop new approaches for the prevention of noise-induced hearing loss in farm youth.  The collaborative team will include Dr. William Martin, neurophysiologist at the Oregon Health & Science University, and Dr. Kevin Frick, health economist from Johns Hopkins University.  The team will build on previous work by Dr. McCullagh in prevention of noise-induced hearing loss among farm operators.  Hearing loss is known to affect youth living and working on farms, with losses measured among farm youth of high school age. Dr. Martin is well known as Director of a hearing loss prevention program, Dangerous Decibels. Noise exposure and hearing loss is preventable with the use of hearing protection devices.
Winter 2012
Irene Felicetti, a staff member at the U-M School of Nursing, received the Gold Medallion Award from Eastern Michigan University (EMU) on March 29, 2012. Ms. Felicetti was nominated for the award by the faculty and staff at University Health Services at EMU for her work as a clinical project manager on a study regarding adolescent risk behaviors (Dr. Kristy Martyn, PI). Faculty at University Health Services said that her work has not only grown the clinic but has improved the quality of care of patients. The Gold Medallion Award is the most prestigious award presented by the Division of Student Affairs and Enrollment Management at EMU and honors individuals whose special contributions exemplify excellence in service, especially to students.

Dr. Barbara Brush has been selected as one of 10 fellows in the inaugural class of the U-M Center for Healthcare Research & Transformation (CHRT).  The ten fellows, five health services researchers and five individuals from the policy sector, will meet over the winter semester in a series of bimonthly all-day sessions to engage in discussions of health policy and legislative issues (particularly many of the "hot topics" currently underway in the state), work directly with health policy and legislative experts, and produce deliverables. Each academic and policy fellow is paired to work on a specific area of interest and expertise. In tandem with her policy partner, a state legislator, Dr. Brush will combine her community-based participatory research with vulnerable community populations and her workforce expertise to assess mental health delivery and capacity in Michigan and make recommendations for improving access to the state's mental health care.

Megan Eagle
, a clinical instructor, has been awarded a Faculty Seed Grant from the Institute for Research on Women and Gender(IRWG). The grant supports her project, "Addressing the Risk of Maternal Mortality in Rural Ecuador." Her work advances the mission of the IRWG, which is to foster collaboration and further the research of all U-M faculty members and graduate students who use the lens of women and gender to pursue their studies. Ms. Eagle serves as an instructor in the Family and Adult Nurse Practitioner Programs and has lectured for other groups as well on the health needs of Latino populations. In addition, she has been providing primary health care services to underserved populations for the past fifteen years.
Susanne Quallich, a PhD student in the U-M School of Nursing, served as co-editor for the first ever Advanced Practice issue of Urological Nursing, the official journal of the Society of Urological Nurses and Associates (SUNA). The journal is written by and for urologic nurses and associates, and seeks to present the latest advances in urologic nursing practice. Susanne also co-authored the editorial for this issue, published in December 2011. In addition, she authored the first practice analysis of nurse practitioners working in urology. Her research paper, "A survey evaluating the current role of the nurse practitioner in urology," was accepted for presentation at the American Academy of Nurse Practitioners (AANP) conference in June 2012.

Elizabeth Kuzma, a clinical instructor, was selected for the American Academy of Nurse Practitioners AANP 2012 Nurse Practitioner award for excellence for the state of Michigan. The AANP State Award for Nurse Practitioner Excellence recognizes a nurse practitioner (NP) in a state who demonstrates excellence in clinical practice. The AANP will present Elizabeth this award at their annual conference in June 2012. Elizabeth has particular experience working with underserved communities in Detroit and Ann Arbor. She also works in a clinic located within a local domestic violence shelter working with survivors of domestic violence and sexual assault and their families.