Accolades
Fall 2016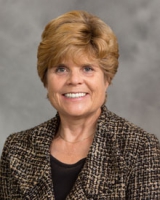 Clinical Assistant Professor Deborah Price, DNP, MS, RN, was selected for the American Association of Critical Care Nursing (AACN) Research Abstract Award. Dr. Price's award is for her work "Self-perceived Assessment of Knowledge, Attitudes and Behaviors about Palliative and End-of-life Care amongst Interdisciplinary Health Care Professionals." The study focused on a comprehensive assessment to identify deficits in providing palliative and end-of-life care to hospitalized patients. Dr. Price found educational needs may be different depending on factors such as experience of staff, and she recommended interventions be focused on improving communication, collaboration and decision-making behaviors between the disciplines, with earlier palliative care consultation. Dr. Price will receive her award and is invited to present her findings at the National Teaching Institute in Houston, TX, in May, 2017.
Assistant Professor Deena Kelly Costa, PhD, RN, was selected for a National Institutes of Health Clinical Loan Repayment Program award from the National Heart, Lung and Blood Institute. The awards are highly competitive and help to ease the financial burden of educational loans for early-career scientists. The program will repay up to $35,000 annually of a researcher's debt in return for a commitment to engage in NIH mission-relevant research. Dr. Costa's work already fits those terms as her program of research focuses on improving outcomes for critically ill adults. Her work specifically examines how to optimize the ICU interprofessional team's ability to deliver high quality care to mechanically ventilated adults by understanding who is part of the team and how these team members work together.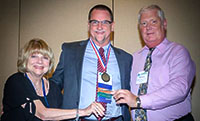 Stephen Strobbe, PhD, RN, PMCNS-BC, CARN-AP, a clinical associate professor at UMSN and U-M's Department of Psychiatry, was inducted as a Fellow in the International Academy of Addictions Nursing. The ceremony took place during the 40th Annual Educational Conference of the International Nurses Society on Addictions (IntNSA). During the conference, Dr. Strobbe was also inaugurated as the President of IntNSA and will serve a two-year term. Dr. Strobbe (center) is pictured with past IntNSA presidents Dr. Diane Snow and Dr. Bill Lorman. 
Professor 
Marita Titler, PhD, RN, FAAN
, was inducted into the National Academy of Medicine (NAM). This is considered one of the highest honors in the fields of health and medicine. Formerly known as the Institute of Medicine, members represent outstanding professional achievement and commitment to service. Dr. Titler is internationally known for her research on outcomes effectiveness and implementation science, largely focused on improving care for older adults in areas such as pain management, cancer care, heart failure and fall prevention. Her work in outcomes effectiveness research has demonstrated the unique contributions of nursing care to outcomes of hospitalized older adults. Dr. Titler also serves chair of UMSN's Department of Systems, Populations and Leadership. U-M now has more 50 NAM members on faculty, including UMSN professor and former dean 
Kathleen Potempa, PhD, RN, FAAN
.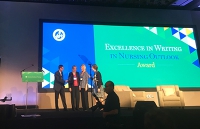 Jody R. Lori PhD, CNM, FACNM, FAAN
, was named the winner of this year's 
Nursing Outlook
 Excellence in Policy Writing Award. She received the award during AAN's annual conference in Washington, D.C. The winning publication "Forced migration: Health and human rights issues among refugee populations" was co-authored by Joyceen S. Boyle, PhD, RN, FAAN. Dr. Lori is UMSN's Associate Dean for Global Affairs, Director of UMSN's 
WHO/PAHO Collaborating Center
, and has conducted extensive research on human rights, maternal mortality, and community-based interventions, often focused in Sub-Saharan Africa.
Spring/Summer 2016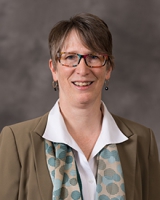 Associate Professor
Ellen Lavoie Smith, PhD, APN-BC, AOCN
, has been selected as a fellow of the American Academy of Nursing. UMSN alumni Martha Funnell, a U-M Medical School associate research scientist, Mary Burman, a University of Wyoming dean and professor, and Colleen Corte, a University of Illinois-Chicago associate professor, were also selected. To receive this high honor, potential fellows are reviewed by a panel and must demonstrate significant contributions to nursing and health care, and be sponsored by two current Academy fellows. The inductees will be honored at a ceremony during the Academy's annual policy conference in October in Washington, D.C.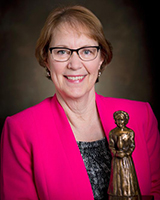 Clinical Assistant Professor Barbara Freeland, RN, DNP, ACNS-BC, CDE, received a 2016 Nightingale Award for Nursing Excellence in Education administered by Oakland University School of Nursing and its Board of Visitors. The annual ceremony honors and celebrates nurses for their leadership, quality care, innovation and advocacy. The Education Award is given to a professional nurse who demonstrates innovative education activities or contributes to quality patient care through research. Dr. Freeland does both, using her more than 40 years of experience in patient care to teach her students advanced methods to improve patients' health education, literacy and self-care. Dr. Freeland is also an advocate for people with diabetes. She has developed diabetes education programs recognized by the American Diabetes Association and has focused her research on the knowledge and attitudes of nursing students towards diabetes self-care.
Winter 2016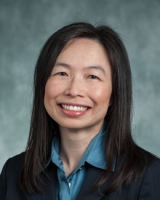 Clinical Assistant Professor
Chin Hwa (Gina) Dahlem, RN, FNP-C, PhD
, has been selected as a fellow in the American Association of Nurse Practitioners (AANP). Selection is based on accomplishments in practice, education, policy and research, and contributions to the advancement of NPs. Dr. Dahlem's research focuses on opioid overdose prevention and education using naloxone and on how patient-provider relationships affect patient outcomes. Her clinical expertise is serving the vulnerable populations particularly to people experiencing homelessness. She will be inducted during the AANP National Conference in June.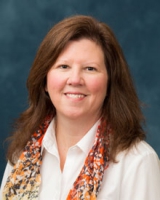 Michelle Aebersold, PhD, RN, CHSE, FAAN
, was elected to the Board of Directors of the International Nursing Association for Clinical Simulation & Learning (INACSL), which has 1500 members from 13 countries. She assumes her position as Vice President for Operations at INACSL's conference in June. She also received the Midwestern Nursing Research Society's 2016 Health Systems, Policy, and Informatics Distinguished Scholar Award. Dr. Aebersold is the director of UMSN's Clinical Learning Center.
Assistant Professor Christopher Friese, PhD, RN, AOCN, FAAN, is a recipient of U-M's 2016 Henry Russel Award. It recognizes early-career faculty members who have demonstrated excellence in scholarly research and teaching. It is considered one of the highest honors for junior faculty at U-M. Dr. Friese's research focuses on the measurement and improvement of care for cancer patients, and on safety for health care workers who handle potentially hazardous drugs. Dr. Friese is the first nursing faculty member to win the award since it was created in 1926. Dr. Friese (r) is pictured with U-M President Mark Schlissel at the award ceremony.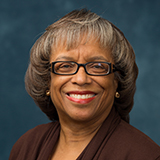 Assistant Professor
Patricia Coleman-Burns, PhD, MA
, has been selected for the Sarah Goddard Power Award: Recognizing the Status of Women Within the University of Michigan. Power was a U-M Regent known for her efforts to advance the position of women and minorities in faculty and administrative roles. Awardees are selected for their contributions to the betterment of women in leadership, scholarship and other professional activities. Dr. Coleman-Burns serves as director of GENESIS, a UMSN outreach program for students in grades 8-11 to learn about careers in nursing and other health sciences and retention and academic success program for underrepresented students in the profession enrolled in the School. She is also the Director of Student Enrichment & Accelerated BS Completion Program and special advisor on multicultural affairs to UMSN's dean. In addition, she is active in programs including the University Outreach Council, the Women of Color in the Academy Steering Committee, and chairperson of the UMSN Strategic Planning Committee on Diversity, Equity, and Inclusion. She is also a Member of the Executive Board of the SafeHouse Center. Dr. Coleman-Burns received the award at a special ceremony on February 10 at the Michigan League.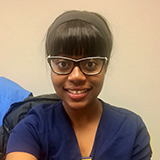 Rhodene Mullings was selected as a recipient of a Minority Health and Health Disparities International Research Training (MHIRT) Award. The program gives students an opportunity to engage in global research related to health disparities. Mullings will travel to Ethiopia to participate in a research project. She will be working on a project entitled "Understanding Patient and Provider Awareness of Sexually Transmitted Infections" with mentor Jason Bell, MD, MPH, assistant professor at U-M's Medical School. The focus of the project will be aimed at understanding where patients seek treatment for STI's and how providers are trained to treat these infections. Mullings brings a unique perspective to international research. She was born in Jamaica, moved to Michigan's remote Mackinac Island as a teenager, and graduated in a high school class of 10 students. She earned her Bachelor of Arts from U-M with a degree in Anthropology and Minor in Medical Anthropology, before deciding to pursue a career in nursing. Mullings participated in UMSN's GENESIS Program and is now president of the GENESIS Student Association.
Fall 2015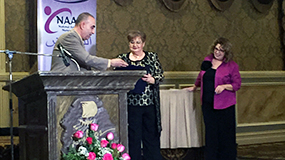 Professor Emerita Shaké Ketefian, EdD, RN, FAAN, received the Angel of Mercy Award at the National American Arab Nurses Association's annual awards banquet. Rose Khalifa, founder and president of NAANA, said, "The contributions of nurses often go without public acknowledgement. We know that there are nurses who positively impact the health and well-being of the Arab American community daily, whether they are Arab American themselves or unselfishly serve the community's needs for care." Dr. Ketefian, who also served as an interim dean of UMSN, was selected for her lifelong commitment to the profession of nursing as a clinical nurse, scholar and educator. Her support continues through multiple scholarships for students with a focus on graduate and global nursing education. 

UMSN faculty and alumni are well represented in new initiatives that the American Association of Colleges of Nursing (AACN) has formed to promote greater engagement of nurses in the health policy arena and develop new thought leaders for the profession. UMSN Associate Professor Olga Yakusheva is on the Health Policy Advisory Council, which is chaired by UMSN alumna Julie Sochalski (BSN '75, MS '79, PhD '88), now on the faculty of University of Pennsylvania. Clinical Assistant Professor Christine Anderson is part of the Faculty Policy Think Tank.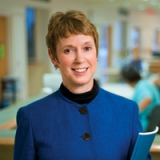 Marita Titler, PhD, RN, FAAN, is among 70 new members named in October 2015 to the National Academy of Medicine (formerly the Institute of Medicine) of the National Academies, one of the highest honors in the fields of health and medicine. Dr. Titler is a professor and the Rhetaugh G. Dumas Endowed Chair of UMSN's Department of Systems, Populations and Leadership and an internationally known scholar in health systems research. Through her work, she seeks to understand why some implementation interventions are effective in translating research into practice in some contexts of care delivery, while others are not. She directs the National Nursing Practice Network, a community of more than 100 practices and health systems across the U.S. committed to the promotion and implementation of evidence-based practices to improve health care and population health. Three other U-M health experts were elected in the 2015 class, and the university now has 54 past and present members of the NAM on faculty. 
UMSN Clinical Associate Professor Michelle Aebersold, PhD, RN, has been selected as a 2015 American Academy of Nursing fellow, and will be inducted at a October 17 ceremony in Washington, D.C. She joins more than 30 UMSN faculty members to receive this prestigious honor. Fellows are selected based on significant contributions to nursing and health care, sponsorship by two current fellows, and a review by a panel of fellows. In addition to Dr. Aebersold (who directs UMSN's state-of-the-art new Clinical Learning Center), 2015's FAAN class of inductees includes U-M School of Nursing alumni Suzanne Miyamoto, Jeff Adams, Tondi Harrison, and Laureen Smith. The induction ceremony takes place during the Academy's annual policy conference, which is also traditionally a time of associated nursing research, policy, practice, education, and professional events in the nation's capital.
Summer 2015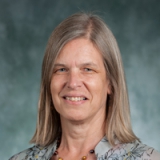 Associate Professor
Jody Lori, PhD, CNM, FACNM, FAAN
, has successfully completed the prestigious AACN-Wharton Executive Leadership Program. Via a competitive process, 40 academic nursing leaders were selected this year to participate in the program, which was designed to provide concepts and tools to enhance leadership. Issues such as managing and leading change, engaging a diverse set of stakeholders and building relationships in volatile environments
 were addressed. "The experiences at the AACN-Wharton Executive Leadership Program provided opportunities to learn and engage with leaders across nursing and gain new insights into leadership," said Dr. Lori.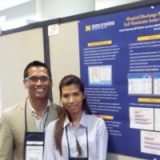 DNP student Pawilai Pitakwong received the Best Moderated Poster Research Presentation award at the Association of Heart Failure Nurses' annual meeting. Pitakwong's presentation was entitled "Hospital Discharge Process and Home-Care Issues among Left Ventricular Assist Device (LVAD) Patients/Caregivers." Pitakwong is pictured with co-author, UMSN Assistant Professor Jessie Casida, PhD, RN, APN-C, CCRN-CSC. Additional co-authors, Joy Chern and Austen Carie, are recent 2015 graduates of UMSN's BSN program.
Spring 2015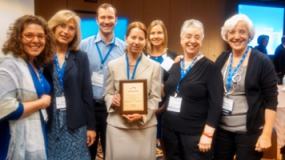 PhD student Ann Annis received the New Investigator Award from AcademyHealth's Interdisciplinary Research Group on Nursing Issues. The award recognizes the best submission by an investigator who is less than five years post-doctorate. Annis currently works as a research specialist at the Veterans Affairs Ann Arbor Healthcare System. She presented
Primary Care Encounter Delivery in the Veterans Health Administration 
at the AcademyHealth Annual Research Meeting. Annis is pictured with UMSN faculty Drs. Deena Costa, Milisa Manojlovich, Christopher Friese, Olga Yakusheva, Anne Sales and Marcelline Harris.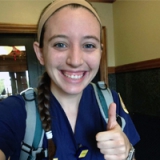 Undergraduate junior Elizabeth (Lizzy) Benedetto has received an American Association of University Women (AAUW) scholarship. AAUW is a national grassroots organization that works to support equality for women in the workplace, and create opportunities in STEM (science, technology, engineering and mathematics) education and leadership. Benedetto attended a scholarship luncheon with her grandmother who is an AAUW member and UMSN alumna. Benedetto is pictured here heading into her first ever clinical at UMHS.
Associate Professor
Patricia Abbott, PhD, RN, FAAN, FACMI
, was honored as one of the University of Maryland School of Nursing's (UMSON) inaugural Visionary Pioneers. UMSON selected 25 alumni who represent significant contributions to nursing through leadership, innovation and entrepreneurship. Dr. Abbott was recognized for her international leadership in informatics. She led the development of the American Nurses Association's Standards of Practice for Nursing Informatics (NI) and served for 12 years on the Committee for Board Certification in NI at the American Nurses Credentialing Center. Dr. Abbott currently serves on the World Health Organization eHealth Technical Advisory Group and is director of University of Michigan's prestigious Hillman Scholars program.
Pictured: UMSON Dean Jane Kirschling (l) and Dr. Abbott.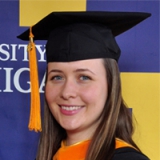 Alumna and current U-M Health System nurse Viktoriya Senkiv, MS, RN, was selected for a prestigious Mayo Clinic Cardiology Nurse Practitioner Fellowship. Only two candidates are selected each year. The
program is one of only two advanced practice registered nurse (APRN) fellowship programs in the U.S. to earn accreditation as a Practice Transition Program by the American Nurses Credential Center's Commission on Accreditation.
Fellows participate in a 12-month program that includes classroom and clinical time, with mentoring in all aspects of adult cardiovascular disease management. Senkiv graduated from UMSN's Adult-Gerontology Acute Care Nurse Practitioner master's program in May 2015. She will begin the fellowship in October.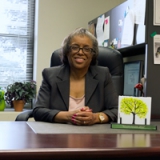 Assistant Professor
Patricia Coleman-Burns, PhD, MA
, was honored with the U-M Center for Educational Outreach (CEO) Partner Appreciation Award. The staff of CEO selected Dr. Coleman-Burns for her "ongoing outreach work and her partnership across the university and in the community." They praised her participation in CEO programs such as Wolverine Express and the University Outreach Council, and her position as an advocate of outreach programs such as the GENESIS Project.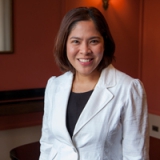 PhD student Rattima Sirihorachai has been selected for a Barbour Scholarship. The award is one of the oldest and most prestigious granted by the University of Michigan. Inspired by travels to Asia, U-M alumnus Levi Lewis Barbour created an endowment to academically assist Asian women enrolled at U-M for positions of leadership in their own countries. Sirhorachai's research interest is developing effective care strategies to reduce distractions and interruptions in acute and primary care settings. Upon completion of her degree, she plans to return to Mahidol University in Thailand as a faculty member and to continue her research.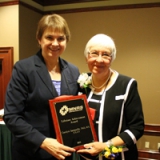 Professor Emerita Carolyn Sampselle, PhD, ANP, FAAN, received the Midwest Nursing Research Society's (MNRS) Lifetime Achievement Award during MNRS' annual conference in Indianapolis. Dr. Sampselle has made significant contributions to nursing science through more than 25 years of research on the prevention of urinary incontinence in women using noninvasive techniques. Her research has prompted changes in policy and recommended standards of care. Dr. Sampselle has published more than 100 professional articles and chapters. She has held prestigious leadership positions including senior advisor to the director of the National Institute of Nursing Research. In addition to traditional classroom teaching, Dr. Sampselle has made numerous contributions to the U-M School of Nursing through mentoring more than 50 graduate students, holding leadership positions such as Associate Dean for Research, and sponsoring 11 new fellows in the American Academy of Nursing. She was nominated by UMSN Professor Emerita Nola Pender, and says she was both surprised and flattered to be selected because "there are so many incredible nurse scientists who could be chosen."
Pictured: Dr. Sampselle (r) with MNRS

President Linda Herrick

.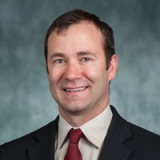 Christop
her R. Friese, PhD, RN, AOCN®, FAAN
, has been selected for the Oncology Nursing Society (ONS) 2015 Rose Mary Carroll-Johnson Distinguished Award for Consistent Contribution to the Nursing Literature. The award recognizes Dr. Friese's impact on oncology nursing "through his high-quality research publications, his dissemination of findings for policymakers and practitioners, and his efforts to support the professional development of colleagues." Dr. Friese is an assistant professor at the U-M School of Nursing, a member of U-M's Institute for Healthcare Policy and Innovation and Comprehensive Cancer Center. Dr. Friese will receive the award at the opening ceremony of the ONS 40th Annual Congress on April 23, 2015.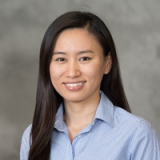 PhD candidate Miyeon Jung was selected for a Rackham Summer Award. The award enables students to work on research projects in collaboration with their faculty mentors during the Spring/Summer 2015 term. Recipients receive an $8,000 fellowship stipend. Jung's research, with mentor Dr. Susan Pressler, aims to improve attention function
and mood in heart failure patients using a theory-based natural restorative environment intervention. 
Associate Professor
 Marjorie McCullagh, PhD, RN, PHCNS-BC, COHN-S, FAAN
, was inducted as a fellow in the American Association of Occupational Health Nurses. The fellowship recognizes leaders in Occupational and Environmental Health Nursing who demonstrate outstanding accomplishments through significant contributions in clinical practice, education, research, management, or policy. Dr. McCullagh is actively involved in prevention of noise-induced hearing loss research and serves as the director of UMSN's Occupational Health Nursing program and director of the U-M Center for Occupational Health and Safety Engineering (COHSE).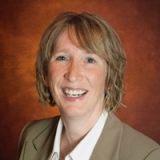 Assistant Professor
Ellen Lavoie Smith, PhD, APN-BC, AOCN®
, is the recipient of the
2015
Oncology Nursing Society's
Excellence in Writing Award for Quantitative Nursing Research. The award recognizes a significant article that poses and answers a timely question directly connected to scientific and theoretical literature related to oncology nursing.
Dr. Smith was selected for the article "Nursing Knowledge, Practice Patterns, and Learning Preferences Regarding Chemotherapy-Induced Peripheral Neuropathy," published in
Oncology Nursing Forum
, November 2014.
Dr. Smith will be presented with the award at the ONS 40th Annual Congress.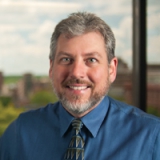 Congratulations to DNP student Daniel Ochylski and master's student Ashley Maresh on their induction into Phi Kappa Phi. It is the nation's oldest and most selective collegiate honor society for all academic disciplines. Phi Kappa Phi is one of only three honor societies that U-M recognizes on the student's permanent transcript. The
U-M chapter
recently inducted 300 new members, primarily undergraduate and graduate students, as well as U-M staff and faculty
including U-M President Mark Schlissel
.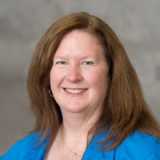 Lisa Kane Low, PhD, CNM, FACNM, FAAN
, has been elected as the
President-elect of American College of Nurse Midwives
(ACNM)
.
Dr. Kane Low is
an associate professor at the U-M School of Nursing,
member of U-M's
Institute for Healthcare Policy and Innovation
, Women's Studies Department, and U-M Health System's Department of Obstetrics and Gynecology.
The
ACNM
is a professional organization dedicated to advancing the health and well-being of women and newborns by setting the standard for midwifery excellence. "I'm really passionate about making midwifery accessible for all women," said Dr. Kane Low in her
candidate interview
. "I believe the best way to follow through on that vision is to make sure you engage in leadership roles and responsibilities of promoting the profession."
Dr. Kane Low will take office in June and rise to President in May 2016.