Dr. Sarah Stoddard appointed to Community Preventive Services Task Force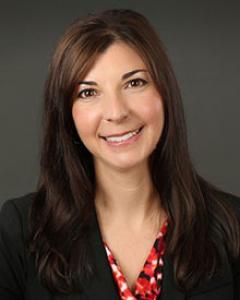 Associate Professor Sarah Stoddard, Ph.D., RN, CNP, FSAHM, FAAN, has been appointed to the Community Preventive Services Task Force (CPSTF). Her appointment was recently approved by Centers for Disease Control and Prevention Director Robert Redfield, and she will officially join the task force for a five-year term beginning January 2021.
The CPSTF is an independent, nonfederal and nonpartisan panel established in 1996 to identify population health interventions that are scientifically proven to save lives, increase lifespans and improve quality of life. CPSTF findings help inform decision-makers in federal, state and local health departments, other government agencies, communities, health care providers, employers, schools and research organizations.
"I feel like this brings two pieces of my career together and presents an opportunity to have a larger impact," Stoddard said. "I'm a public health nurse, and I spent the first 10 years of my career implementing policies and practices at the local and state levels. And now as a researcher, I have a better understanding of how to critically review evidence and develop research-based interventions."
Stoddard believes her experiences as a community-focused practitioner combined with her renowned expertise as a nurse scientist make her an asset to the CPSTF. U-M School of Nursing Professor Rob Stephenson, Ph.D. agrees, and it's one of many reasons why he nominated her for the task force.
"Dr. Stoddard's many contributions to nursing, public health and community health — particularly focused on vulnerable youth — make her the ideal scientist for this committee, and I am confident she will serve with excellence," said Stephenson. "Having a nurse scientist at the table is always important, and Dr. Stoddard brings deep experience and a unique understanding of community health."
Stoddard hopes her position on the task force can help bring conversations around health inequities and adolescent health to the forefront. She has spent her clinical and academic careers dedicated to the health of vulnerable youth populations, and she knows her expertise can inform important work during her tenure.
"My passion is in adolescent health, particularly those who live in communities or situations that place them at risk for poor health outcomes," she said. "My goal is always to promote the health and well-being of young people. And I think through identifying evidence-based interventions and practices, I can continue to promote that work in this new role."