We dare to care for the caregivers
When Melissa Harris began her undergraduate studies at the University of Oklahoma College of Nursing, she didn't know what kind of nurse she wanted to be, but she was sure of two things:
"I kept saying, 'I don't want to do geriatrics, and I don't want to do psych,'" Harris recalled.
Nearly a decade after that proclamation, Harris has built a career working in inpatient geropsychiatric units. And now, in the third year of her Ph.D. program at the U-M School of Nursing, her research on depression in dementia caregivers has garnered national attention, including a feature in U.S. News & World Report.
"My very first patient on my med-surg clinical rotation was an older adult with schizophrenia and dementia, and at that moment I fell in love with the work." she said.
Harris moved from Oklahoma to Michigan shortly after earning her bachelor's degree to work as an RN at Henry Ford Hospital in Detroit. It wasn't long before she decided to pursue a Ph.D. and shift her career toward research.
"When I got into the inpatient psych setting, I noticed that our dementia patients were falling through the cracks," Harris said. "There doesn't seem to be a place for them in our health care system, especially to get the psychiatric care they need. That is what pushed me into my research — I felt I could make a bigger impact than I could as a staff nurse."
A closer look at caregiver health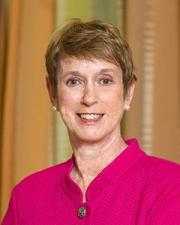 Guided by Assistant Professor Geoffrey Hoffman, Ph.D., MPH, and Professor Marita Titler, Ph.D., RN, FAAN, Harris' paper, "Associations Between Alzheimer's Disease and Related Dementias and Depressive Symptoms of Partner Caregivers," analyzed U-M Health and Retirement Study data from 16,650 older adults: those without a partner diagnosis of dementia, those with a partner whose diagnosis was within the past two years and those with a partner whose diagnosis was older than two years. Among other findings, the analysis revealed that caring for a partner or spouse with a new diagnosis of Alzheimer's or related dementia is associated with a 30% increase in depressive symptoms compared to older adults who don't have a spouse with dementia — symptoms that are sustained over time.
While there is a great deal of research focused on the mental and emotional health of those diagnosed with dementia, Harris aims to address a knowledge gap by studying the well-being of the partners who care for them.
"We think of dementia as a memory-impairment disease, but it affects every aspect of someone's health, including their physical, psychological and emotional health, as well as their ability to communicate." Harris explained. "We know this disease is having an impact on caregivers as well, and most primary caregivers for people with dementia are their spouses or partners."
Harris notes that the health of caregivers carries broader implications, including the potential for added stress on the health care system.
"It's these family members, not nurses or other providers, who are on the front lines providing care for their loved ones," she said. "If they're struggling with their own mental or physical health, they certainly won't be able to provide the level of care that can prevent dementia patients from needing more advanced care long term. If we can't prioritize the family caregivers' health, then it becomes an endless cycle."
As the study's first author, Harris is grateful for the attention it's received, but she understands it wouldn't be possible without the support of her co-authors and faculty mentors.
"I had a very strong team backing me up; Dr. Hoffman and Dr. Titler were my guiding champions," she said. "The paper took a long time to develop and get through the review process, so we were very excited to see it get some attention after a long wait."
Dissertation redirected by a pandemic
Through her dissertation research, Harris is maintaining the focus on older adults with dementia and their family caregivers while also exploring the impact of COVID-19. Research that would have once included focus groups and face-to-face interactions must now be coordinated through phone calls and Zoom meetings.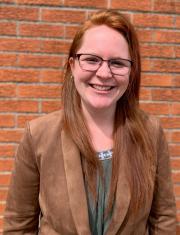 Harris has found that resources many caregivers once relied on have been drastically reduced or shut down completely due to public health precautions, adding a number of new barriers to an already unstable situation.
"For caregivers, their partner's dementia diagnosis already made them feel isolated. They felt like they had lost friends and their daily routines. And now the pandemic has compounded that, adding another level of isolation," she explained.
Much of Harris' training has focused on intervention research. Before COVID-19, she hoped to evaluate the benefits of laser acutherapy for dementia patients living at home with family caregivers. Now, she's shifted her studies to weighted blankets, which have been used in practice for older adults with anxiety and dementia.
"Surprisingly, there's no research out there on weighted blankets for older adults, so I flipped my dissertation plans quickly, and I'm providing weighted blankets to people with dementia living in the local community," said Harris. "I'm hoping to learn how well they tolerate the blanket, what they think of the blanket and whether this is an acceptable intervention for people with dementia and their family caregivers."
Facing a shortage of Ph.D.-prepared nurses
Thirty-one percent of senior nurse scientists and mentors are age 60 or older and predicted to retire in the next five years, including one-third of the nursing faculty workforce.* Without an influx of Ph.D.-prepared nurses, the profession faces a deficit of researchers needed to advance nursing science and improve clinical care outcomes.
Harris' experiences as a clinician inspired her to become a researcher, and she hopes other new and aspiring nurses can realize the impactful opportunities a Ph.D. presents.
"I think it's easy in nursing to get jaded and feel like you're stuck in a system where you can't make a difference," she acknowledged. "Through research, there is so much opportunity to learn, grow and be part of work that can improve the profession for your fellow nurses. We need more nurse scientists at the table to make a real difference for the people in our care."
*2018 American Association of Colleges of Nursing survey