Veterans Week alumni spotlight: Mark Thomas (BSN '98), U.S. Navy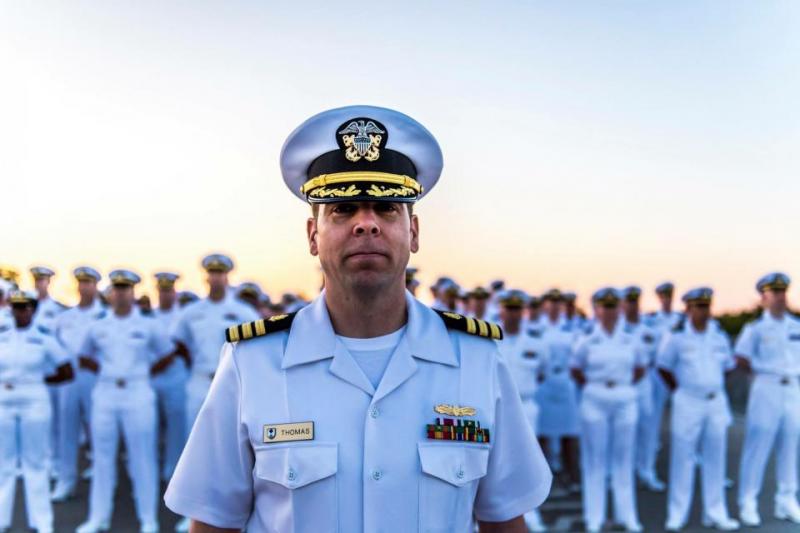 Military service and the University of Michigan were always part of Mark Thomas' mission. Like his grandfather, who was aboard the USS Oklahoma during the attack on Pearl Harbor, Thomas enlisted in the U.S. Navy. His brother, fellow U-M alumnus Col. Michael Thomas (B.S. '97), followed their father's footsteps into the Air Force.
After earning an ROTC scholarship to attend U-M, it was Michael who inspired Mark to apply for one himself. And it was Michael who ultimately commissioned Mark as a naval ensign at U-M in December 1998. Since then, Thomas has built a distinguished 22-year career as a Navy nurse, holding every rank leading to his current position as captain and associate director of nursing at Naval Medical Center in San Diego, California.
"There was no way my parents could afford to send me to college, and I didn't want to attend any other university except Michigan," he said. "I was fortunate to be selected directly into the School of Nursing and have that path into the medical field."
During his undergraduate studies at the School of Nursing, Thomas credits former Professor Judith Wismont, Ph.D., RN, along with his clinical rotations at University Hospital, as formative influences that helped carry him through a challenging program and ultimately shape the course of his career.
"I wasn't your standout student during my BSN, and Dr. Wismont was the most influential and compassionate professor I ever had the privilege to meet," he said. "I would not be the nurse or officer I am today without her support during those years, and my clinical experiences during that time had a profound impact on me personally and professionally." 
While he may not view himself as an academic all-star during his time at U-M, Thomas went on to continue his nursing education at Duke University, earning his master's degree in the acute care nurse practitioner specialty in 2011. He applied that new knowledge as a nurse practitioner at the Naval Medical Center in Portsmouth Virginia, then served as Flag Aide to the Navy Surgeon General. At Virginia's Fort Belvoir Community Hospital, Thomas held positions as department chief, interim director for nursing services and chief of quality management before heading to San Diego in 2019.
For Thomas, being a nurse and serving in the military require many of the same qualities, and military nurses are well equipped for extraordinary circumstances.
"I believe succeeding in the nursing profession takes a special kind of caring human," he said. "In the military, you're asked to go a step further by not only performing the job but doing it in some of the most the austere environments around the world.  Military nurses are asked to perform at their highest clinical ability during extremely challenging circumstances."
Thomas' experiences over more than two decades in the Navy have shown him that military and civilian nurses are often interconnected. His work alongside civilian nurses has helped him grow as a practitioner, and he knows that collaboration is critical to the continued progress of the profession.
"I have been fortunate to serve alongside some of the greatest nurses, both those in uniform and the civilians who work in our medical treatment facilities caring for our valued beneficiaries," he said. "These civilian nurses are the backbone of our profession, staying behind while we deploy and training us as we grow in the field. It has been an honor to have served with so many of our nation's best."