Students who serve: Holly Carlson, U.S. Army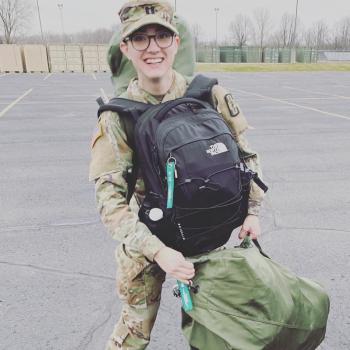 Holly Carlson is a proud military brat. Before serving in the Army Nurse Corps, she grew up on the move across the United States following her father, a retired Air Force pilot. Of the family's five children, four have gone into military service: Carlson's older brother is an A-10 pilot in the Air Force, her sister is an Army military intelligence officer, and her youngest brother is in the Navy ROTC. She's also in a military marriage — her husband, Nicolai, is a naval officer pursuing dual master's degrees in architecture and civil engineering at the University of Michigan.  
Carlson is pursuing her Doctor of Nursing Practice degree in the U-M School of Nursing's Acute Care Pediatric Nurse Practitioner program, and it's fair to wonder if she would even be here without the Armed Forces …
"My dad grew up in New York, and my mom grew up in Michigan. Both of my grandfathers met while serving together in the Navy on the USS Redpoll," she explained. "After their service, my grandfathers went back home but stayed in touch. So although my parents grew up in different states, they actually grew up together because my grandfathers stayed friends and visited each other frequently. A few of my family members and I have a USS Redpoll tattoo commemorating how my family came to be."
Carlson was drawn to nursing in high school after watching The Nun's Story, a 1959 drama starring Audrey Hepburn, which follows her character's tumultuous journey as a nurse in Europe and Africa in the years leading up to World War II.
"I have always loved the medical field, and to see someone selflessly helping others inspired me. Coming from a military family, the ideas of service and sacrifice were instilled in me at a young age," she said.
Carlson attended Marquette University on an Army Reserve Officer Training Corp Scholarship to pursue her bachelor's degree in nursing. After graduation, she was commissioned as an officer into the Army Nurse Corps as a 66H (medical-surgical) RN in San Antonio, Texas. She then moved to Tacoma, Washington, working as an adult post-surgical RN at Madigan Army Medical Center for four years in various roles as a preceptor, charge nurse, unit educator and president of the Unit Practice Council. In 2017, Carlson was part of emergency response efforts during a mass casualty incident when an Amtrak train derailed near DuPont, Washington.
While she's now an Army reservist pursuing her DNP, Carlson's Unit, the 452 Combat Support Hospital out of Milwaukee, was mobilized to Edison, New Jersey, earlier this year to support response efforts for the COVID-19 pandemic. In Edison, the unit helped the New Jersey National Guard convert a convention center into a 500-bed hospital. Their original mission was to take in non-COVID, low-acuity patients from surrounding hospitals, but things changed quickly as the outbreak grew.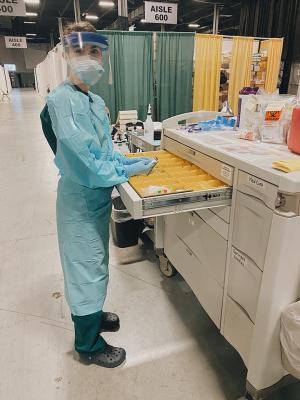 "As we began to accept more patients, we incorporated civilian nurses into patient care, which led to many of the Army providers and nurses being sent to the surrounding hospitals," she described.
In the newly created hospital, Carlson developed an orientation program for all new civilian providers and nurses and became the overnight officer in charge, responsible for the center's night shift personnel and operations.
"It was a phenomenal experience to quickly mobilize, set up a hospital from scratch, create the standard operating procedures, provide patient care, and work with civilians and other military branches," she said. "It was amazing to see how quickly we all came together to fight an invisible enemy for our country.
"With the pandemic, military nurses are at the forefront of selfless service, teamwork, flexibility and innovation at a time when adaptability is critical."
Carlson's upbringing, military service and clinical practice are all interconnected. Values instilled at a young age and reinforced through her Army experiences carry though as she trains to become a doctorally prepared nurse practitioner.
"Integrity, humility, compassion and respect are foundational to my military service, clinical practice and personal life," she said. "In the military, we are all treated the same; a soldier is a soldier no matter where they came from, and we are all part of the same team. Teamwork in nursing is similar — we are all part of a team working toward a common goal of exceptional, efficient and safe patient care. I not only care for my patients but my coworkers, colleagues and leadership."