Congratulations to the U-M School of Nursing faculty and alumni being inducted as AAN fellows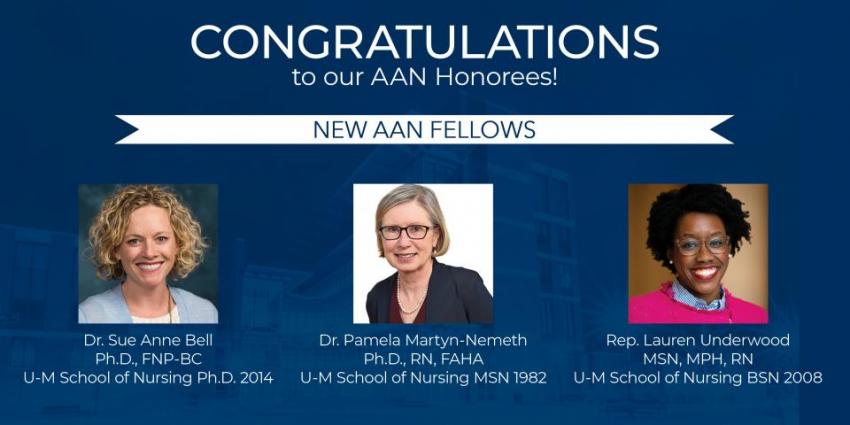 Three members of the U-M School of Nursing community will be inducted as fellows of the American Academy of Nursing during a virtual ceremony on Saturday, Oct. 31, at 5:30 p.m. EST. Join us in congratulating Assistant Professor Sue Anne Bell, (Ph.D. '14), FNP-BC, and alumni Lauren Underwood (BSN '08), MSN, MPH, RN, and Pamela Martyn-Nemeth (MSN '82), Ph.D., RN, FAHA, who will be inducted alongside more than 200 other distinguished nurse leaders in AAN's 2020 Class of Fellows. 
Watch the ceremony live on YouTube.
---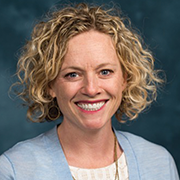 Assistant Professor Sue Anne Bell (Ph.D. '14), FNP-BC
Dr. Bell's research focuses on the health and well-being of aging populations in the context of a disaster, where she studies the long-term health impact of disasters with an emphasis on chronic health conditions, and the relationship between community resilience, aging and disasters. Over the course of her career, Dr. Bell has combined her expertise to make national-level policy contributions in disaster preparedness and response, including at the Federal Emergency Management Agency and the National Academies of Medicine, Science and Engineering, often as the sole voice of nursing.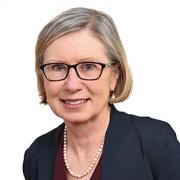 Pamela Martyn-Nemeth (MSN '82), Ph.D., RN, FAHA
Pamela Martyn-Nemeth is an Associate Professor in the Department of Biobehavioral Nursing Science in the College of Nursing at the University of Illinois Chicago. Dr. Martyn-Nemeth's professional and scholarly work is focused on reducing cardiovascular disease risk and improving self-management behavior and quality of life in persons with type 1 diabetes. Her research portfolio includes NIH -funded studies to test novel interventions to improve sleep and reduce fear of hypoglycemia through technology-assisted strategies. Dr. Martyn-Nemeth's findings have been referenced in the American Diabetes Association Position Statement on Psychosocial Care of Persons with Diabetes and the Standards of Medical Care in Diabetes. She has also been successful in translating a community-based, culturally-focused physical activity intervention into clinical practice.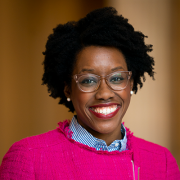 Rep. Lauren Underwood (BSN '08), MSN, MPH, RN
Lauren Underwood serves Illinois' 14th Congressional District and was first sworn into Congress in January 2019. She is also the youngest African American woman to serve in the United States House of Representatives. Congresswoman Underwood serves on the House Committee on Education and Labor, the House Committee on Veteran's Affairs, and is the Vice Chair of the House Committee on Homeland Security. She also serves on the House Democratic Steering and Policy Committee. Rep. Underwood co-founded and co-chairs the Black Maternal Health Caucus, which elevates the Black maternal health crisis within Congress and advances policy solutions to improve maternal health outcomes and end disparities. In March 2020, she introduced historic, comprehensive legislation to address the United States' urgent maternal health crisis.