Celebrating Veterans Week at the U-M School of Nursing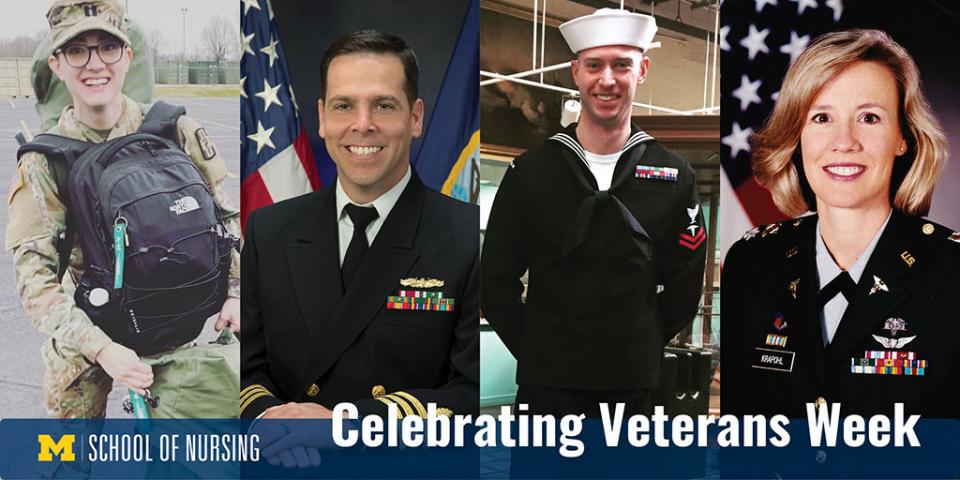 Since Florence Nightingale's groundbreaking service in the Crimean War, nurses have played an essential, lifesaving role in militaries around the world. In the United States, nurses have served at home and abroad as some of the most distinguished and respected professionals in the Armed Forces.
Today and every day, we are thankful for veterans and proud to salute those who have served and continue to serve in the United States Military. Throughout the week, we'll be celebrating veterans and service members in our U-M School of Nursing community by sharing the stories of students and alumni who have made a commitment to the Armed Forces.
We are also hosting two events today, featuring U-M School of Nursing alumni sharing lessons they've learned from military service and important perspectives that can help nurses everywhere overcome the challenges of the COVID-19 pandemic.
Alumna Carol Ann Fausone named a Crain's 2020 Notable Veteran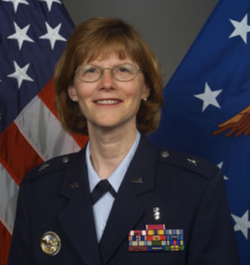 Retired Brigadier General Carol Ann Fausone (BSN '75) was recognized as a 2020 Notable Veteran by Crain's Detroit Business.
The program recognizes U.S. Military veterans who have distinguished themselves through service to their country and communities, including work to help fellow veterans make a successful transition to civilian life.
Fausone holds the highest U.S. military ranking ever achieved by a U-M School of Nursing graduate. She currently serves as "chief fix-it officer" at Legal Help for Veterans, PLLC, which helps veterans obtain disability, health care, hospice, death, burial or employment benefits from the Department of Veterans Affairs. She helped found the company alongside her husband, Jim, a graduate of the U-M College of Engineering.
"Carol Ann is an accomplished and passionate advocate for veterans' rights, strong health care, and nurses as leaders for change. She is the embodiment of leadership by example and alignment with the community, acting as both a trusted adviser and connector," said Patricia D. Hurn, Ph.D., RN, FAAN, dean of the U- M School of Nursing.
School of Nursing Veterans Week Virtual Events
Lessons learned from military service and how it can help in the era of COVID-19
Monday, Nov. 9, noon
A discussion with retired U.S. Army Colonel Pat Ahearne (MSN '89)

Military Health care has had a strong relationship with civilian health care for many years. They say that "necessity is the mother of invention." Over time, military research and innovations have been adopted into civilian medicine. For the last 8 months, our national health system has been dealing with the challenges of COVID-19. Unlike a "normal" mass casualty event, the COVID-19 pandemic poses unique challenges to the health system and to the execution of health care. As a military veteran, I was able to use and apply many lessons learned and leadership concepts from my military background to my experience at Swedish Edmonds Hospital.

This presentation will cover topics such as planning, training, human factors, concept of mission command, logistics and personnel. Additional topics will be discussed as time allows.

Learn more and find out how to attend
 
Stories from the front lines of a disaster: a military healthcare perspective
Monday, Nov. 9, 6:30 p.m.
Featuring a panel of U-M School of Nursing alumni including retired U.S. Navy Lt. Cmdr. Anthony Hofer (MSN '16), retired U.S. Air Force Cmdr. Brian Morr (MSN '79), U.S Army Lt. Col. Sarah Ohm (BSN '03, MSN '06) and U.S. Public Health Service Capt. Lakeeta Carr (BSN '98).

As COVID-19 continues to challenge our school, our nation and our world, it is important to consider the strength and support that can come from our community members sharing their diverse personal and professional experiences. Join us as University of Michigan School of Nursing military alumni discuss ways in which we can continue to move forward and overcome the pandemic. Representatives from the Navy, Air Force, and Army bring forward a broad range of stories, from clinical nurse specialists currently on the front lines to tales from a Baghdad deployment faced with tremendous adversity. Now more than ever, we are in this together, and few understand this concept of unity better than the members of our Armed Forces.

Learn more and find out how to attend
Beyond the School of Nursing, be sure to check out the full schedule of Veterans Week events at U-M.