U-M School of Nursing Dean Patricia Hurn reappointed through 2026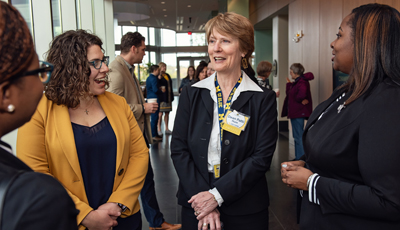 At the recommendation of Provost and Executive Vice President for Academic Affairs Susan Collins, the University of Michigan Board of Regents has approved the reappointment of Patricia D. Hurn, Ph.D., RN, FAAN, as dean of the School of Nursing for a second five-year term, effective Aug. 1, 2021, through July 31, 2026.
"Dean Hurn's commitment to the School of Nursing has included global outreach and providing the highest quality educational experience to students, and dedication to the faculty and staff," Collins said. "I am confident that she will continue to guide the future leaders of the front line health care profession with energy and vision."
Hurn's tenure as dean has seen a commitment to academic innovation, demonstrated by continuously high-ranking graduate programs, a new undergraduate curriculum that launched this fall, and new digital education options allowing students to complete their Master of Science in Nursing in the Primary Care Family Nurse Practitioner, Adult-Gerontology Primary Care Nurse Practitioner and Leadership, Analytics and Innovation specialties through engaging online courses.
Under Hurn's guidance, sponsored research at the School of Nursing has increased significantly, with a compound annual growth rate of more than 9 percent per year.
"Dean Hurn's leadership and determination reflects in the school's healthy position to hire strong faculty and build research capacity," Collins continued. "The School of Nursing is a leader and interdisciplinary partner in expansive areas of research aimed at improving all aspects of health."
Hurn began her appointment at the U-M School of Nursing on Aug. 1, 2016, after serving as vice chancellor for research and innovation and executive officer at the University of Texas System. In addition to her role as dean, she is also professor of molecular, cellular and developmental biology in U-M's College of Literature, Sciences and the Arts.
"I am grateful to Provost Collins and the Board of Regents for the opportunity to continue working to fulfill our critical mission at the School of Nursing," Hurn said. "It is a privilege to work alongside our dedicated faculty, staff and students each day. And I'm honored to play a role in preparing the next generation of Michigan nurses — some of the most sought-after health professionals in the country — to advance the profession and reinvent health care."
Hurn started her career at Johns Hopkins University, where she earned a Ph.D. in physiology and completed post-graduate training as a translational neuroscientist. She notes that her research interests and passion for biological sciences arose from her clinical work as a critical care and trauma nurse.
Renowned for her research on stroke and other neurological conditions, as well as her studies on the cellular and molecular basis of gender differences in response to experimental brain injury, Hurn has been the principal investigator on more than $20 million in grant-supported research. Her leadership work focuses on collaborative bio-health research models, science education innovation and research technologies.