Alumna receives American Academy of Nursing's COVID-19 Courage Award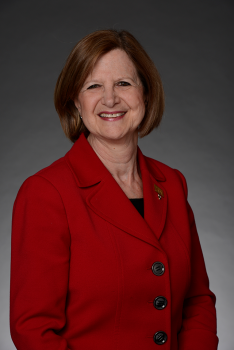 U-M School of Nursing alumna Doris Grinspun (MSN '91), Ph.D., RN, FAAN, LLD(hon), Dr(hc), O.ONT, is one of four nurses selected for the American Academy of Nursing's COVID-19 Courage Award for her exceptional work to save lives, advance health equity and protect communities. 
Grinspun, who serves as chief executive officer of the Registered Nurses' Association of Ontario (RNAO), was selected as the recipient of the COVID-19 Courage Award in Policy for deploying her expertise translating evidence to influence policy decisions. A seasoned health care leader, Grinspun engaged with Ontario's premier, minister of health and top officials on the COVID-19 response plan for Canada's largest province. The most outspoken and profiled nurse in Canadian media, she has mobilized RNAO, nurses and the public to ensure policies are evidence-based and draw from nurses' compassion to protect vulnerable populations. Grinspun courageously advocated for the protection of residents in long-term care nursing homes, bringing about the reunification of families who had lost their right to visit due to COVID-19; worked with her team and First Nations organizations to protect their communities and prevent spread; advocated for persons experiencing homelessness; and insisted on the safe reopening of schools.
"The Academy has a strong tradition of celebrating the achievements of exceptional nurses," said AAN President Eileen Sullivan-Marx, Ph.D., RN, FAAN. "Therefore, it is incredibly rewarding to be able to acknowledge and recognize these inspiring, courageous nurses and their commendable work to address the coronavirus pandemic. Their exemplary service to their patients, communities and colleagues represents the best of the profession in the face of the most challenging circumstances."
The award was made possible through the support of the Robert Wood Johnson Foundation and includes $8,000 in funding for each awardee to be used for their professional development in order to further their impact.