U-M faculty join forces to address research on and by African Americans

University of Michigan School of Nursing (UMSN) and U-M School of Social Work (UMSSW) faculty members are coming together for a special panel discussion to highlight and discuss health disparities across the lifespan of African Americans and specialty groups within that population.
"Our work covers the African American population from infancy through the older adult and seeks to not only improve care, but also to understand the macro level systematic changes necessary to create sustainable change," said Sheria Robinson-Lane, Ph.D., RN, a UMSN assistant professor. "Part of the intention of this panel is help others see why population specific work is necessary and understand some of the variances we see in recruitment, engagement, and study retention."
"The history of healthcare research is fraught — many people of color, particularly African American, indigenous, and Latina/o communities face a paradox within research," explained Lenette Jones, Ph.D., ACNS-BC, RN, a UMSN assistant professor. "On one hand, these communities have been the target of unethical and harmful research practices, and on the other, there is a tremendous lack of research that would begin to chip away at the massive health disparities we face."
The Event
"Approaches to Research Conducted with Diverse Groups within the African American Population" will be held Oct. 31 at the School of Nursing Building. Panelists are:
Dr. Burns' research is centered on innovative approaches using community-engaged research and technology (e.g., social media, mobile apps) to improve healthcare and sexual health outcomes among adolescents and young adults.
Dr. Hawkins' research focuses on an examination of barriers and facilitators to chronic illness self-management among Latino and African American men. She also focuses on tailoring chronic illness self-management interventions and social work practice techniques to account for gender and racial/ethnic differences in health behaviors and outcomes.
Dr. Jones is a behavioral nurse scientist interested in eliminating the health disparities affecting African-American women with hypertension. Her program of research is focused on uncovering the mechanisms – biological, psychological, social, and physical – of self-management interventions.
Dr. Robinson-Lane is a gerontologist with expertise in palliative care, long-term care, and nursing administration. Her research is focused on reducing health disparities for minority older adults with cognitive impairments and their informal caregivers.
Leadership in research
All four women are considered early-career researchers. They are poised to have a lengthy career in research with significant impact in the decades to come. While they represent a significant shift in representation, there is an understanding that there is much work to be done, including in the research system itself.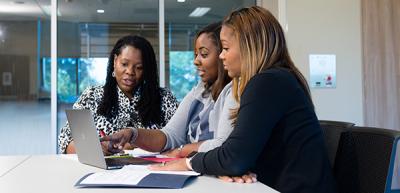 "Failing to recruit more people of color in research leadership roles is a missed opportunity to have research that is nuanced, collaborative, and reflective of the communities where we are hoping to implement health care interventions," said Jones. "More people of color in research leadership roles creates avenues for research that can only be found by people who have the lived experience to look in those places. It also helps to begin bridging the gap that historical injustices have created by giving communities the autonomy to develop research that reflects their own interests and well-being."
Additional information
This Oct. 31 event is open to all. Please see the UMSN events calendar for details and additional panelist information. 
To join the discussion via bluejeans: https://bluejeans.com/672847098
To join via room system: Video Conferencing System: bjn.vc -or-199.48.152.152, Meeting ID: 672847098
To join via phone: +1.888.240.2560,  Conference ID: 672847098
This event is part of UMSN's DEI in Health and Healthcare Series.