Student spotlight: An unforeseen journey from the Army to midwifery

A career in nursing wasn't an obvious choice for Chelsea Perrin.
"I wish I could say I'm one of those people who had this calling to be a nurse since I was five, but I'm not," said Perrin, a University of Michigan School of Nursing (UMSN) graduate student. She added with a laugh, "I think I said I wanted to be a seamstress."
However, military service was a likely path for Perrin due to a strong family history.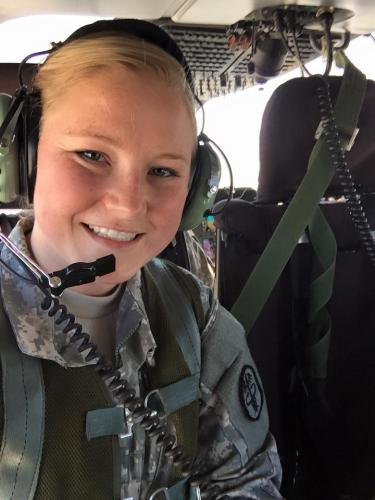 "I come from a big military family," said Perrin, "My parents met while serving in the Army. I was actually born on a military base in Germany. Both grandfathers, both sisters and some extended family served. We're all Army except for one grandfather who was in the Navy during World War II."
Perrin was excited about the opportunity to be in service to her country, but she also knew she wanted to find a career within the military and she wanted to earn a college degree before enlisting so she could start in the Army as an officer.
"My mom said, 'If I had to do it over again, I'd be a nurse,'" explained Perrin. "I wanted something that would be useful, have stability, give me opportunities to travel and still be some form of service. I thought about it and nursing fit."
So Perrin, who was raised in New Hampshire, went to an East Coast undergraduate nursing program. Her true calling in nursing wouldn't become clear for several more years, but she felt satisfied with her choice in the early days of her education.
"I realized you're never going to go wrong becoming a nurse," she said. "There are so many different jobs you can do. It gives you such a good foundation and so many good life skills."
Joining the Army
Perrin was involved in the Reserve Officer Training Corps (ROTC) during her undergraduate nursing program and she commissioned into the Army as a second lieutenant the weekend of her graduation. Her first assignment was in Washington D.C., at Walter Reed Army Medical Center on the Wounded Warrior unit.
"Seeing those people face challenging injuries was really inspiring," she said. "We had a lot of people my age and younger with severe war injuries. The more experienced nurses were assigned overseas so I was a charge nurse within six months. You have a lot of responsibility very quickly. It was also cool because I met President Obama three times, First Lady Michelle Obama, Vice President Joe Biden and his wife, Jill Biden."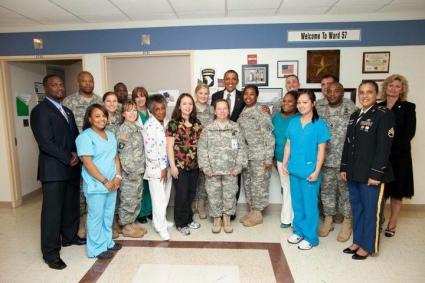 After two years at Walter Reed, Perrin was transferred to South Korea where she was assigned to a labor and delivery unit.
"I was a bit terrified if I'm being honest," said Perrin, who admits she wasn't interested in the specialty while in nursing school. "But, once I was actually working there, I loved it. I loved that it was constantly different. Of course, pregnancies have similarities but supporting individual women is very different."
Finding midwifery
By the time she finished her two-year duty assignment in South Korea, Perrin's experience led her to pursue a more specialized career in nursing working in labor and delivery. She enrolled in a 16-week intensive course to specialize as an Army obstetrics (OB) nurse. She was then assigned to a hospital in Tacoma, Washington where the final piece fell into place.
"They had a huge midwifery service and I started to see birth in a whole new light," said Perrin. "The midwives are focused on a much more natural labor. I really started to see the empowering part of the labor experience for women. The midwives inspired me to go back to school."
Graduate school
When it was time to pick a graduate school, Perrin was drawn to Michigan for financial and personal reasons. The rules of the GI Bill, which offers military service members fully paid tuition, required Perrin to choose a public institution. Additionally, Perrin's fiancé is from Michigan and they had discussed returning to his home state together.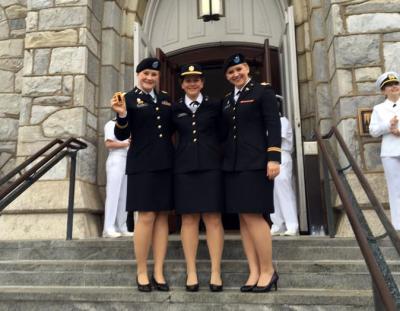 "I knew about U-M and football but that was really it," said Perrin. "I started looking at U-M's midwifery program and saw they were ranked really high and the faculty sounded great. They had all the important things you look for in a program. I thought, 'If the relationship doesn't work out, I'm still going to an awesome school.'"
Fortunately, both pieces worked out. Perrin was accepted to UMSN's midwifery program and she will be married in December.
"I'm so glad I'm here," said Perrin. "I love this program, the faculty, my fellow classmates, and the veteran support here is so great."
Perrin, who completed a year in the Army reserves while in her first year of graduate school, has now officially finished her time in the military. She says she'll always be proud of her service but is ready to focus on midwifery.
"I love that we center the woman in her decision making," she explained. "We aren't making the decisions for her. In the OB world, in general, people are told what to do. In the midwifery approach, we share the evidence with the woman and tell her what we recommend, but then she makes the decision. It's her body. I also like that it's not just in-patient or out-patient settings. I don't think a lot of people realize we take care of women across the lifespan."
Next steps
Perrin's time as a civilian has also enlightened her to additional issues within the American health system.
"It's been eye-opening to see how people cope without insurance," she said. "I never had to think about it before. I could call my doctor or nurse practitioner and get my appointment without paying anything or paying for prescriptions. It's been shocking to see the lack of support for people, especially for women and new moms after childbirth."
Perrin says working to support all women will be one of her goals after she graduates in May. She hopes to work for a birth center like the one she's working with now but says she's keeping an open mind. After all, that strategy has worked out so far. And, she's at peace with not pursuing her original goal of becoming a seamstress.
"I still can't really sew," she said with another laugh. "I'm glad I took my mom's advice. Nursing was definitely a great choice."