Student spotlight: Turning adversity into action

When Lindsey Freysinger was five years old, she told the audience at her kindergarten graduation that she wanted to be a nurse anesthetist just like her mom. Two decades later, she was only a few months away from achieving that dream when an accident would drastically change her life and inspire a new calling in nursing.  
Getting started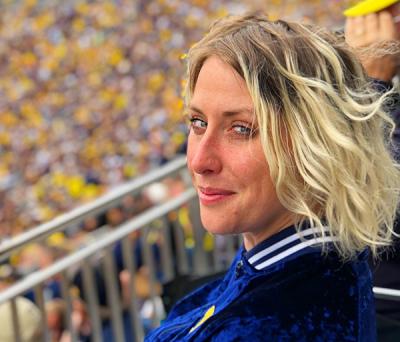 When Freysinger first enrolled at the University of Michigan in 2004, she was a third-generation Wolverine following in the footsteps of her father and grandfather.
"The U-M School of Nursing (UMSN) was my number one choice," said Freysinger. "I sent in my application the day it came out."
Freysinger earned her BSN in 2008, then dedicated several years to gaining experience in a variety of acute and critical care settings before enrolling in a nurse anesthesia program in Arizona. She spent the next two years focused on her coursework and clinical requirements.
The accident
In 2013, one of the final clinical placements in the master's program sent Freysinger to Texas. She was driving to an unfamiliar destination and glanced down at her phone for the next step in the directions. In that split second, she hit a pothole, overcorrected and the car rolled seven times.
"I broke my neck in two spots and ended up with an incomplete C-5 spinal cord injury which caused paralysis from my shoulders down," explained Freysinger.  "It affects everything from my hands to my core, to my legs, bladder and bowel. I have chronic pain 24/7. It's the pins and needles neuropathic pain and spasticity. It's everything that goes with a spinal cord injury."
Freysinger gradually regained some movement in her body. Her medical status is classified as incomplete quadriplegia.
"There were about two months where I couldn't move anything," she said. "One side came back stronger than the other. Now I can walk really short distances, but nothing substantial and not independently. I tell people my wheelchair is my independence."
New perspective and career path
Freysinger spent the first few months after the accident coming to terms with her new normal and navigating the health and social systems in place for people with disabilities. She was stunned by the difficulties.
"I was a nurse for five years before my injury and I thought I knew it all," she said. "I had no idea what you actually go through once you leave the hospital. My mom is a nurse and my dad is a hospital CEO and it was still hard to navigate the system. Had it not been for my family, I probably would have ended up in a nursing home type of facility."
Despite the traumatic changes to her life, it didn't take Freysinger long to refocus on finishing her degree work in Arizona.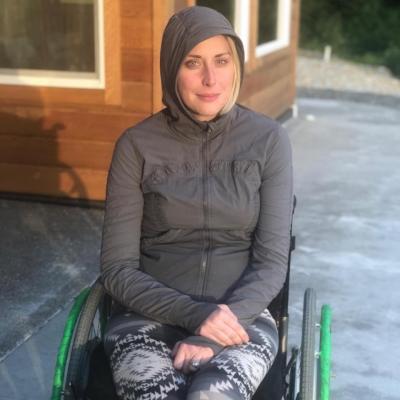 "Unfortunately, I did not have the best experience with that school," said Freysinger. "Schools are required to make reasonable accommodations to help students with disabilities and I don't think they did that. I was really upset by their decision about my degree. I had all my requirements completed; I just couldn't sit for boards. I understood I couldn't be a certified nurse anesthetist, but I had earned the master's degree and it was really frustrating that they wouldn't grant it. Unfortunately, I wasn't in the position to fight. I just wasn't physically and spiritually healthy enough."
Freysinger took a step back to dedicate more time to her health. As she was learning more about the lack of resources for people who suddenly become disabled, she found new inspiration.
"Meeting people who had injuries like mine, but didn't have a support system, lit this fire in me," said Freysinger. "I knew people would take me more seriously with the right degrees so I made the decision to go back to school. It was a sense of 'there needs to be justice and this is how I'm going to get justice for them.'"
Freysinger returned to UMSN to earn her master's degree and is now in the first semester of the doctorate of nursing practice (DNP) program. 
"I decided to pursue leadership and administration," she said. "The program teaches you about systems and I want to apply that to communities. I'm still looking at exposures and outcomes but my exposures are much broader than typical projects. It's a little different and some teachers thought some of my ideas didn't exactly fit, but they've also been really supportive about me taking a new approach."
Appreciating the support of UMSN peers
UMSN's DNP program requires students to spend several days a month on the Ann Arbor campus. Freysinger has one of the farthest commutes. She and her husband, who she met after the accident, currently live in Oregon.
"Everyone has been open to helping," she said. "After my experience with my last master's program, this brought me to tears. I met with U-M's ADA [Americans with Disabilities Act] compliance team and showed them parts of the 400 North Ingalls Building where I struggle and they're going to work on changes. I've had the head of my program offer to pick me up from the airport. That's above and beyond."
Freysinger says she believes the strong support comes because many members of the nursing community are aware of shortcomings in the health system for people with disabilities.
"When I tell them thank you, they say things like 'I'm happy to help because what you are going to do is beyond what we can do,'" said Freysinger. "Nothing makes my heart sing more than when I get that kind of feedback."
Changes in education
One of Freysinger's long-term goals is to make undergraduate nursing school more accessible to students with disabilities.
"In the higher levels, it's easier," she explained. "If you have your bachelor's degree and experience at the bedside, you can go into these leadership roles. The big barriers at the undergraduate level are the physical technical standards."
Freysinger would like to find a way to expand academic paths for undergraduates.
"There could be a way to offer different tracts," she said. "Nursing is not just about the tasks and physical work. It's really about being theory focused. The physical parts will always be necessary for some tracts, of course. But, for community health and leadership is it really necessary that I'm able to lift 50 pounds? No. Those are the types of things I'm looking at in the future."
Beyond nursing
Freysinger says financial support is another key element in her ability to earn her doctorate. She received a Craig H. Neilsen grant that helps pay for tuition and related necessities, such as travel. Freysinger says having that support inspires her to find new ways of helping others beyond her nursing goals.
"My big dream is to create a non-profit," she said. "If a 75-year-old has a stroke, we can go into his or her house to modify their bathroom and we can arrange the transportation they need to get to doctor's appointments and grocery stores. If someone's in a wheelchair, I want to get them a ramp and whatever else they need so they can go back to their home, not an assisted living facility. I would want to get them to what I call functionally independent."
Freysinger says she knows a lot of her ideas will be difficult to put into action but she's determined.
"After the accident, I was driven to get myself better," she said. "It was after the anesthesia school disappointment that I started stepping back and realizing I can do bigger things. It became obvious that this is positioning me to help other people in a new way."