Student spotlight: Overcoming a difficult past to focus on limitless future in nursing  

Christina Lindsey is in her senior year at the University of Michigan School of Nursing (UMSN) and thinking about what nursing specialty she wants to pursue after she earns a bachelor of science in nursing (BSN) this spring. She wants to work with infants but is still deciding in what capacity.  Like her fellow students, Lindsey knows a UMSN degree will give her numerous options. After all, by the time she graduates she will have spent more than 1,200 hours honing her skills in a clinical setting, hundreds more in a classroom, and have experience from a global health learning opportunity in Thailand.
Where Lindsey stands apart is her unique foundation. For many of her classmates, earning a college degree is an expected milestone. However, like many other first-generation college students at U-M, Lindsey's path to college wasn't so clear.
She was born in Detroit to a mother who struggled with a substance abuse disorder, including during her pregnancy with Lindsey. She was adopted when just a few days old by family friends who had also adopted her older sister. Her biological parents are not in her life. She doesn't use "adoptive" when describing her parents except for clarity explaining her history.
When Lindsey was just four years old, her mother suffered a heart attack and passed away. At that time her father was in poor health so an older sister took over care of Lindsey and her other young sister. Her father passed away from complications of Alzheimer's soon after she graduated from high school.
"I don't look at my situation as 'woe is me' with being adopted and then my parents dying," she said. "It used to get to me when I'd see friends with a mom, a dad, a dog and all that, but I've gotten over it. I know how Iucky I am."
Motivation
Lindsey knew from a young age that she wanted a career in health care and focused on nursing after a shadowing experience during her sophomore year of high school.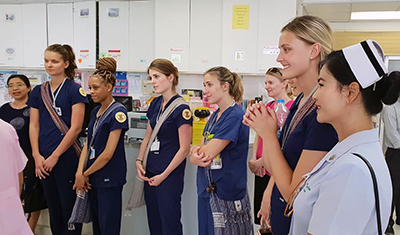 "I really enjoyed seeing what the nurses did," she explained. "I liked the impact on patients and getting to know them and their families."
Lindsey says she's willing to share her journey in becoming the first person in her family to earn a college degree with the hope of inspiring future students who may be facing obstacles.
"You have to have faith and honestly believe you can do it," she said. "Never say you can't. My biggest thing is self-motivation. I couldn't be here if I didn't want this for myself. You have to want it for yourself."
Michigan support
While on steady ground now, Lindsey does admit that nursing school, which is known as one of the most rigorous programs at U-M, has had difficult moments.
 "Learning how to study was different than what I had to do in high school, the long classes and juggling everything was really overwhelming at first," she said.
Lindsey found support through U-M's Blavin Scholars program which helps students who have spent time in foster care or, as in Lindsey's case, don't have a traditional support system.
"They provide a mentor, a campus coach and you meet other people," she said. "They help you figure out things like financial aid and housing. I have a lot of people to count on now."
Lindsey says her U-M education also brought unexpected opportunities, including her first international trip ever for a clinical immersion in Thailand through a UMSN community health nursing course.
"It was an opportunity to learn about health in Thailand, how they live and getting to know their culture," she said. "You learn a lot from different perspectives outside of the United States and you learn new ways of doing things. It also made me appreciative of little things that we have."
Paying it forward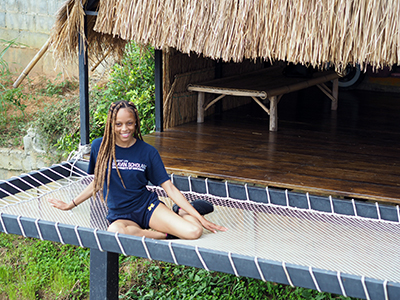 Appreciation is a regular part of Lindsey's vocabulary. She says she's grateful for the support from U-M but does think there's more that could be done to help students from non-traditional backgrounds make it to U-M and be supported through their journeys. She's ready and willing to be part of that support system.
"Through the Blavin Scholars, I've talked to foster kids about college but I would like to do more," she said. "We can go deeper into the population and see what the differences are, then go after that to find ways to help."
She also advises students to get more involved with U-M organizations.
"I wasn't when I started here and I regret that," she said. "The more organizations you are in, the more resources you have." 
Lindsey is focused on the future but she says when she looks at babies in the hospital she does think about what could have happened if her mother's drug use had physically affected her. But, instead of dwelling on the past, Lindsey is ready to put her education and skills to use helping all babies get the best start possible.
"I think about that a lot," she said. "I could have had a completely different life. I feel very grateful for where I am today and the opportunities I have for the future."