Student spotlight: Former mechanic gearing up for nursing leadership

Julia Morrissey's road to nursing came with several detours, pun intended.
Like many college students just out of high school, Julia Morrissey wasn't quite sure of her end goal when she began attending college at a university in Ohio. She was interested in pursuing engineering and physics, but said because of her gender she was discouraged by advisors.
Instead, Morrissey tried landscape architecture. It wasn't the right fit and that manifested in her grades. After more than two years of classes, she decided to take a step back.
"Had I not asked the college to leave, they probably would have asked me to leave," she said with a laugh.
Morrissey, a University of Michigan School of Nursing (UMSN) master's student with a 4.0 grade point average, can laugh about her first undergraduate experience now, but it took time, several jobs and a lot of soul searching.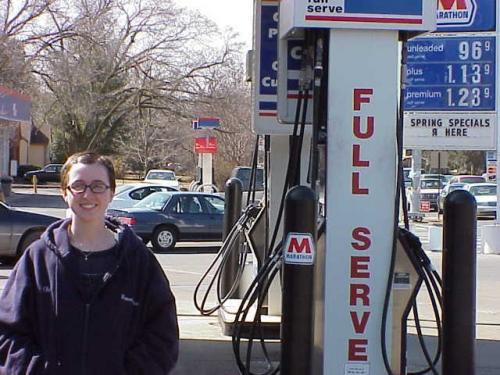 After leaving school in Ohio, Morrissey moved to Ann Arbor and got a part-time job as a full-service gas attendant to support herself and was pleasantly surprised to find satisfaction in tasks such as checking tires and fixing brakes.
"There was this aspect of helping people stay safe while they traveled and doing it with a level of integrity and fairness," said Morrissey. "That's what I really loved about it."
Morrissey also found a mentor who didn't care that she was a woman in a male-dominated business.
"The owner of the station, Ernie Weaver, took me under his wing," she said. "I've always been very inquisitive and wanted to understand things. I started hanging out in the shop and asking questions. Ernie encouraged me to take classes in auto service technology."
Morrissey took his advice and became a nationally-certified mechanic. She got a job at an automotive engineering research and development company where she worked on projects such as fixing diesel engines and testing alternative fuels. However, while Morrissey found the work interesting, she missed connecting with people.
"There was a period in my life where I kept having stumbles and roadblocks," she said. "I felt like I wasn't on the right path. I wondered if I was ever going to get to a point where I felt good day to day."
Zipping up
Morrissey left the automotive world and took an administrative job at her uncle's private medical practice. She started reading medical journals and became fascinated with health care. The discovery inspired her to take nursing classes and become a nurses' aide. That's when everything clicked. Or, in Morrissey's analogy, everything zipped.
"It's like when you have a zipper that's stuck and then it suddenly zips up," she said. "That's how I feel about my career and being a nurse."
Morrissey earned associate's and bachelor's degrees in nursing and worked in a variety of health care environments, including intensive care units and accreditation administration. She also developed a keen interest in hematology and oncology with a focus on bone marrow transplant care.
Morrissey had not only found her calling, she discovered she wanted to increase her ability to be a leader on health care teams. She's now in UMSN's Systems, Populations, and Leadership master's program focusing on nursing leadership.
"When you can work with a strong team of nurses and empower them, you're no longer just advocating for the patient," she explained. "When you are advocating for your nursing staff, you're advocating for improving patient care and outcomes."
Next steps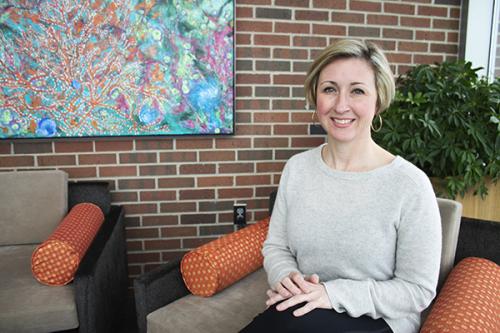 Morrissey is about to begin a new job in a Michigan Medicine Bone Marrow Transplant (BMT) unit where she can put her leadership skills and knowledge to good use.
"There's a lot of advancement happening in blood cancers right now," she said. "I'm really interested in the research around CAR T-cell therapy. In a nutshell, they take cells from the patient, reengineer them and give them back to the patient to fight the cancer. It's an exciting time to be part of this work and developing the way we care for and treat those patients."
A common thread
Morrissey says despite the seemingly unconnected pieces of her earlier choices, she's grateful for the foundation they provided.
"Working at the service station and in research and development, there's a process - assessing a problem, diagnosing and fixing the problem, then evaluating if it worked or if we should try something different," she said. "That is nursing practice at its core. It's taking problem solving and applying it to the human body."
Morrissey points to another common thread in advocating for people – whether they're viewed as a customer or a patient.  
"I believe every experience in life serves a purpose for us," she said. "Ernie taught me a lot beyond fixing cars. I saw him model that you always do the right thing by the person you are serving. He taught me about seeing people for who they are and caring for them regardless of who they are. That's extremely meaningful when taking care of people as a nurse."