Student spotlight: On active duty in nursing school

Christina Collazo is determined to be one of the first Navy nurses in a new role aimed at improving health care for the children of military service members.
"There are only a few acute care pediatric nurse practitioners (PNP) in the whole Navy," she explained. "The rest are all primary care. I think nurses are more than capable of taking on new roles and the military needs more nurses to care for acutely ill children. The Navy said yes, so here I am."
Collazo is at the University of Michigan School of Nursing (UMSN) representing a distinctive type of graduate student. She's on active duty while earning her doctorate of nursing practice (DNP) degree.
"Being a student is my job right now," she said. "This is my duty assignment. The Navy is investing in me so I'm expected to focus on my schooling."
While the need for pediatric health care providers in the Navy may seem peculiar to civilians, they are essential because they provide care for the families of service members around the world.
"I get to do what I love, which is nursing, but at the same time I get to serve my country," said Collazo.
Life abroad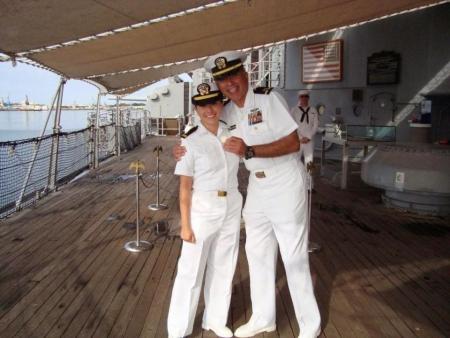 Collazo's father, a Navy Sailor, and her mother, a Japanese citizen, met while her father was assigned to an American military base in Japan.  During Collazo's sophomore year of high school, the family was transferred to Hawaii and that's where Collazo's interest in a combined health care and military service career started taking shape.
"I volunteered at a Shriners Hospital [for Children]," she said. "A lot of the kids came from Pacific islands and even though we had a language barrier, we could find a common ground. I really enjoyed working with them. That's when I started to think about pediatrics."
Collazo began nursing school and took her first official steps towards a military career. She applied for and received a Nurse Candidate Program scholarship from the Navy, which pays for the last two years of university and comes with a commitment to serve after completing academic responsibilities. Her commissioning, the official swearing-in ceremony, took place immediately after graduation. 
"My dad retired the same year so it was a passing of the baton, which was really nice," she said.
Collazo's first and third duty assignments took her back to Japan, with an in-between assignment in San Diego. In 2011, she was in Japan when the country suffered the dual disaster of an earthquake and massive tsunami. The destruction resulted in the release of radioactive materials from a nuclear power plant. At the time, Collazo was assigned to a labor and delivery unit.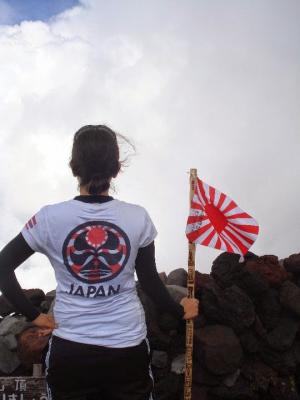 "I was part of transferring a lot of the pregnant woman because of concerns about radioactivity," she said. "I was also sent down to Okinawa to help with the overload of patients that were transferred there."
Collazo also put her fluent Japanese to work in special circumstances.
"We couldn't take care of high-acuity patients in some cases so we would transfer them to the Japanese facilities," she said. "I would go with them to be the medical translator."
Adaptive plans at UMSN
Those experiences strengthened Collazo's interest in acute care and when it was time to plan her graduate education she had a unique proposal for UMSN.
"I wanted to do both acute and primary care PNP, so I talked to my faculty about my goals," she said. "We had to figure out a combined program plan but they were willing to let me try. I'm sort of the guinea pig for this but this is exactly what I wanted. I also wanted a strong program that was connected to a really good children's hospital, like UMSN is [with C.S. Mott Children's Hospital]. It ended up being perfect."
Collazo was preparing for an intense schedule when she found out some unexpected, but joyful, news.
"The day my program supervisor gave me my degree plan I found out I was pregnant," she laughed. "I knew the program alone would be hard, but so far we're doing fine."
Collazo and her husband had a healthy baby girl in 2018 and she has stayed on track to graduate on schedule in the spring of 2020.
"My next duty station will be after I graduate and get to work with my new degree," she said. "I feel like I'm in the perfect place to get that needed experience and then bring it back to the military. I know I'm only one person, but I felt like this was the best way for me to contribute and I'm really happy about having that opportunity."