Student spotlight:  From unsure about nursing to outspoken advocate

Andrea Matsumoto didn't expect a graduate program to change her core professional values.
"I went from the kid that sat in the back of the class, did my work and went home, to a person who feels such a responsibility to make sure nursing is seen at its best and that we're practicing at the highest level," said Matsumoto.
It's a surprising shift for a student who originally picked nursing as the safe career choice. As the seventh nurse in her family, she knew a nursing degree would give her many professional options. She enrolled in the University of Michigan School of Nursing's (UMSN) BSN program and hoped she had made the right choice.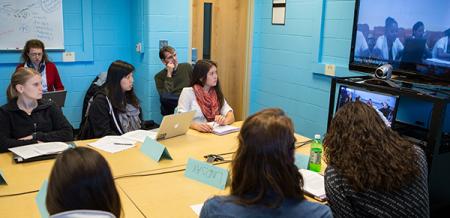 "I was a little on edge the first year of the undergraduate program because we don't start with a lot of clinical," she said. "But, every year I loved it more. It was in my blood this whole time."
After graduating, Matsumoto went to work in a hematology/oncology unit and soon decided she wanted to earn a master's degree and become a nurse practitioner. She went a step further by pursuing UMSN's BSN to Doctor of Nursing Practice (DNP) program. At first, she thought she may have taken on too much.
"Future students should know it's a really hard program," she said. "But, it's worth it. The DNP program changed my expectations about what I want out of nursing and my career."
New goals
The DNP program sparked two key interests for Matsumoto – policy and interprofessional education (IPE). The latter developed through a required course on team-based clinical decision making. It's part of U-M's increasing focus on creating opportunities for students from different health science schools to learn together.
"I had to take the course and I'm so glad I did," said Matsumoto. "I learned something from the pharmacy students that immediately changed my practice at work and I even taught my coworkers. Interprofessional education and collaboration is significant for enhanced learning, effective teamwork, and improved patient outcomes. That's the most important reason for engaging in the IPE efforts."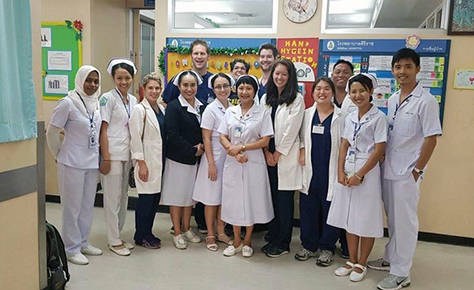 The scope of Matsumoto's focus on interprofessional work continues to grow. She is involved in a variety of projects including serving on the IPE Student Advisory Committee and participated in a health care student hotspotting program. 
"The student hotspotting program is based off Healthcare Hotspotting created by the Camden Coalition for patients who are over utilizing emergency rooms," she explained. "Hotspotting uses data to identify high-risk patients. When you begin working with them, you ask each patient about their current priorities. Often, they are lacking in one of the social determinants of health or another significant area that supersedes their health needs. If you can help them address some of these issues, they are usually able to take care of themselves better. In Camden, they were able to reduce ER visits by 50%."
Matsumoto says the complexity of this type of project requires a multi-faceted approach.
"It's not just health professions," she said. "My team had a law student who brought a whole new perspective. It was so valuable."
Matsumoto also felt a calling to be part of efforts to raise nursing's profile through policy and activism. In particular, she's an advocate for easing scope of practice restrictions for advanced practice registered nurses in Michigan. She currently serves as president of the Michigan Council of Nurse Practitioners UMSN student chapter.
"We have a social responsibility to make sure nurses, especially nurse practitioners, are able to do all we can," she said. "We're not going to be able to do that if we don't take action."
Yet Matsumoto understands why many nurses have not gotten involved.
"It's hard for nurses because it's not what we're comfortable with," she said. "Health policy, advocacy and government are not why most nurses got into nursing. But, we have to get involved if we want things done the way that's best for nurses and our patients."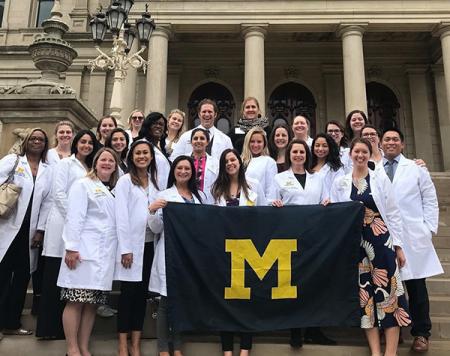 Next steps
Looking back at her tepid start, Matsumoto says she never imagined that she'd feel so committed to so many aspects of nursing. She's even looking ahead to new opportunities such as teaching. But, as she approaches graduation in May 2019, she says she's committed to a hybrid career that advances nursing while keeping her connected to a core aspect that attracts so many people to the profession.
"It's so special to work at the bedside and I don't know that I'll ever be able to give that up," she said. "I love working with patients but it's become so much more than that. Nursing is the most trusted profession and we should be the ones showing people we care so much that we are going to take these issues as far as they can go. We aren't going to settle with just what happens in this room."