Staff spotlight: From political refugee to advocate for adolescent health
Tanaka Chavanduka was just four years old when his family fled from persecution in Zimbabwe. His father, Mark Chavunduka,* was a prominent journalist and founding editor of The Zimbabwe Standard, an independent newspaper that offered an alternative to government-owned media. His outspoken advocacy for freedom of the press and government transparency earned him widespread respect from fellow journalists and Zimbabwean citizens. However, it also made him a target of the government.
In 1999, Chavunduka and one of his reporters, Ray Choto, published an article claiming nearly two dozen Zimbabwe National Army officers were arrested after an attempted coup. The government denied the claims and had Chavunduka and Choto arrested. During nearly two weeks of detainment, the men were brutally tortured. The guards repeatedly beat them, used electric shocks on their bodies and submerged their heads in water. 
Seeking asylum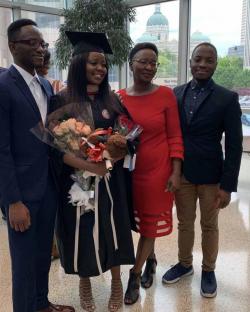 After a massive outcry that drew international attention, the men were released but still charged with publishing false information. The charges were later dropped. After a year of turmoil, Mark Chavunduka, his wife and his three children sought asylum in the United States.  
"It was the safest for our family but we had to learn how to shape a life amid the uncertainty," said Tanaka.
As the family was settling into their new lives, Mark was compelled to return to his home country.
"At the time, I didn't really understand why he was going back," said Tanaka. "Now, taking time to reflect, I recognize he was fulfilling his sense of purpose. He understood that information is power. He believed the progress and independence of the people depended on their access to the truth."
Tanaka believes the family's new lives in the U.S. reinforced his father's determination.
"As he ensured that his children could have certain freedoms, he wanted to continue advocating for those freedoms in Zimbabwe," said Tanaka. "He taught me my first lesson in bravery."
But sadly, Mark Chavunduka never fully recovered from the injuries he sustained while in custody. In 2002, he died at age 37.
Thriving in the U.S.
Despite the trauma Tanaka Chavanduka experienced as a young child, he flourished academically. He enrolled at Eastern Michigan University at age 14, graduated at 18 and then pursued a master's degree at the University of Michigan's School of Public Health.
"What has gotten me this far are the mentors that provided me the space to think beyond limitations, and the experiences that showed me what's possible when I do," he said.
Finding his purpose in research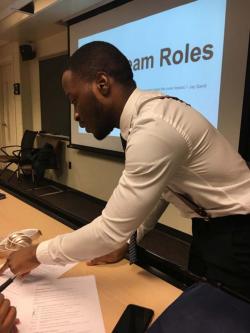 Now a clinical research coordinator at University of Michigan School of Nursing's Center for Sexuality and Health Disparities (CSCD), Tanaka is determined to make a positive impact on the country that gave him a safe place to thrive. He's putting his focus on helping youth and young adults through his research at the CSHD.
 "I'm interested in understanding how youth and young adults move between their digital and physical lives to cultivate their health behaviors," he said. "I'm learning what people require in order to feel close to solutions that provide health, healing, and positive well-being. What's considered valuable information will shape the future of health equity.  As technology advances, feeling better should not come at a cost of being exploited, especially for marginalized and vulnerable communities."
He says he finds inspiration in U-M's strong interdisciplinary research which is exemplified in the CSHD's staff, faculty and students who represent nursing, public health, epidemiology, social work and various specialties.
"It's so impressive how much knowledge exists and the discovery that is capable in a place like U-M," said Tanaka.
He says he's not ready to answer the question of what his father would think of his current work.
"That is an easier question once I feel like what I've done can influence the human experience," he said.
But Tanaka does think about the sacrifices his father made to ensure his family would be safe and have immeasurable opportunities.  
"Considering who my father was shaped our presence here," he explained. "Some people believe the reason immigrants come to America or migrate in general is to take from others. But there's really only one thing they want to do and that's have a better life. That gets lost in the rhetoric. It's our responsibility to create spaces where people can find that bridge to humanity and access their potential."
*The discrepancy in the spelling of their last names was caused by an unchangeable clerical error during immigration.