Puerto Rican pride: Ties to cultural home encourage UMSN student to give back, and stay strong

Nathaniel Mercado had just begun his first year at the University of Michigan School of Nursing when Hurricane Maria hit his family's homeland, Puerto Rico, on September 20, 2017. Maria was one of the most destructive storms the island has ever seen. 
He had been visiting family the month before, and returned stateside in September to begin his freshman year at UMSN.  
"There was so much going on with the start of school, but I contacted my mom back in Chicago to see what we could do for our family in Puerto Rico," he said. "We were able to ship water. We had to send a lot because they couldn't get anything where they were. It was a lot to organize, but it got there, and that's all that matters."
Compounding the concern he felt for his family and the stress of starting college was the political rhetoric around federal responsibility for disaster relief in Puerto Rico.
Puerto Ricans are United States citizens, but as a U.S. territory and not a state, Puerto Rico does not have voting representation in Congress, nor do they have electoral college votes. Lack of political representation is often cited to explain the difference between the recent federal disaster responses in Texas and Florida, on one hand, and that in Puerto Rico, on the other.
"It was tough," Mercado explained.  "Just knowing that my family needed help, and dealing with everything at school, and having to deal with that rhetoric was stressful."
Mercado took solace in his ability to make a positive impact.
"At least we were able to help them as much as we could," he said.
Maintaining connections
Mercado and his family try to visit their extended family in Puerto Rico every summer.
"Since I wasn't born in Puerto Rico, it's a big deal for me to visit as much as possible," he said. "I grew up in a really culturally Puerto Rican family in a Hispanic area of Chicago, where my parents raised my brothers and me to have pride in being Puerto Rican."
Encountering discrimination
The pride his family instilled in him has served him well in navigating his first year living in Ann Arbor.
"I've had a couple encounters on the bus where I hear people talking, saying that people should stay in Mexico and shouldn't be speaking their languages here," said Mercado who was bothered by his experiences on the bus. "I didn't expect to be bothered by other people's racial prejudice, but I guess it just helped me to have that pride, and stay true to it."
The 2017-18 academic year at the University of Michigan saw a number of racial incidents, from anti-Latinx painting on the "rock" to flyers stating "make America white again" to racist graffiti in West Quad dormitory, where Mercado lives.
Mercado had hoped for a stronger response from U-M's administration towards these incidents, particularly in the case of a white supremacist seeking a venue on U-M's campus.
"That made me uncomfortable. I feel like there is a difference between free speech and hate speech," he said.
The tension between free speech and inclusivity on campus has been debated especially fiercely this semester. University of Michigan President Mark Schlissel has provided a statement to the campus community outlining how he sees the university's dual obligation to uphold free speech as well as protect public safety. In addition, the Office of Diversity, Equity & Inclusion is leading a speech and inclusion series this semester addressing the very issue Mercado raises.
Mercado plans to join a Latinx student group next year to help make a difference on U-M's campus.
Inspired by nursing care
Mercado became interested in nursing as a career through managing childhood disease.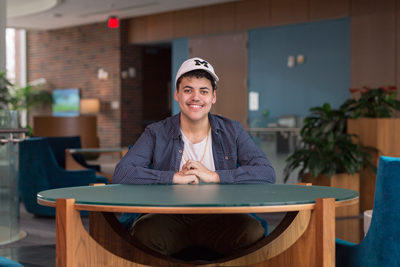 "Growing up I had high blood pressure," Mercado said. "I was on medication from age 10 to age 16, and just being at a hospital all the time, having to have echocardiograms, I was able to interact with the nurses. Seeing how they communicated with me and were very caring, I really wanted to translate that into my future."
Mercado and one of his older brothers both had hypertension. The culprit, Mercado believes, was an unhealthy diet high in salt. Thanks to a change in diet and lifestyle choices his mother made for the family, their conditions resolved.
"As a kid I was still able to do things that I liked," he said. "But it was uncomfortable to have to take medication every day at the same time."