Nursing alumni build nationwide network to bring face shields to the front lines of the COVID-19 pandemic
Weeks ago, as the COVID-19 pandemic began to take hold in Michigan, Becky Cherney (BSN '12) went to the grocery store and saw customers crowding the aisles while employees worked without masks or protective gear. At a local homeless shelter, she witnessed staff and volunteers covering their faces with nothing more than bandanas.
Weeks later, she and fellow alumnus Kevin Leeser (BSN '13) have built a national network of volunteers that's helped deliver more than 10,000 face shields to frontline health care workers, first responders and other essential personnel throughout Michigan and across the United States.
Operation Face Shield is centered on the idea of using 3-D printers to address the nationwide shortage of personal protective equipment. Cherney has been a nurse in Michigan Medicine's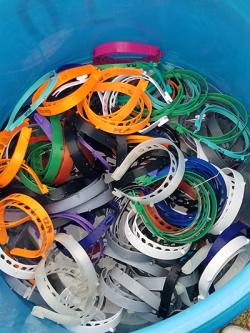 Progressive Care Unit for the last six years. The unit was converted into a COVID-19 ICU, and the hospital implemented new policies to preserve a limited supply of PPE. When Cherney saw what was happening in her community, she knew she wanted to help and saw face shields as a possible solution.
"In the hospital we need as many as we can get, but how can we get them in the community, too?" she wondered. "If we're trying to prevent the spread of COVID-19, that is where we need to do it. If we can make face shields to help people at places like gas stations, grocery stores, nursing homes and homeless shelters, we can make a real difference."
Cherney wasn't very familiar with 3-D printers, but she knew Leeser could help. She enlisted the support of her former colleague and fellow RN to bring the altruistic idea to life.  
"I asked, 'Can you do this? Because I can visualize it, but I don't know how to do it,'" Cherney said.
Leeser found a European model for face shields that he could quickly reproduce using his own 3-D printer and some readily available transparency sheets. Operation Face Shield was born, and what started as a small Facebook group has turned into an ad-hoc collection of health care professionals, engineers and concerned citizens working tirelessly to manage a rapidly expanding initiative.
The group now has more than 1,000 members who help coordinate design, production and distribution on a national scale. A number of volunteers are using their own 3-D printers to meet the heightened demand for shields, while others work to deliver the finished products to hospitals and essential businesses.
"People are coming from everywhere just to help, give their time and make the effort," Cherney said. "I call it our backyard business."
That backyard is growing by the day. The group recently enlisted the help of a pilot, who has used his single-engine plane to bring shields from Ann Arbor to the Upper Peninsula, Indiana and Pennsylvania. Operation Face Shield has also organized shipping with FedEx and UPS. In just over two weeks, shields have reached as far as Louisiana, Idaho and Virginia, while additional orders have come in from California and Utah.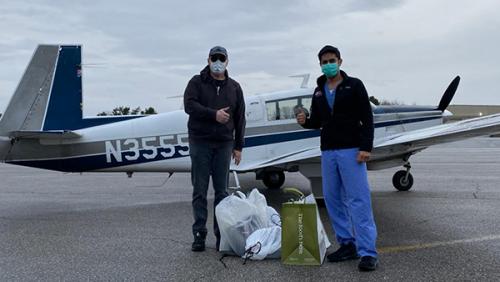 In Detroit, a community facing one of the most devastating COVID-19 outbreaks in the country, the group is delivering 100 masks per day to several hospitals in the city and metro area, including Henry Ford, Sinai-Grace and Beaumont.
The idea is taking hold well beyond Ann Arbor. In Grand Rapids, a group is using Operation Face Shield as a model to organize efforts on Michigan's west side. And in Seattle, one of the first U.S. cities to face COVID-19, Cherney has been in touch with a friend who is coordinating her own network of volunteers.
New opportunities arise each day. Responding to requests from frontline health workers, volunteers with smaller 3-D printers have started making mask adjusters, which help relieve stress and tension on the ears caused by the bands on face masks.
"If there's a need and someone wants to help, let's do it," said Cherney. "Let's keep evolving and see where it goes."
Operation Face Shield was created in response to crisis, but it's not Cherney's only entrepreneurial effort. Over the past year, she has been working as a fellow with The U-M School of Nursing's Healthcare Innovation Impact Program (HiiP) to develop TrachTrail™, a standardized education program she created and implemented for new tracheotomy patients and their caregivers which can be administered before they're discharged.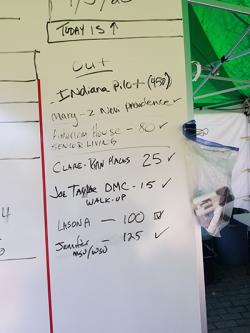 "It's about setting patients up for success while also helping nursing staff provide more effective education," Cherney explained. "The goal is to make patients and their caregivers more confident and comfortable."
When HiiP learned about Cherney's involvement in Operation Face Shield, they connected her with a community member who is now providing some of the raw materials needed to meet an ever-increasing demand.
As the COVID-19 pandemic continues to evolve, Cherney comes home from her 12-hour shifts in the ICU and gets to work on Operation Face Shield. Support from her growing group of teammates has been helpful as she tries to keep up with the barrage of emails and social media messages.
"When I'm not working, I'm working on this, too," she said. "It can be challenging trying to make sure everyone is on the same page, but we just have to remember our main goal is to save lives."
On the Operation Face Shield Facebook page, you'll find a constant exchange of ideas and countless messages of appreciation. One nurse, expressing gratitude for a recent delivery, said "Not all heroes wear capes, some make face shields."
To find out how you can support Operation Face Shield, visit the group's Facebook page or website.