Leadership insight: Q&A with Bonnie Hagerty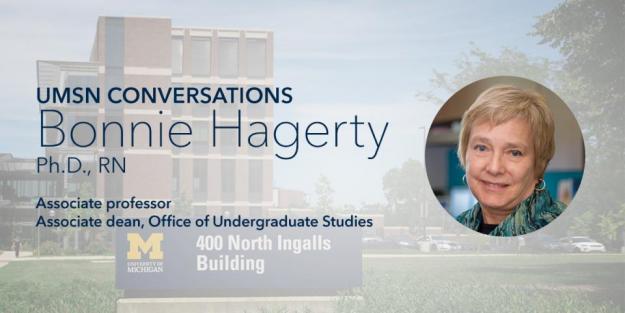 As Associate Dean for Undergraduate Affairs, Dr. Hagerty oversees the undergraduate program. She works with the director and the assistant director of the undergraduate program. They work hand in hand with the student services team, which is the advisors, clinical placement and compliance team, the student success coordinator, and administrative assistants. Dr. Hagerty recently sat down with Kate Wright to talk about her hopes for undergraduate students, and the changes she sees in nursing education.
Kate Wright (KW): What would you like students to know about you?
Bonnie Hagerty (BH): I hope students know that I care deeply about their success and the quality of the program here. I don't teach a course, so I don't know the majority of undergraduate students, but I work with individual students in various capacities, such as the student government leaders. I also work with students on special projects like the student wellness initiative.
KW: What is your clinical background in nursing?  
BH: I was a psychiatric clinical nurse specialist, and I saw patients at the U-M Depression Center until a few years ago. I have been aligned with practice for much of my career.
My research is on depression, self-management of depression, and on sense of belonging.
KW: Has does such a wealth of clinical experience help you in your job here at UMSN?
BH: I think it has helped me understand the practice of nursing. I stay current on practice issues because we're a practice profession. I feel like I know what it's like to deal with patients who are having mental illness, personal difficulties, and I know how hard it is for the provider.
KW: How do you see the nursing profession evolving at the undergraduate level?
BH: We're developing a new curriculum. It's a difficult time because we don't know what nursing is going to look like four to five years from now, because of how quickly knowledge is exploding. We just can't keep cramming in content to courses; we have to think about to teach differently.
We are educating people to be generalists, and individual specialties are not getting as many credits in the new curriculum. The key in the new curriculum is educating students to think, learning how to retrieve information, and learning how to use data.
KW: How have you seen the student body change over the years at UMSN?
BH: They are very bright, very passionate, very energetic. I've seen more of them want to get involved in leadership roles. It's an exciting time for them.
KW: If you had to give 3 pieces of advice to undergraduates, what would it be?
BH: I would say,
Be passionate about what you are doing.
Remember kindness and respect.
Think about how you are going to be a leader in the profession.
KW: What do you do to de-stress?
BH: I go to antique auctions. I go up north when I can, that's very relaxing. We have a small cabin in Charlevoix. It's wonderful up there in the winter time.