Focus on rural women and the opioid epidemic: Aspiring midwife sees need for nonjudgmental support

In the home stretch of her third and final year in the Nurse Midwifery MSN program, Alisha Marchand is excited to provide the kind of care she sees as lacking in her local area.
A labor and delivery nurse for Promedica Monroe Regional Hospital in Monroe, Michigan (pop. 26,470), she has seen the effect of America's opioid epidemic on expectant mothers in her community.
"We used to see three overdoses a night in the community. It has gotten better lately, but we still have mothers come in who have been using heroin or Percocet," Marchand explained.
Need for resources and respect
Marchand strives to support pregnant women who misuse drugs.
"My heart just goes out to them. Many of them really want to get better, but no one will give them a chance. I've see it with my own eyes as a nurse. I've had to fight to get a patient the care that she needs. And I've seen patients get clean and stay clean," she said.  
The problem, according to Marchand, is one of both resources and perception.
"We don't have anyone in our area who provides drug rehab. So people have to come up to U-M to get those services – 45 miles away – and they don't have transportation for that," she explained.  
In addition, she notes that hospitals and clinics are not always friendly.
"This population needs people to care. Just as simple as that. To not put them in a category of, 'You're Medicaid, you can't afford anything, you shouldn't have children anyway.'"
This negative perception of patients, Marchand believes, keeps them from getting the support they need.
She has pursued her education in midwifery with an eye to finding solutions for this population. Promedica plans to open a family medical clinic in fall of 2018, and both Marchand and another student in the UMSN nurse midwife MSN program, Bridget McLaughlin, are in discussions with the provider to staff this clinic. They aim to provide care for a wide spectrum of needs for underserved populations.
Close to her heart
The need for these services is part of her personal history.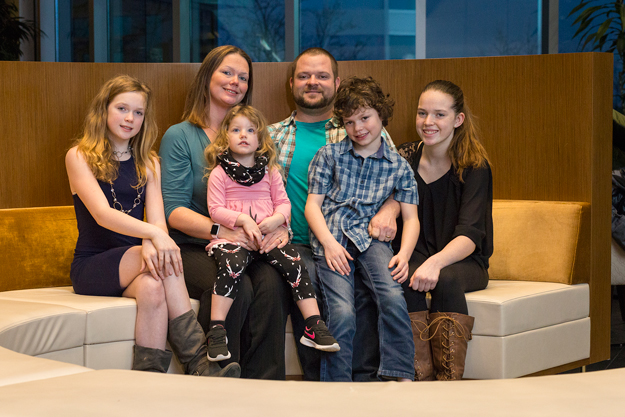 "I came from that. Underserved, having to have Medicaid, low income. You walk into an office with a midwife, and you didn't know you were going to get that kind of respectful care, because you've always been treated like you don't deserve it," she reflected.
"So I want to be able to provide that care to people who have been told all along, you know, you don't deserve that kind of care. That's my goal," she said.
Supportive care; evidence-based care
According to Marchand, what makes a good midwife is how one approaches the situation, provides support and education, and is an advocate for the mother.
As a midwife, she looks forward to the expanded role she will be able to take on in seeing women throughout their lives.
"I'll be able to do prenatal care, well-woman care, and post-menopausal care, in addition to supporting childbirth," she explained.
Marchand also wants to bring the most up-to-date science into her practice.
"It's so important to stay up-to-date on studies, recommendations, and treatment protocols, and those are things I would have never thought about before going to school," she said.
Juggling family, job, and the pressures of school
Marchand herself is a mother, four times over.
"I have a freshman in high school, a fifth-grader, a third-grader, and then the baby is three. I don't know how I manage it all. It's week-by-week. Sometimes day-by-day," she laughed.
Despite the added responsibility of a family, Marchand has felt that the hardest part about going to school was not the time or the logistics, but the pressure.
"I've been a nurse for ten years, and I knew my stuff. To go from being comfortable in my job to being the student who doesn't know anything – that was hard. You just can't understand the amount of pressure to feel competent in the things that you've never done before," she said.
Her recommendation for other parents who are considering school is to just dive in.
"Those years are going to go by whether you go to school or not. It's just finding a good balance, and there are sacrifices."
A sense of humor, and a sense of purpose, have kept Marchand motivated.             
"You might have a breakdown but it doesn't last forever," she laughed.