Faculty impact: An unconventional path to UMSN's Teacher of the Year award

Christine "Tina" Leech is a spirited example of making the most of unexpected opportunities through hard work and a willingness to step out of her comfort zone. Higher education was not a priority while she was growing up, but that didn't stop her from building a distinguished military and academic career.
"Neither of my parents graduated from high school," said Leech. "My step-father did, but not my mom or dad. Don't get me wrong; they were supportive, but there was no emphasis on college."
The first step
During Leech's senior year at a Massachusetts high school, her mom made a routine stop at a credit union. An employee casually mentioned a scholarship opportunity for prospective college students and gave her mom an application for Leech.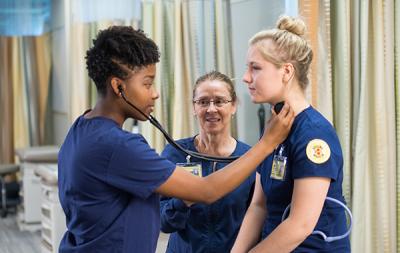 "The deadline was the next day so I quickly filled it out," said Leech. "I got it, so then I had to apply for college. I got into a local school at the last minute."
Suddenly Leech's future was full of new possibilities, but she had decisions to make. She considered using the scholarship to pursue an art degree, but picked nursing because of her strong interest in science and working with people.
"Some people have those, 'I always wanted to be a nurse' stories or some experience that inspired them," she said. "I'm just being honest here, I wasn't one of those people. I really didn't know what a career in nursing would be but I decided to try it until the money ran out."
Leech's first clinical experiences affirmed her decision. She decided to finish the program and earn her degree, but the scholarship only paid for a portion of her first year. In order to pay the rest of her tuition, Leech worked 40 hours a week in a variety of jobs, from a slaughterhouse to a nursing home, while a full-time student.
Getting lost to find a new path
Another fortuitous encounter came at the end of her sophomore year.
"One of my exams was moved to a new building and I got lost," she said. "As I walked past an ROTC office, a major came out and asked if I wanted to join the Army. Six weeks later I was away at basic training. It was fun and I got a scholarship so I was able to complete nursing school."
Leech spent 22 years as an Army nurse specializing in emergency care and trauma. She held positions throughout the United States, as well as in Germany and Saudi Arabia.
"If people are going to serve the country and need a nurse, I wanted to be the one to be there," she said. "I wanted to help the people serving the country."
After retiring from the Army in 2007, Leech served as director of trauma at a level one trauma center in Texas. Throughout her time in the Army and working in hospitals, Leech often volunteered for or was recruited to lead certifications, training sessions and motivational speaking opportunities.
"So many of those things were all about teaching," she said. "I always loved that part of whatever job I was in. If there was an opportunity to teach, I took it."
Next stop: Academia
A new relationship would bring Leech to Michigan in 2011. Again, a chance encounter led to a new opportunity.
"I can't even tell you how I met [University of Michigan School of Nursing Clinical Instructor] Libby Brough, but she was the one who got me thinking about teaching at a university level," said Leech.
She applied for a position at UMSN and was hired as a clinical instructor in the undergraduate program.
"I hope in teaching that you are providing something beyond the knowledge," she said. "You're instilling motivation and giving the students direction. They are going to mold themselves, but I'm part of it and that means a lot to me."
Leech says she remembers how it felt to have poor teachers and that's why she is committed to being a positive influence.
"There was one person in the military who was a horrid leader," she said. "I even thought, 'if this is leadership in nursing, I want to leave.' But, then I realized it wasn't a good reflection of nursing. It was a lesson on how not to treat people."
Leech's positive teaching style has been recognized by the students. In 2018, she was honored as UMSN's Teacher of the Year.
"I feel honored," she said. "If you are part of a profession like nursing, you have to be dedicated to nurturing the next person who is going to be part of that profession."
Making higher education attainable
Leech also reflected on the challenges she faced to pay for college. She supports making higher education more affordable and accessible to talented students.
"If there's a student who wants to be a nurse, works hard and meets all the requirements, then it's great to find ways to support them," she said. "It makes me cringe to think of kids graduating in debt or not even coming because they think they can't afford it. It is glorious when a university or individual creates scholarships. I think people who do that are investing in the future and that is a great thing."
Leech also likes being a student herself.  She recently made the decision to return to school for her doctorate of nursing practice.
"I've always loved learning," she said. "I know I have the experience, but it will be good to have that degree and be part of the conversations happening around nurses in leadership. Looking back, I never would have pictured myself in this position but I'm appreciative of all the opportunities I've had and for whatever the future holds."