Faculty impact: Driven by family and practice to improve care for African-American women

Lenette Jones was nearly brought to tears while practicing for her first research assignment, but it wasn't because she was overwhelmed with the task. It was because of what her own grandmother revealed.
Jones is currently a University of Michigan School of Nursing (UMSN) assistant professor, but at the time she was a UMSN sophomore participating in U-M's Undergraduate Research Opportunity Program (UROP).
The research project, led by UMSN Professor Emerita Margaret Scisney-Matlock, focused on hypertension (high blood pressure) in African-American women. Jones' responsibilities included taking the participants' blood pressure and conducting a survey, so Scisney-Matlock encouraged her to practice her skills on friends and family.
Inspiration from family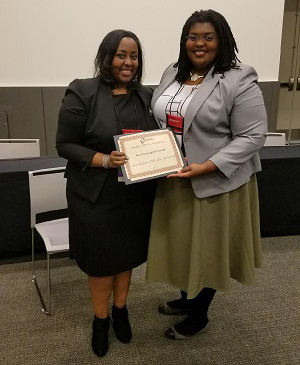 Jones' grandmother was happy to help, but Jones was upset by what she saw.
"Her blood pressure was high, like 170/100," she said. "It may not sound like a big deal – but in class I was learning that normal blood pressure was below 140/90 (mmHg) and that there were complications of higher blood pressure like strokes."
Her grandmother seemed to brush off Jones' concerns. When she gently persisted, her grandmother started opening up about her past.
"She told me about feeling like she was used as a guinea pig by a surgeon after she fell and was injured," said Jones. "What my grandmother was describing is consistent with studies that explore feelings of mistrust of physicians in the African-American community.  It was very disturbing. I could understand why she wanted to avoid going to the doctor."
Jones kept that memory close as she finished her BSN.
"[UMSN faculty member] Patricia Coleman-Burns told me I would be back for a Ph.D.," she said. "I didn't think so but she said, 'You're going to get frustrated and you're going to come back.' That's exactly what happened."
Inspiration from practice
Jones went to work in an intensive care unit (ICU) and rapidly developed concerns about how women with hypertension were treated.
"We would get their blood pressure down and send them home with medication, but they usually ended up coming back," she said. "Often, especially among African-American women, their outcomes were not good. I started to wonder why we are addressing this in the ICU or the emergency room. Interventions need to happen earlier."
Jones was driven to find a better way.
"I met with PCB [the affectionate nickname used by the UMSN community for Coleman-Burns] and said, 'You were right, I'm ready.'"
Managing hypertension
Jones returned to UMSN for master's and Ph.D. degrees, focusing her research on hypertension in African-American women.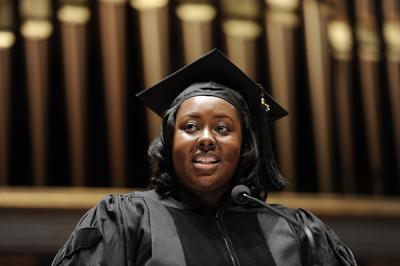 "There are two pillars that support my work," she explained.  "For one, I look at health information behavior and how women seek, share and use information to self-manage their blood pressure. Women who share health information are more likely to use that information on their own behalf and are more likely to want to role model for other women."
Jones' other focus area is on brain-behavior connections.  Specifically, she's looking at regions of the brain and activity that is associated with self-management behavior and decision making.
"We know that people who share information are more likely to make plans and act on them," she said. "That can be really important for managing hypertension."
The roles of race
While Jones was motivated by her grandmother to focus her research on African-American women, it is the stark reality of statistics that propels her scholarly work now.  
"One in three women in the U.S. have hypertension," she explained. "For African-American women, the rates are higher at about 45-47%. They're also diagnosed at younger ages which means they are living with hypertension longer and at a higher risk having a stroke or being diagnosed with renal disease."
Jones says she has been challenged on why she primarily focuses on African-American women, including on social media where she sometimes recruits research participants.
"There's still a lot of mistrust around health care research," she said. "There have been some negative comments saying 'No way! They've done enough research on black folks!' I try to respond to each person and explain who I am and why I'm doing this work. I tell my participants that I'm just a regular black woman from Detroit, but I have amazing training and I think I can help."
Jones, who has already received significant research funding from the National Institutes of Health and a variety of other sources, says one of her next steps is to help women better utilize the social capital resources they've already got.
"Instead of just asking the women if they have social support, I want to help them use the resources they have," says Jones. "There's a lot of work to be done but we can help women live healthier lives."
Jones is an advocate for helping diverse individuals who need it, but she's not one to let her race define her and she's felt that way for a long time.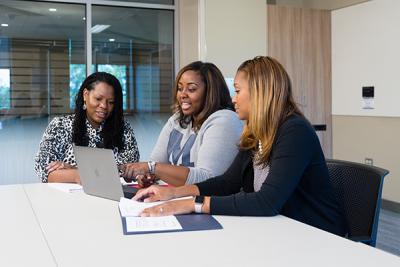 Her first introduction to Coleman-Burns came during her senior year of high school. Coleman-Burns called to find out why Jones hadn't committed to UMSN. Jones explained that a Detroit university offered her a full ride but she had not yet received a financial aid offer from UMSN. However, within a few days, a matching offer came from UMSN's Ruth Judson Neumann Scholarship.
"I asked PCB if they were offering a scholarship because I'm African American. I knew my other scholarship offers were due to my grades, my leadership and skills as a basketball player," said Jones.  
"She said, 'No, it's because of your grades and the fact that you attended school in Royal Oak, MI.'"
That was exactly what Jones needed to hear.
"I never wanted to feel like I was filling the 'We need more black students, so come here' role," she said. "I needed them to recognize that I brought value to the community beyond the color of my skin."