Faculty Impact: A midwife with a global perspective and passion for women's health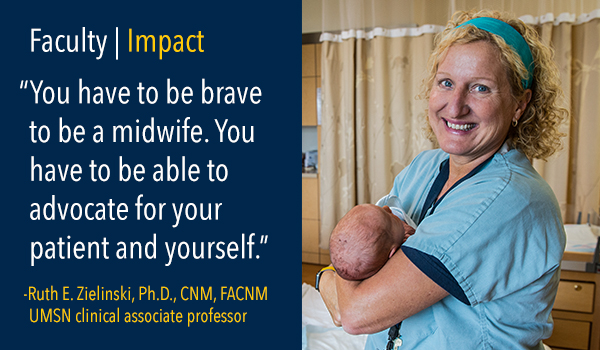 Ruth Zielinski was just eight-years-old when she found her calling but that didn't mean her education and career path would be seamless.
Born in the United States, Zielinski spent a significant amount of her youth in the Middle East while her father, a minister, worked at a missionary hospital in the United Arab Emirates (UAE), then known as the Trucial States. That's where Zielinski was first drawn to the maternity ward and the midwives from all around the world.
"They hired me for twenty-five cents an hour to wash the babies," said Zielinski. "I loved it. I was always hanging out when babies were being born. I saw my first baby being born when I was eight and I knew then that I wanted to be a midwife."
An unexpected decision
Zielinski's primary and secondary education took her to Pakistan, the U.S. and back to the UAE. When it was time to attend university, she had to make a decision.
"I was told if you want to deliver babies in the U.S., you should go to medical school," said Zielinski. "So I started in pre-med but I had a hard time adjusting. I didn't do great. I was a lost soul."
Finding her way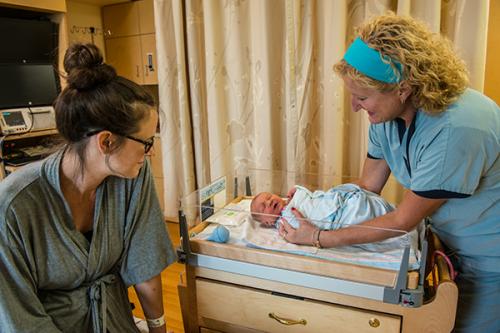 Zielinski felt compelled to make a change when she became a single mother, so she switched to an associate degree program for nursing and began working in an emergency department. She didn't know it at the time, but her adjusted path was the perfect step to fulfill her calling.
"I learned U-M was starting a midwifery program and I knew that's what I should do," she explained.
Zielinski first completed an RN-BSN program and was accepted to U-M's midwifery program. She went on to earn a Ph.D.
"Being a midwife was what I was meant to do," she said. "I felt it then and I still feel it."
Today's midwife
Zielinski says being a midwife in today's health care system is challenging but she finds great satisfaction in helping women and families navigate the birth process.
"Midwives don't just say 'whatever you want,'" said Zielinski. "Even with a physiological birth, or what we used to refer to as a normal birth, there might be interventions. But, it can turn into a cascade of one thing happening and then another. We look at how we can help women stay where they want to be."
Zielinski believes expectant mothers are faced with overwhelming pressure regarding certain decisions during pregnancy and delivery.
"There can be eye-rolling from family and friends when people say they don't want an epidural," she explained. "Epidurals can be fabulous, but if a woman says she doesn't want an epidural, we need to think about what we can do to facilitate the birth process she wants."
Zielinski says some of that pressure can even come from other health professionals.
"You have to be brave to be a midwife," she said.  "You have to be able to advocate for your patient and yourself. Sometimes you go up against formidable forces."
The student experience
It's a lesson many practitioners learn as students, Zielinski included.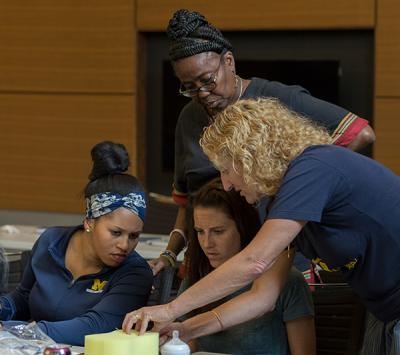 "When I was a student nurse in the 80s, there were a lot of nurses that were not very nice to us," she said. "I saw the difference that came with a good preceptor. I had one nurse who was so helpful and there are things she taught me that I still use.  I remember thinking 'that's what I want to be like as a preceptor.'"
That feeling is reinforced with Zielinski's role as a clinical associate professor at the University of Michigan School of Nursing (UMSN).
"Seeing midwifery through the eyes of my students is the best," she said. "It feels like a growing family. I love getting texts from my graduates when they have an interesting experience. You feel like you're part of something bigger."
Going global
Zielinski leads an annual trip to Uganda for midwifery students to get a clinical immersion experience and to help teach women, many of them refugees from South Sudan, home-based life-saving skills.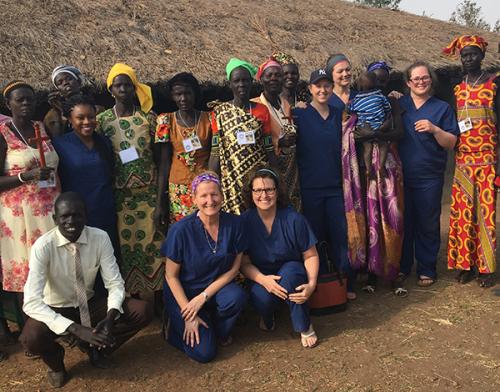 "It's a difficult environment, but our students are incredible," says Zielinski. "Nursing is about critical thinking but after one of the trips, a student said to me, 'I learned creative thinking.' It also really makes you think differently about health care resources. You don't feel the same way when you throw stuff away. It makes you think."
Zielinski believes the international experiences provide important lessons about not making assumptions. She shared how the emotional and physical trauma the women experienced can impact decisions about their health.
"This last time was gut-wrenching," she said. "When people introduce themselves, they always say things like, 'I had eight children, three died.' It's consistent. One said, 'I had eight children, two died and one is missing.' Her five year old went missing when they fled their village. I've found because of their experiences, they have so many questions about reproductive health and planning."
The foundation
Zielinski says whether the midwives are caring for women in the U.S or abroad, it's crucial to meet every woman with an open mind.
"Go in without making assumptions," she said. "Listen to women. That's the foundation of midwifery."