Clinical Associate Professor Laura Struble and the challenges of caring for the cognitively impaired in a pandemic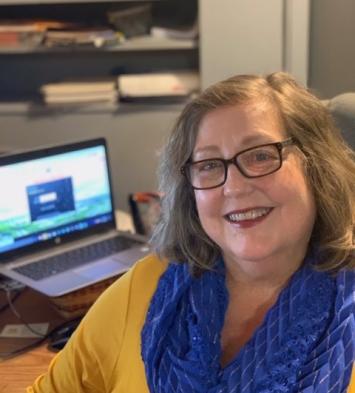 The COVID-19 pandemic has presented personal and professional challenges for Clinical Associate Professor Laura Struble, Ph.D., GNP-BC. At East Ann Arbor Health and Geriatrics Center and in two local dementia assisted living facilities, Struble cares for cognitively impaired patients ages 65 and older with various neurological and psychological conditions, including those with difficult neuropsychiatric behaviors.
In March, Struble spent two weeks in self-isolation to care for her son and protect her extremely vulnerable patients.
"When I picked up my son from college in Boston, he was very sick with a high fever. I took care of him and kept my husband and daughter away," she explained. "Fortunately, no one else became ill, and my son's health eventually improved."
In a self-imposed quarantine, Struble began conducting telephone visits with clinical patients and consulting staff members at the assisted living facility.
Most assisted living facilities have been in complete lockdown, prohibiting visits from family, friends and volunteers. Many of Struble's patients are in their 90s, and several are over 100 years old. Protecting them from COVID-19 infection has been the top priority, and the necessary restrictions have made her job much harder. For a time, she stopped entering the facilities entirely, and has only recently started to conduct in-person care for emergencies. Most visits continue to be held through video conferences with patients and staff.
"Our main focus is keeping dementia residents from having to go to the emergency room for disruptive and aggressive behaviors," Struble explained. "This is all very distressing for any resident, but that is especially true for residents with dementia."
Older adults with dementia have faced significant challenges when seeking clinical care. In Michigan, most clinics have not allowed family members and caregivers to accompany patients, but that isn't an option for those with dementia. And while telemedicine has become a valuable alternative to office visits for everyday patients, it's often inaccessible to older adults. Many of Struble's patients lack the required technology or have extreme difficulty understanding the processes involved.
"Many patients with dementia have disruptive behaviors and may not even remember why they're coming to the clinic in the first place," Struble explained. "I've had to be creative, and in some cases I may have to walk with patients and their family members outside in order to evaluate them."
The added stress of social distancing
Beyond point-of-care complications, social distancing and other pandemic protocols have led to increased anxiety for older adults with dementia.
In assisted living facilities, residents are no longer allowed to eat together or go out to a restaurant. Routine activities such as music, art and exercise classes have also been suspended. And for those living at home, visits from neighbors and family members were put on hold. 
"Residents in assisted living and those living at home may not understand what COVID-19 is and can't comprehend why their routines have been disrupted," she explained. "Patients with dementia may also need more frequent hand washing and bathing. Entering someone's personal space is new and may cause irritability or other behavioral issues."
A challenge for caregivers
COVID-19 has challenged clinicians, but it's also complicated the lives of family caregivers.
"Family caregivers are usually older spouses, siblings or children over 60 years old. And those caregivers are often dealing with chronic health conditions themselves, making them extremely vulnerable to COVID-19 as well," Struble said. "As social distancing became a necessity, caregivers no longer had a break, and their responsibilities turned into a 24/7 job. "
Staying isolated while supervising someone with dementia requires extra planning and preparation. Grocery shopping, an already arduous task in a pandemic, comes with added uncertainty for caregivers. As Struble explains, a person with dementia may struggle to understand social distancing practices and how to stay safe in a grocery store, but they can't be left at home without supervision.
"What does a caregiver do if they don't have any close relatives and become sick themselves?" Struble asked. "Helping caregivers strategize and plan ahead has been key."
Everyone doing their part
While many nurses battle COVID-19 in ICUs and emergency rooms, countless others like Struble have an important role to play.
"Many of our faculty members have been working at Michigan Medicine, and I have two family members who are ER physicians and have intubated patients wearing welding helmets for protection. I sometimes feel guilty that I am not on the front lines with them," Struble said. "As nurses, we all want to do our part. My role is to keep older patients, relatives and the community safe and out of the hospital."
Because of her work with cognitively impaired patients, Struble is used to being creative when conducting physical exams and de-escalating disruptive behaviors. It's a mindset that's helped her prepare for an uncertain future in the COVID-19 era.
"I will be able to continue my clinical practice using multiple methods, adapting to constantly changing circumstances while always staying connected to my patients."
Struble has outlined a number of strategies that older adults, caregivers and relatives can use to stay safe in an ever-evolving health crisis:
Structure routines: Get up and go to bed at the same time, even on weekends.
Take a walk daily or twice a day.
Go for a drive.
Set up regular, once-a-day phone calls or video chats with friends and relatives to stay connected.
Limit news consumption.
Watch positive TV shows and movies such as musicals, old movies and comedies.
Keep physical environments uncluttered.
Go through and organize pictures -- this is a great activity for people with dementia who usually remember past events more than the present.
Give a person with dementia a task instead of doing everything for them. They may not do it exactly right, but everyone needs purpose in their life.
Caregivers need to do something new and creative to take care of themselves, such as playing an instrument, singing, writing poetry or painting.
Practice meditation and deep breathing.
Caregivers who are now isolated need help.  Offer to go to the store, bring in the garbage cans or mail, and find ways to entertain from a distance.
Find your purpose, think creatively and commit acts of kindness.