Clinical Associate Professor April Bigelow is caring for underserved patients as the COVID-19 pandemic evolves
As health care professionals around the world continue providing care to patients amid unprecedented circumstances, we will explore how the U-M School of Nursing faculty is deploying its breadth of knowledge and clinical experience during the COVID-19 pandemic. Many U-M School of Nursing faculty members are taking on new challenges caring for patients in communities across the state of Michigan …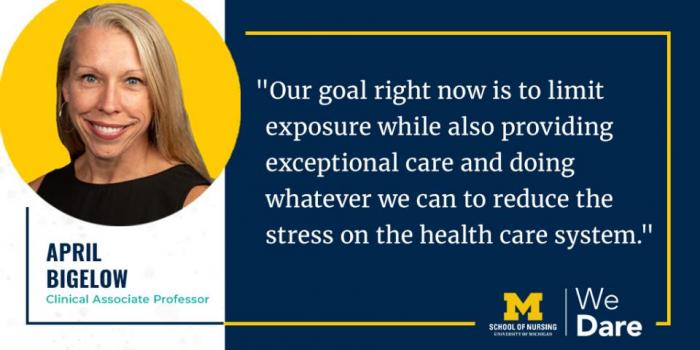 In addition to her duties as an educator, which have now shifted to remote instruction, Clinical Associate Professor April Bigelow, Ph.D., ANP-BC, AGPCNP-BC, is treating underserved patients at Packard Health, a Federally Qualified Health Center that helps patients who have no insurance or face other challenges that limit their access to health care.
Before COVID-19, part of Bigelow's clinical work took place in patients' homes. Since the outbreak, she only sees patients in the clinical setting when absolutely necessary.
"We're focused on phone triage to determine the best steps for patients to take. We're also talking with patients virtually to determine the best and safest way for them to seek care," Bigelow said.
When patients are experiencing symptoms indicative of COVID-19, Bigelow and her colleagues first try to determine the best course of action: self-quarantine and monitor, visit the health center or another location for testing, or head straight to the emergency room.
"Our goal right now is to limit exposure while also providing exceptional care and doing whatever we can to reduce the stress on the health care system," she explained.
Bigelow has noticed the growing sense of fear among patients and the general public. She and the team at Packard are working to plan and implement effective strategies despite rapidly changing circumstances and a lack of readily available COVID-19 tests.
"Packard Health is a tight-knit group of providers and health professionals who operate like a family," Bigelow said. "We have four locations all working together for the good of the community at large. Many providers are increasing hours, taking on more on-call shifts and assisting with triage to streamline care."
Despite the uncertainty, Bigelow understands that maintaining a sense of humor and positive outlook are important.
"It has been amazing to experience the warmth, gratitude and openness at the clinic despite all the stress in the outside world."
As Bigelow explained, the COVID-19 response is comparable to battlefield medicine. With little-to-no experience operating in that kind of environment, many providers are doing the best they can in unprecedented circumstances.
"Any recommendations we provide are based on real-time science and designed to protect you," she said. "If we don't direct you to the emergency room, it's not because we don't care. We're trying to protect you while being thoughtful about the limited number of resources that are available."
Bigelow stresses the importance of social distancing, proper hand washing and following guidance from leading institutions like the Centers for Disease Control and World Health Organization. But she also knows that kindness can go a long way, especially for those on the front lines.
"Be kind to each other, especially to the health care workers and first responders who are putting themselves at risk to help others."