Clinical Assistant Professor Katie Nelson addresses the pandemic's impact on pediatric care
As health care professionals around the world continue providing care to patients amid unprecedented circumstances, we will explore how the U-M School of Nursing faculty is deploying its breadth of knowledge and clinical experience during the COVID-19 pandemic. Many U-M School of Nursing faculty members are taking on new challenges caring for patients in communities across the state of Michigan …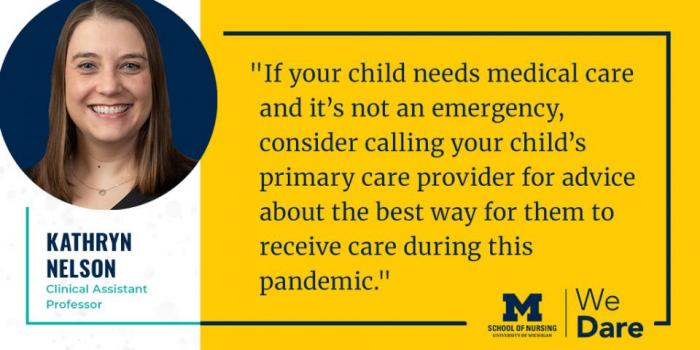 When Clinical Assistant Professor Katie Nelson, DNP, RN, CPNP-AC/PC, isn't leading remote courses for students in the Acute Care Pediatric Nurse Practitioner Program, she is working for the Pediatric Hospitalist Service at Spectrum Health Lakeland in Saint Joseph on Michigan's west side. On this team, she cares for infants and children admitted to the hospital with a range of conditions, from infections and chronic illnesses to everyday injuries and postoperative needs.
As the COVID-19 pandemic evolves, children with serious health conditions who aren't infected will continue to need care. Nelson and her colleagues have been focused on developing plans to continue that care while minimizing their patients' risk of exposure.
"We're making sure we will have adequate staff available if there is an influx of patients or if we have team members unable to work due to illness or quarantine," Nelson explained. "This could mean extra shifts or unexpected schedule changes."
She also encourages parents to be mindful and avoid bringing their children to the emergency department unless absolutely necessary.
"If your child needs medical care for an illness or injury and it's not an emergency, consider calling your child's primary care provider for advice about the best way for them to receive care during this pandemic," she said. 
With the number of COVID-19 cases increasing in Berrien County and across Michigan, circumstances are changing quickly at Spectrum Health Lakeland. Nelson and her team have been focused on learning more about this new disease so they can appropriately identify and treat infected patients.
"Since this is a new disease, we're all learning together right now, paying close attention to information from the CDC, new medical literature, and data from the U.S. and other countries," she said. "Children can get COVID-19, but it looks like they're at lower risk for severe complications and death than older people and those with chronic health conditions."
Nelson admits that hospitals look much different today than they did just weeks ago, with visitor restrictions, increased security, shifting resources and extra screening for staff members.
"Today, we're much more thoughtful about the conservation and utilization of our limited resources," she said. "It's been a busy few weeks of preparation, but I've been thankful to have this time to prepare for whatever lies ahead."
An unprecedented crisis can make it difficult to set expectations, but Nelson and the Pediatric Hospitalist Service team are ready to treat every patient who comes through their doors.
"We hope that people won't need to come to the hospital, but if they do, we'll be there to care for them whether they have COVID-19 or not."