Clinical Assistant Professor Gina Dahlem is caring for those experiencing homelessness during the COVID-19 pandemic
As health care professionals around the world continue providing care to patients amid unprecedented circumstances, we will explore how the U-M School of Nursing faculty is deploying its breadth of knowledge and clinical experience during the COVID-19 pandemic. Many U-M School of Nursing faculty members are taking on new challenges caring for patients in communities across the state of Michigan …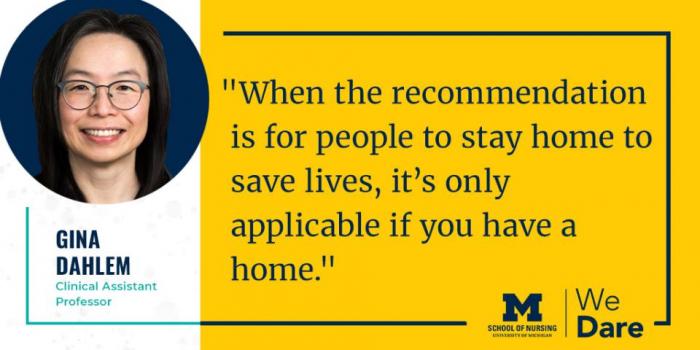 A recent report estimates that, compared to the general population, homeless individuals who contract COVID-19 are twice as likely to be hospitalized, up to four times as likely to require critical care, and up to three times as likely to die.
These shocking figures illustrate how the COVID-19 pandemic can have a devastating impact on our most vulnerable populations. Clinical Assistant Professor Gina Dahlem, PhD, FNP-C, FAANP, is working for Packard Health at the Shelter Association of Washtenaw County to deliver primary care services for those experiencing homelessness in the local community.
"When the recommendation is for people to stay home to save lives, it's only applicable if you have a home," Dahlem said. "But our clients don't have a home to self-quarantine or isolate themselves – they have a very limited support system and suffer from multiple medical comorbidities, which places them at higher risk of infection."
Shelter staff and public health professionals have been working closely in stressful circumstances to meet the diverse and evolving needs of their clients.
"This required a fast and coordinated response with multiple systems of care to protect the most vulnerable," Dahlem explained. "Our shelter staff are seriously the heroes of this situation, showing up to ensure care is delivered to our clients 24/7."
The shelter was actively screening individuals for symptoms prior to the state's stay-at-home orders, but they needed more space to temporarily house both healthy clients and those who need medical care. Recently, Washtenaw County announced plans to house homeless residents at a hotel to reduce the number of people in shelters and allow for social distancing
"At the beginning, we had limited capabilities to test and separate those who were positive from those who were not," Dahlem said. "We are continuously working to identify and test symptomatic individuals and provide housing and medical care for the well and the ill to slow the spread."
As Dahlem explains, the COVID-19 pandemic has demonstrated the link between a housing crisis and a public health crisis.
"While many people observe stay-at-home orders from a permanent residence where they have access to proper nutrition, needed medications and social supports, our patients are left in a much more vulnerable situation," she said. "It all starts with housing, and this reveals the deleterious effect that a lack of housing has on people's health."
The Shelter Association of Washtenaw County is in urgent need of supplies, particularly disinfectant wipes, infrared thermometers and new sets of twin sheets. The shelter has also set up a full wish list for those interested in making a donation.
If you would like to donate or volunteer, especially if you have experience working with vulnerable populations, contact Sarah Kruszkas at kruszkas@washtenaw.org.