Clinical Assistant Professor Beth Ammerman is shifting her approach to primary care during the COVID-19 pandemic
As health care professionals around the world continue providing care to patients amid unprecedented circumstances, we will explore how the U-M School of Nursing faculty is deploying its breadth of knowledge and clinical experience during the COVID-19 pandemic. Many U-M School of Nursing faculty members are taking on new challenges caring for patients in communities across the state of Michigan …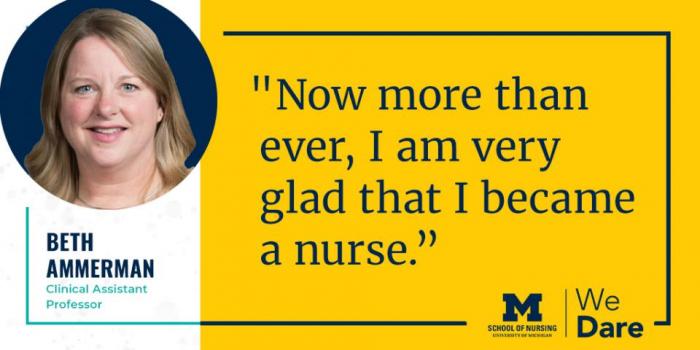 Clinical Assistant Professor Beth Ammerman, DNP, FNP-BC, is working extra hours at her family practice primary care clinic in Linden, Michigan, taking on additional patients for a physician serving on the statewide COVID-19 taskforce and navigating new approaches in a rapidly progressing pandemic.
Ammerman and her colleagues are focused on continuing care through alternative methods in an effort to keep healthy patients at home and slow the spread of the virus. In recent weeks, she's been meeting with a number of patients through telephone and virtual visits.
"This is very new to our practice, but it is going well," Ammerman said. "Although we're new to telehealth, I really see a place for it in the future and I'm excited to learn how to implement it under normal conditions."
Patients still visiting the clinic include those with more serious conditions such as chest pain, uncontrolled blood pressure and diabetes, and severe abdominal pain.
"These patients are very ill but don't want to go to the emergency departments for fear of getting the virus, so they're coming to their primary care provider for these urgent matters," Ammerman said.
Because the clinic is also seeing patients with COVID-19 symptoms, Ammerman and her team have adjusted their schedules and implemented new strategies to limit patient-to-patient contact.
"We try to schedule our non-respiratory patients in the mornings and those who have COVID-like symptoms in the afternoons. Symptomatic patients now enter the office through the back door, and we use the rooms at the back of the building for their exams," she explained. "The morning patients and non-respiratory afternoon patients come in the front of the office, as we try to decrease the risk of infection for anyone in the waiting room."
For many patients, it's increasingly difficult to access the general medical services they rely on, so primary care providers are stepping in. Services such as home health care, hospice home nurses, physical and occupational therapy, pulmonary and cardiac rehabilitation have temporarily closed or drastically reduced their hours. Most outpatient tests such as colonoscopies and mammograms are also unavailable, and elective surgeries are on hold across the state.
"Many specialists are not seeing patients, so we are caring for those patients on our own," Ammerman said.
While hospitals across the country face shortages of essential supplies and personal protective equipment, primary care clinics are feeling the strain as well.
"There are shortages of gowns and masks," Ammerman said. "Like everyone else, we are reusing masks, too."
Nurses are on the front lines of the COVID-19 pandemic, putting themselves at risk to save lives. As a clinician and educator, Ammerman knows she's right where she is supposed to be.
"Now more than ever, I am very glad that I became a nurse," she said. "As a professor, I think it's important to lead by doing. I know that many of our students are also treating patients, and the burden of illness is going to increase. I hope they take care of themselves while they are caring for others."