Clinical Assistant Professor Heidi Mason is working to protect cancer patients during the COVID-19 pandemic
As health care professionals around the world continue providing care to patients amid unprecedented circumstances, we will explore how the U-M School of Nursing faculty is deploying its breadth of knowledge and clinical experience during the COVID-19 pandemic. Many U-M School of Nursing faculty members are taking on new challenges caring for patients in communities across the state of Michigan …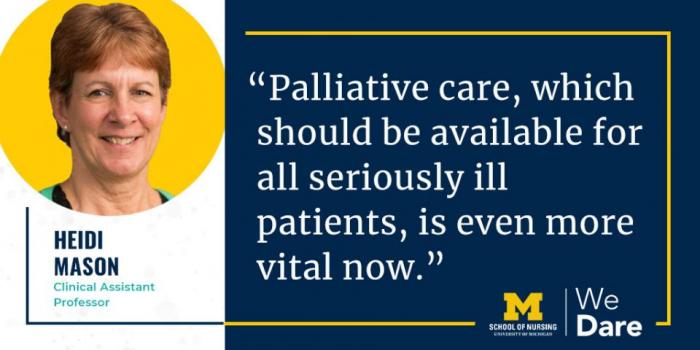 At U-M's Rogel Cancer Center, Clinical Assistant Professor Heidi Mason, RN, DNP, ACNP-BC is caring for head and neck cancer patients during the COVID-19 pandemic.
"We need to protect our patients who are at high risk," she said.
Like many clinicians, Mason has had to alter her approach to patient care in order to mitigate risk, shifting her schedule and regularly meeting with patients by phone and video.
"We are now working one week in clinic and one week at home," Mason said. "During our week in clinic we're responsible for all patients in the clinic. At home, we're writing orders, answering phone calls and helping with phone visits. I'm also doing overnight calls."
At Michigan Medicine, staff and resources have been reallocated to respond an influx of COVID-19 cases. For cancer patients, these changes can exacerbate stress and uncertainty.
"Patients are very scared and call more often. Visitors are not allowed, even with our hospice patients, so that's adding to their distress," Mason said. "Unfortunately, there will be delays in care and closed clinical trials, so this is incredibly hard for our patients and for us."
When she can't see them in person, Mason is calling her patients frequently, including on evenings and weekends. This constant communication between patient and provider is critical to manage symptoms and prevent emergency room visits or hospitalizations. Cancer patients are among the vulnerable populations at increased risk for serious complications and death from COVID-19, so Mason and her colleagues are intensely focused on reducing their risk of exposure.
"We need to aggressively manage physical symptoms to keep patients out of the ER or hospital, where they will be so vulnerable," she explained. "This includes checking blood work often, since neutropenia is a huge danger with the pandemic."
The COVID-19 outbreak has highlighted the importance of palliative care at a time when seriously ill patients face new and unexpected challenges trying to manage their already complex conditions.
"Palliative care, which should be available for all seriously ill patients, is even more vital now," Mason said. "Open and honest discussions regarding prognosis and goals of care needs to be a priority. We must deliver patient and family centered care that focuses on the social, psychological and spiritual needs which are more prominent during this time."
Mason acknowledges that the already short supply of palliative care specialists has been stretched thin during the pandemic response. She's hopeful that this unprecedented crisis will lead to an emphasis on palliative care education for the next generation of nurses.
"Every nurse should be competent in basic palliative care skills," Mason said. "I hope we can increase the focus on palliative care education in both undergraduate and graduate programs. It is important at every level and in every subspecialty of nursing."