A letter to the Class of 2020: 'Trust your training, trust that you are here for a reason'
Alumna shares insight and advice with new graduates.
Dear U-M School of Nursing graduates,
The COVID-19 pandemic has taught me a lot since its unprecedented arrival in the U.S. When I considered becoming a nurse, I never imagined being called to provide health care during a pandemic. Sure, I'd heard of devastating crises in the past, and I had a lot of respect for the nurses who made sacrifices to care for the sick and injured during those times, but it never crossed my mind that I would become one of them.
The most important thing I've learned is that my love of the nursing profession runs a lot deeper than I previously knew. Being able to put my fears aside and care for my community during the COVID-19 pandemic reassures me that I'm in the right profession.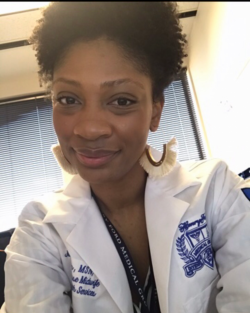 I've always said that the U-M School of Nursing developed my "nursing brain." I came into the program thinking one way, and the coursework, along with my clinical experiences, shaped the way I thought about the world. I truly learned the importance of critical thinking skills at the School of Nursing, and that's proven beneficial in every aspect of my life.
Being able to correctly prioritize the needs of your patients and your workload is going to help you turn challenges into successes. I enjoy challenges because I have an opportunity to put the skills I learned in nursing school to the test. In nursing school, I learned the importance of listening to your patients and paying attention to every detail of their health care. As a new graduate midwife in Detroit, I was caring for a pregnant woman in her last trimester. She came in for her prenatal appointment and had gained 11 pounds in one week, which I found strange. She also told me, "I just don't feel well today." Although her blood pressure in the office was normal, my nursing instincts told me that something was awry. No one was available to transfer her to OB triage, so I wheeled her to the hospital from the clinic myself. By the time I made it back to the clinic, the triage midwife was informing me she was having severe range blood pressures and had preeclampsia. This story always reminds me to trust my gut and trust my training. The U-M School of Nursing has an excellent reputation for a reason, and I'm grateful I was able to develop my "nursing brain" there as an undergraduate.
Being a new nurse is stressful, so take care of yourselves, first and foremost. Adding on a pandemic multiplies that stress. It's important that you have a long, fulfilling career as a nurse, and you cannot do that if you get burned out in the first year. Learn how to prioritize what you need to be successful. Whether that's regular communication with your family, time outdoors, exercise or cooking, intentionally make time for those things. I remember when I graduated my entire identity was being a nurse. But remember that you are also a daughter, son, mother, father, friend, colleague, and those relationships must flourish in order to be a great nurse.
My wish for you, the U-M School of Nursing Class of 2020, is for you all to understand the profound impact your career has on the lives of everyday Americans. Our communities rely on us to advocate for them when no one else will. It's an honor and a privilege to be a nurse, and to whom much is given much is expected.
This is no doubt a scary time to be starting your career. It's OK to be afraid. I graduated from the School of Nursing in 2013, and the first day I walked onto our labor and delivery unit with COVID-positive patients I felt a great deal of anxiety. But when it came time to provide the excellent midwifery care and nursing care I've been trained to provide, it became second nature once again. Trust your training, and trust that you are here in this place at this time for a reason.
I wish you all the best of luck. Go Blue!
Sincerely,
Jessica Fladger, MSN, CNM
Class of 2013