U-M School of Nursing seniors: Clinical placements are completed as of March 18
Hello seniors,
Your willingness and commitment to continuing your clinical experience in the last few weeks has now paid off with success. You have met the remaining feasible and essential clinical on-site requirements of the school and the bodies that accredit the school. These requirements have all centered on the basic skills and competencies that are met by an on-site presence rather than simulation or classroom-based education. Therefore, your on-site clinical placements are completed as of 7 p.m. today, March 18, for the remainder of the term. We want to congratulate each one of you! We are proud of you and your work.
To finalize successful completion and graduation on time, you will be required to participate in innovative, remote experiences within your respective clinical groups. We have developed individualized plans for how selected clinical experiences can be experienced remotely. Each of you will receive messaging from your respective faculty that will outline the specific experiences as well as a timeline for completion. You are not done, but you are close!
Many of you have questions about whether you will graduate on time. The answer is yes, assuming that you complete the remaining remote instruction and assignments. We are truly sorry about the cancellation of our planned graduation celebration, but your achievement stands nonetheless. Please know that the school and university will arrange a delayed celebration once we have moved beyond the uncertainties around COVID-19. Do send any ideas you have about how we might do that to our undergraduate advisors (UMSN-UndergradAdvisors@med.umich.edu). We are highly interested in hearing from you.
We know that the past several weeks have been difficult due to the COVID-19 public health emergency. Nursing, as a clinical profession, requires time in the clinical setting to develop the skills and competencies needed to care effectively for patients, families and communities. Your faculty and clinical preceptors have worked hard to provide this, to ensure that you meet the requirements set forth by nursing education regulatory agencies, and to ensure that you get what you need to be successful. 
Please know that every member of the faculty and staff of your school are committed to facilitating the final weeks of your nursing education and your on-time graduation. 
Take care and be safe.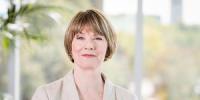 Patricia D. Hurn, PhD, RN
Dean and Professor of Nursing, School of Nursing
Professor of Molecular, Cellular and Developmental Biology
College of Literature, Sciences and the Arts
University of Michigan