Busy academic adviser finds serenity in ceramics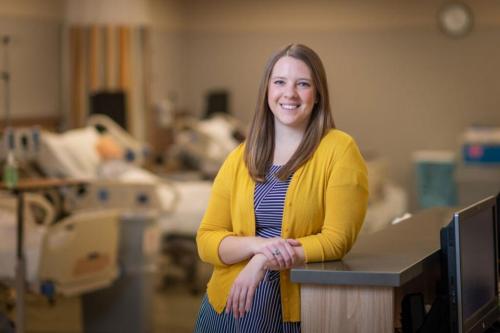 While studying at Siena Heights University, Jenna Long envisioned herself becoming an elementary school teacher to combine her loves of education and art.
Then she worked at a children's summer day camp
"It was torture," joked Long, an academic adviser in the School of Nursing. "I love kids, I still love kids, but I think I'll really only be able to love my own."
With that, she sought a different path that involved something she enjoyed doing as an undergraduate student without recognizing it was a potential career.
Long served as a resident assistant and helped with orientation, along with working in a "variety of different offices on campus" at Siena Heights. Michael Orlando, dean of students, encouraged her to consider higher education as a career.
With a bachelor's degree in fine arts and Orlando's encouragement, she enrolled at Kent State University and received her master's degree in higher education.
After graduation, she worked for two and a half years in advising at Ashland University in northeast Ohio before coming to U-M as an academic adviser in the School of Education in December 2017. 
Now she's working as an academic advisor at the U-M School of Nursing for graduate and non-traditional students, assisting students encountering an array of challenges, including divorces, marriages, pregnancies and military deployments.
Away from U-M, she enjoys hiking with Millie, her 1-year-old Red Heeler Cattle mixed dog, camping and hitting national parks. One of her goals is to visit all 58 national parks, and she's crossed seven off the list so far.
Then there's art. She stumbled upon a passion for ceramics while taking an introductory course at Siena Heights and became good enough at it that she raised about $2,500 by selling bowls, mugs, cups and plates she made — enough to help finance a nearly six-week trip to Greece, Rome and France.
After essentially walking away from ceramics for about seven years, she joined a six-week class last month and sat at a pottery wheel for the first time in nearly a decade.
"It's always been cathartic for me," she said. "My first class back at it, I'm just sitting there at the wheel, and my brain, everything, just stops. I don't even have to watch what I'm doing, I'm just doing it."
Read more about Jenna from The University Record.