Innovation for intervention: a collaborative effort to teach the ABCs of Prescription Drug Safety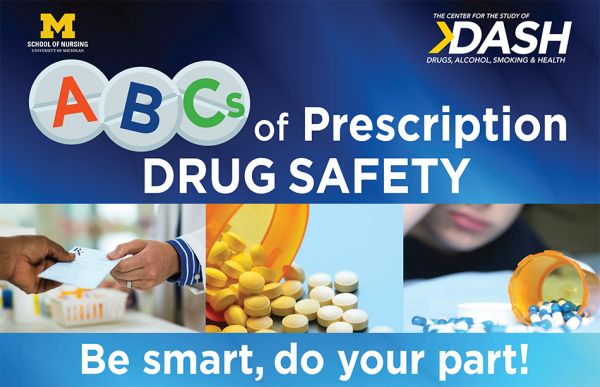 Over 6 million people in the United States misuse addictive medications, while nearly 80 percent of Americans who use heroin started with misusing prescription opioids. Led by Carol Boyd, Ph.D., RN, FAAN, a team of researchers at the University of Michigan School of Nursing's Center for the Study of Drugs, Alcohol, Smoking and Health (DASH) are working to address this public health crisis by teaching parents, patients and providers the ABCs of Prescription Drug Safety.
When patients are prescribed a potentially addictive medication, they often receive an assortment of papers filled with complex language and unnecessary information. The ABCs break this dense and disorganized process down into simple steps, which are carefully laid out on an easy-to-read poster and brochure.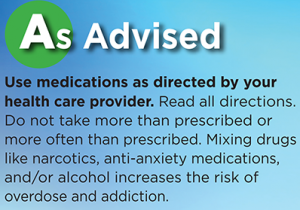 "You shouldn't be given something that you cannot understand — there is no way it's going to increase medication adherence," Boyd said. "But the ABCs might."
The concept came from Boyd's decades of research on drugs and drug users. She began studying prescription drug use in the 1980s, but in the early 2000s she noticed a new trend and startling lack of knowledge.
"Much of what was being called prescription drug abuse was actually occurring with those who had their own prescriptions," Boyd said. In addition to patients misusing their own potentially addictive medications, she found that nearly 75 percent of adults store these medications in locations easily accessible to others, who then abuse or distribute the drugs themselves.
 "I could not understand why the public health community was ignoring the behavior," Boyd said. "I was astonished. Then I realized many people, including health care providers, did not know how the medication abuse was happening."
Boyd worked on the idea with psychology experts Traci Rieckmann, Ph.D., and Kristen Anderson, Ph.D., before developing a
new version of the ABCs brochure on her own. But condensing more than 30 years of drug research into a digestible package required a different type of expertise, so Boyd sought help from U-M School of Nursing Innovation Coach Ann Fitzsimons and the school's Healthcare Innovation Impact Program (HiiP).
"We knew this was a valuable resource and we went to work figuring out how to make it convenient for prescribers to order and administer," Fitzsimons said.
They started making substantive changes, adding a physician, pain expert, social worker and pharmacist to the team's advisory board while working with graphic designers to reimagine the layout. "We went through many rounds to make sure this really has the right message," Boyd said.
In its updated format, the ABCs meet several key objectives: The message can be administered in three minutes or less, aligns with many state legal requirements and goes beyond opioids to cover all addictive drug classes. There's even a detachable contract that patients and physicians may sign to increase accountability.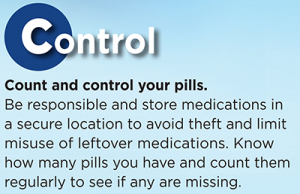 "The market for this intervention is broad," Fitzsimons said. "Physicians, nurses, oral surgeons and really any health care provider who prescribes controlled medications. Then you have schools, community centers, pharmacies — there are so many places where this product can be used."
With such wide-reaching potential, finding a way to distribute the product without losing control of content and quality was crucial. That need led to the development of an online store — a first for the U-M School of Nursing. With a few clicks, health care providers and other organizations can order the ABCs of Prescription Drug Safety and have copies delivered right to their door.
"We analyzed competitive pricing and found a way to fulfill orders at or below what it would cost providers to print it themselves, but at a higher quality," Fitzsimons said.
As copies start to run off the printer, the DASH and HiiP teams are already thinking of ways to expand the ABCs beyond a brochure and poster, including an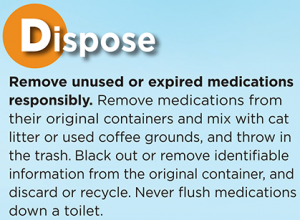 instructional video and comprehensive patient education package.
"If you're a provider and there just isn't enough time to conduct this patient education properly, we want to offer products that can help you and help the patient," Fitzsimons said.
Some may wonder how this product and the research behind it came from a nursing school. But as Boyd explains, this innovative intervention is uniquely tied to nursing.
"Nurses are on the front lines of this crisis — many of us prescribe these addictive medications and all of us educate our patients when others prescribe them," she said. "Nursing's role is to assist patients in health and healing, and the ABCs strike at the heart of this mission. When you give an addictive medication to a patient, you must to do everything possible to make sure they know how to use it correctly."