UMSN faculty, students and alumni shine at annual American College of Nurse-Midwives meeting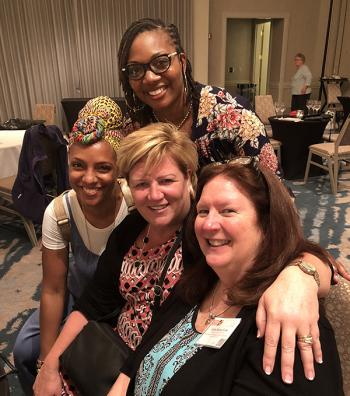 More than a conference, the American College of Nurse-Midwives (ACNM) Annual Meeting is the largest gathering of midwives in the country. This year, hundreds of midwives gathered in Savannah, Georgia. The theme, Giving Voice to the Soul of Midwifery, celebrated "the grand midwives of the South… who provided care to legions of pregnant black and white women."
 The meeting marked the end of a successful term as ACNM president for the University of Michigan School of Nursing's (UMSN) Lisa Kane Low, Ph.D., CNM, FACNM, FAAN.
"Serving as the president of ACNM was truly an honor and it was a privilege to represent the membership of ACNM in the advocacy, policy and practice arenas," said Kane Low, who is also UMSN's Associate Dean for Practice and Professional Graduate Studies.
Kane Low was elected to a two-year term that began in 2016. She immediately set goals that would further ACNM causes and address emerging issues.
"As midwives, we have a unique leadership role in addressing much needed change in the provision of health care, particularly in maternity and reproductive health care," said Kane Low. "I am proud of the work I was able to lead as we centered those we serve and focused on increasing access, supporting collaboration and full practice authority for certified nurse-midwives/certified midwives, addressing health equity, anti-racism and workforce diversity, and in advocating for the protection of women's access to the full range of health care services they desire."
Research and beyond
In addition to Kane Low's leadership role, UMSN faculty contributed to the meeting and midwifery profession through their scholarly work and advocacy.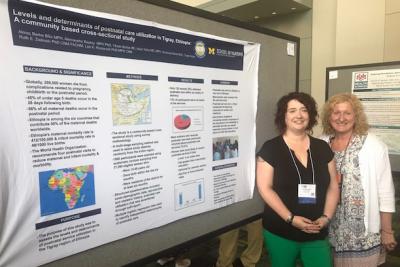 Kane Low presented a session entitled, "Leadership in Quality Improvement: Lessons from the Reducing Primary Cesarean Project."
UMSN Clinical Associate Professor Ruth Zielinski, Ph.D., CNM, FACNM, served as a member of the Gender Equity Task Force and participated in a related presentation, "Background, Resources, and Open Forum." In addition, she serves as the chair of the ACNM Clinical Documents Committee.
Zielinski also presented a poster with Clinical Assistant Professor Lee Roosevelt, Ph.D, MPH, CNM. Their work is in collaboration with a midwife they are mentoring in Ethiopia. It focuses on levels and determinants of postnatal service utilization in Northern Ethiopia.  
Clinical Assistant Professor Megan Deibel, DNP, CNM, served on a panel to represent the State of Michigan's effort with the Alliance for the Innovation in Maternal Health (AIM).  AIM is an organization that partners with individuals, health systems and other stakeholders to reduce maternal mortality and preventable complications in childbirth.
Honors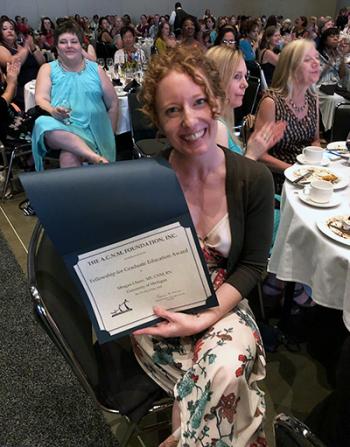 UMSN Ph.D. student Meagan Chuey received ACNM's Fellowship for Graduate Education Award for her doctoral work, which looks at reproductive decision-making in Syrian women who are refugees.
UMSN alumna Christina Majszak was recognized with the Outstanding Preceptor Award. It honors preceptors of student midwives who have shown outstanding qualities of leadership and teaching.
Moving forward
Kane Low noted that several UMSN students attended the conference for the first time. She said seeing their excitement for midwifery, and her own confidence in ACNM's new leadership has her feeling very optimistic the next steps for the organization.
"I continue to say that the future is very bright for the midwifery profession and for ACNM," said Kane Low.
More photos
More photos are on UMSN's Facebook page. Please note that you do not have to have a Facebook account to view the pictures.